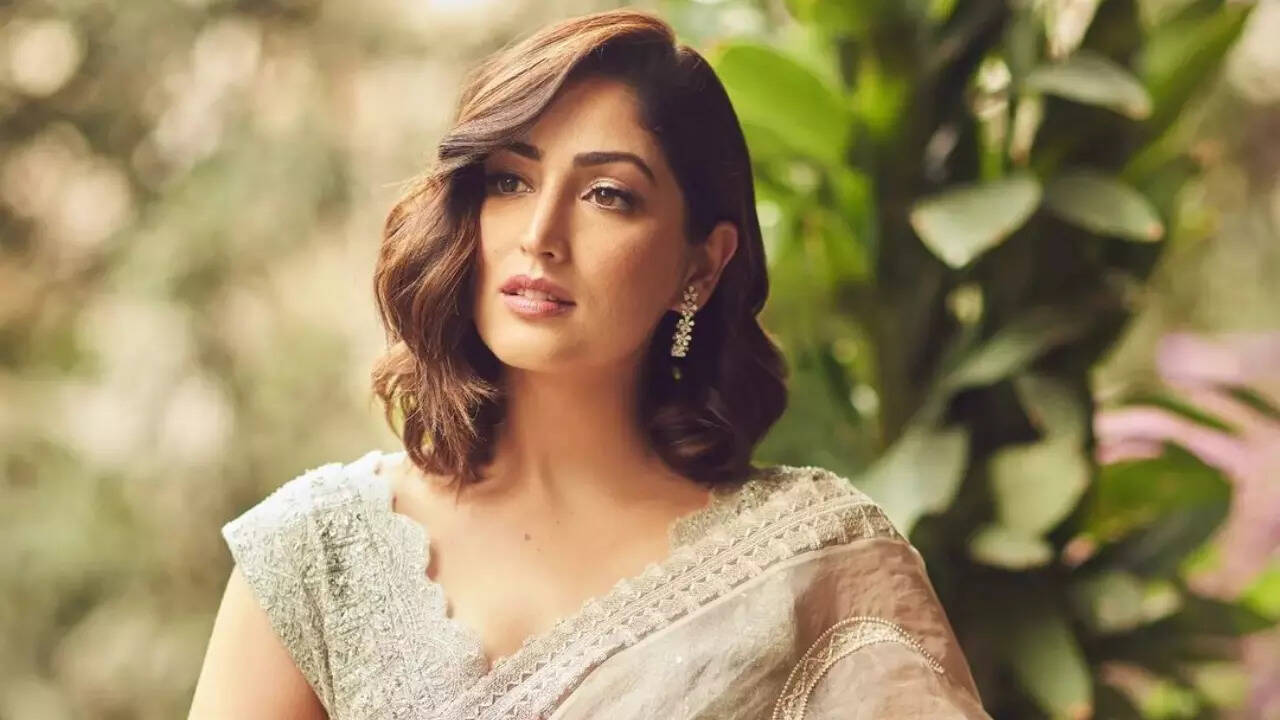 Yami Gautam
Dhar looks elegant and graceful as always in a floral print saree as she greets us with a smile when we meet her. The actress is currently promoting her film, 'OMG 2' which has just hit the marquee today. The film also stars Pankaj Tripathi and
Akshay Kumar
. But for Yami, this film is much more than just a project. She says, "This isn't just like, there are big names attached to it so let's make a project.OMG 2 is a conversation starter, it is an initiative. That's why it's special. When you know that the entire team has a good intention and everyone is on the same page on the set, everyone seems to be equally passionate and driven, that's what matters."
The actress has a lot of courtroom scenes with Pankaj in the film and she absolutely enjoyed the process of working with an actor like him. He also made her feel quite comfortable. "Every co-actor of his will tell you that they loved working with him. There's nervousness when you're working with an actor like Pankaj ji. We had long lines. But he made me feel so comfortable. He came to me and said, "
Main bhi nervous hoon. Kya zarurat hai itni lambi linon ki
." I felt so light when he said that. He perhaps told me that, just to make me feel comfortable, and then, my job went easy. When you work with actors who you've not met earlier, you are a little nervous. Even though my husband Aditya had told me that you will enjoy working with Pankaj ji. But every actor has their own process. I enjoy working with actors who have no pretence (
aise jinko mukhota nahi hota
) and with actors where I feel secure."
Yami further added, "Somewhere there should be an undertone of supporting each other. I need to have that faith in my co-star wherein if they tell me something, I'd be rest assured that it's only for the betterment. People playing pranks or enjoying on the set with a co-star is not chemistry, it's okay, to each its own. But for me, what's important is what you learn from a person and how much you enjoy working with them."
The actress has come a long way since 'Vicky Donor' and her recent projects have been so different from one another. Yami says, that itself is the biggest validation for her. "When you're a newcomer, coming from a different city, one feels,
itna difficult kya hota hai?
I will get work after my first film has done well. But that's not how it is! I think it took time for me to understand the nature of this business. When you understand it, you wonder that even if you're a good actor, will you get work and how will you get work? But eventually, the reality is, actors may give interviews and make headlines but our work is our biggest PR. I feel validated when writers or directors feel that I can do 'A Thursday' also and then, 'Bala', 'Dhoom Dhaam', 'OMG 2' as well. Because that's what I want to do. If the audience today has faith that if I'm a part of a movie, it will have something to look forward to, for me that's an achievement."