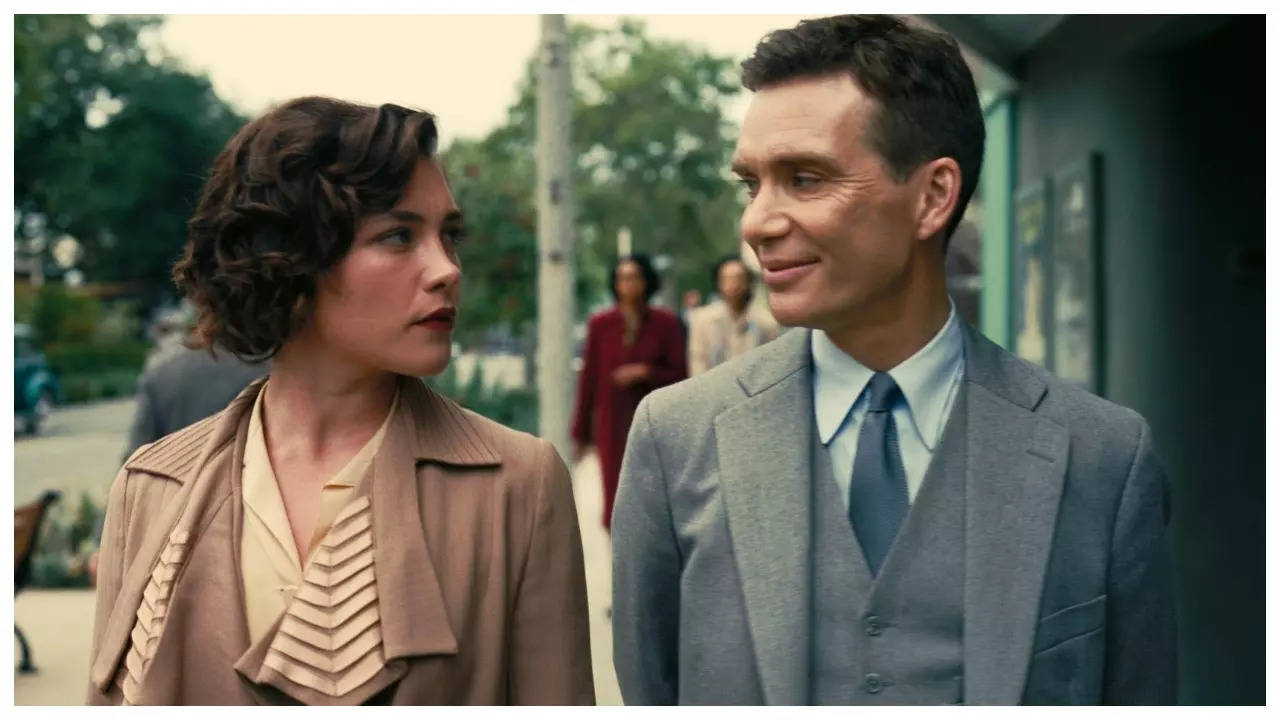 Filmmaker
Christopher Nolan
's 'Oppenheimer' stirred up quite a controversy after a section of the audience took offence to a sex scene featuring
Cillian Murphy
and Florence Pugh. While the Indian Central Board of Film Certification (CBFC) is now taking serious note of the objectionable scene where the character appears to read a line from the
Bhagavad Gita
, Twitterati is having another discussion altogether, about the infamous sex scene or rather, the lack of it.
Read Also
Netizens slam Cillian Murphy reading Bhagavad Gita during sex scene in Oppenheimer
Oppenheimer released in India with several early morning shows and reviews for the movie have been pouring in. The film features Cillian Murphy, Emily Blunt, Matt Damon, Robert Downey Jr, and Florence Pugh in lead roles. An intimate sequence between Murphy and Pugh has landed in controversy. Read on
Union minister Anurag Thakur warns of action on CBFC over 'Oppenheimer'
As Christopher Nolan's 'Oppenheimer', which released worldwide to critical acclaim last week, faced accusations of religious insensitivity over a controversial scene featuring a copy of the Bhagavad Gita, Union I&B minister Anurag Thakur demanded "absolute accountability" from the Central Board of
IB Minister Anurag Thakur wants sex scene with Bhagavad Gita removed from Oppenheimer
Mysterious theoretical physicist J. Robert Oppenheimer, who invented the atom bomb is now well-known because of the movie Oppenheimer. Anurag Thakur, the Information and Broadcasting Minister, has called for "absolute accountability" from the Central Board of Film Certification (CBFC) for allowing a
Did you know Robert J Oppenheimer was an avid reader of the Bhagavad Gita as well as Kalidasa's Meghaduta?
An estimated 90,000 advance reservations have been booked for Christopher Nolan's "Oppenheimer," which is based on the biography of theoretical physicist Robert J. Oppenheimer, at various cinemas around the nation. There has been a rising interest in some new aspects of Oppenheimer's character in
Prior to the release of the film, rumours were rife that the movie would have a 15-minute-long sex scene. Leading man Cillian even went on record and said to a daily that the scenes were "so f–king powerful."
However, many who went to theatres felt they were 'robbed' as their screening didn't really have any explicit scenes. Others complained that the movie was 'heavily censored' and that the screen went black during the sex scenes and that nude scenes were censored with CGI.
"Gosh, they've heavily censored Oppenheimer. The screen goes black whenever there's a sex scene. Curse words muted and removed from subtitles. They really treat Indian audience as children do they," read a post on Twitter.
Another said, "Here in India, Oppenheimer was not R Rated, it was rated PG-13. There was a scene where Florence Pugh's character is naked after they had sex, they put a CG Towel was on her body and there were many cuts by distributors like this to get U/A(PG-13) Rating."
The issue persisted in other countries as well. Another said in a tweet, "I watched Oppenheimer yesterday and it was painfully obvious thru the editing that the sex scenes were cut short, but not entirely due to its significance. It was also painfully obvious that they censored Florence Pugh's topless scene cuz the "black strapless dress" she was wearing would slightly wobble around awkwardly. Man, now I'm wondering what else I've been missing out on due to my country's censorship."
Another laughed out loud at the rumours about an extended sex scene and said, "There's no 15 min sex scene in Oppenheimer lol who started that rumour? The sex scene was so fast I didn't even realize it was happening and then it ended."
The film reportedly shows Oppenheimer and psychologist Jean Tatler (Florence) in the act when she asks him to read a line from what appears to be a Sanskrit book, whose cover is not visible. On Tatler's insistence, a confused Oppenheimer reads out the lines she points at: "Now, I am become Death, destroyer of the world."
According to reports, the CBFC gave the film a U/A rating, making it suitable for viewers above 13 years, after studio Universal Pictures cut some scenes to reduce its length.
In the United States, the movie has been rated 'R– Restricted', which means viewers under 17 would require an accompanying parent or adult guardian. This is Nolan's first 'R' rated film.