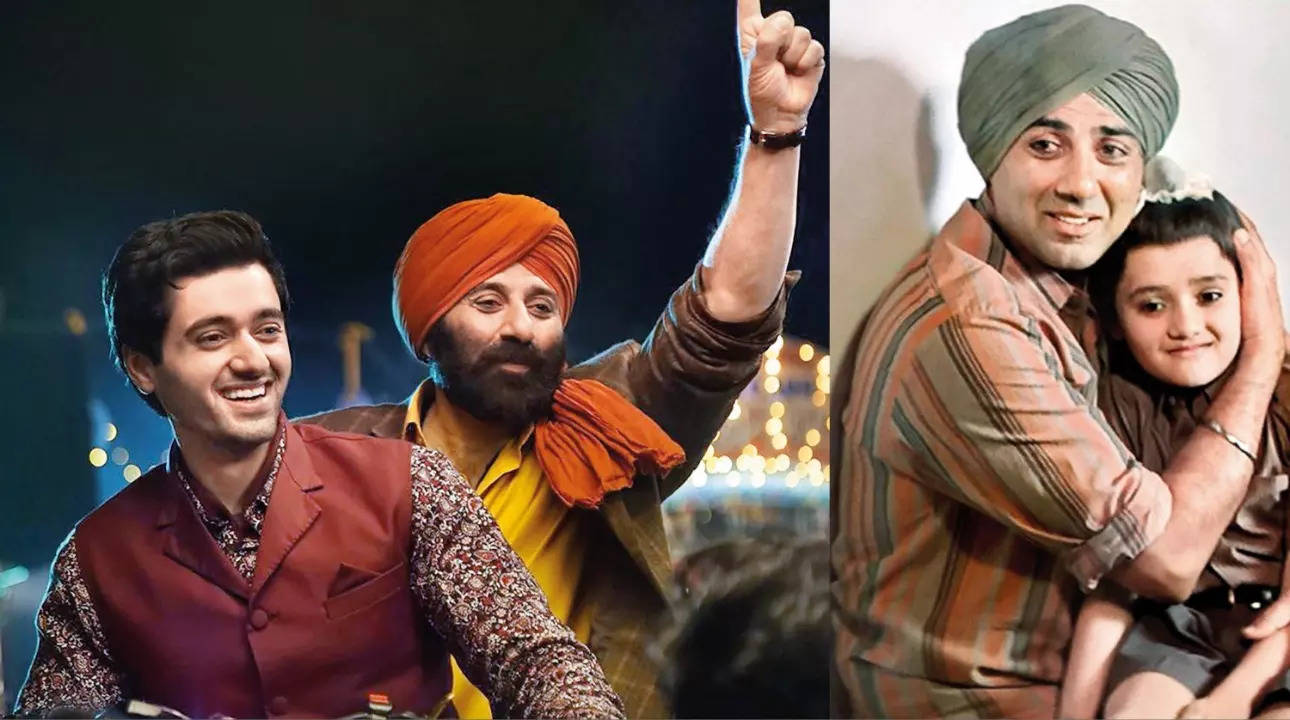 Utkarsh Sharma was just five years old when he shared screen space with
Sunny Deol
and Ameesha Patel in
Gadar: Ek Prem Katha
. Cut to 22 years later, he's back in
Gadar 2
as Jeete, once again sharing the screen space with his on-screen parents. The film, directed by his father, filmmaker Anil Sharma, releases tomorrow. Excerpts from a conversation with the actor:
'It felt like I had travelled back in time when we shot Gadar 2'
"I had that feeling of déjà vu when I stepped into the set," says Utkarsh.
"It felt like I had travelled back in time. It was great to team up with Sunny sir and the whole team again.Gadar has set a certain benchmark that we have to match. So, it took us some time to crack a story that will move people like the first one did," he adds.
Recounting the response to the film in 2001, he shares, "My mom and I had gone to watch the first day, first show of the film at Shaan Theatre to see the audience's reaction. The theatre was packed, so we sat on the stairs. I remember people from all walks of life were under one roof to see the film. Whenever Sunny sir delivered his dialogues or performed a stunt, everybody would stand on the seats, clap and whistle. I hope Gadar 2 also receives a similar response."
'Sunny sir uplifts his co-stars and helps them do well'
Ask him if he felt nervous facing the camera with Sunny after 22 years, and he says, "You are nervous until the time you are in front of the camera because the camera is a great leveller. No one is senior or junior, younger or older. I am always a little in awe of Sunny sir when he is on set, but in front of the camera, we are actors and have to perform. There is no scope for nervousness, especially when you are motivated by the fact that you are working with an actor of his stature."
Utkarsh shares that Sunny has influenced him a lot, especially because his father (Anil Sharma) has worked extensively with him. He says, "I have seen Sunny sir on multiple sets, including Gadar, Apne (2007), Singh Saab The Great (2013) and now Gadar 2. He has this big action star, larger-than-life image, but when you do an emotional scene with him, you realise that he is so much more than just an action star. And all that is translated into box-office success. I am a big Sunny Deol fan. As a kid, I got to work with him, and it was a dream come true when I got to work with him again. I discovered a lot about him this time around. I was surprised to know that he is a tech freak and that he played football in school. As an actor, he uplifts his co-stars and helps you do well."
'Gadar 2 helped me to be a little more free-spirited'
Utkarsh, who starred in Genius(2018), says that working on an intense film like Gadar 2 helped him grow as an actor. He shares, "Gadar 2 helped me be a little more free-spirited, because Jeete ka character waisa hai. When Jeete was a kid, he had certain characteristics – woh thoda ziddi tha, he would go to any limits for his parents and was very protective about his mother. I knew that I could not deviate from that and create a whole new character. So, I had to keep that behaviour, but at the same time introduce some newness to the character."