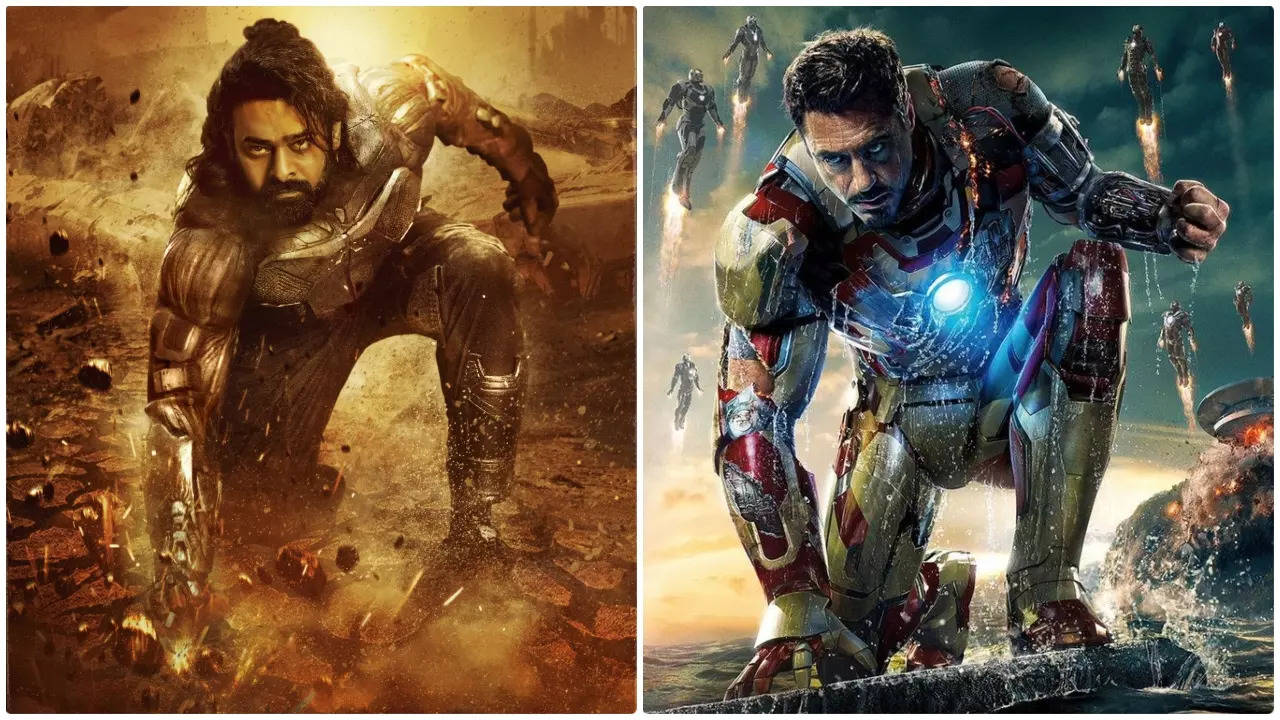 The makers of 'Project K' on Wednesday shared the first look poster of leading man Prabhas and it drew mixed reactions from social media.
While some fans embraced the actor's new superhero-esq look from the film, others poked fun at the poster dubbing his character as 'sasta
Iron Man
'. Twitterati began drawing comparisons between Prabhas' poster and that of Robert Downey Jr's 'Iron Man 3' poster as both feature the lead actor in similar poses.
Hardcore Prabhas fans began calling the superstar "The IRON MAN of Indian cinema."
Another said, "Indian Iron Man arrives with a mythological backdrop."
Keeping in mind Marvel's ongoing Multiverse saga, trolls said, "Somewhere in the multiverse…
Read Also
Prabhas, Kamal Haasan and Rana Daggubati land in US ahead of Project K's San Diego Comic-Con launch
Project K team will unveil exclusive footage at the San Diego Comic-Con on July 20. They will host a panel titled 'This is Project K: First Glimpse of India's Mytho-Sci-fi Epic' with Deepika Padukone , Prabhas and Kamal Haasan during which the film's full title, teaser trailer and release date will
Will Deepika Padukone skip the launch of Project K at San Diego Comic-Con? Here's what we know…
The makers of 'Project K', starring Deepika Padukone, Prabhas, and Amitabh Bachchan, plan a grand launch at San Diego Comic-Con. However, reports suggest that Deepika might not attend owing to the ongoing actors' strike in Hollywood. The SAG-AFTRA protest prevents actors who are committee members
Is Amitabh Bachchan, Prabhas, Deepika Padukone, and Kamal Haasan starrer 'Project K' now titled 'KaalChakra'? Here's what we know
Nag Ashwin's much-anticipated sci-fi action entertainer 'Project K' draws its inspiration from Mahabharata but the storyline is set in the superhero space.
What's this?"
Others said, "Every masterpiece has its cheap copy."
Another disappointed fan said, "Seriously this is worst poster. Seems like face is pasted on Ironman body by some beginner student of photoshop."
Another said, "We want to see different like never seen before it's so bad to see like that. #ironman #ProjectK #Prabhas it's like a sasta ironman."
Directed by Nag Ashwin, the upcoming sci-fi movie also stars Deepika Padukone, Amitabh Bachchan, Kamal Haasan, and Disha Patani.
"The Hero rises. From now, the Game changes. This is Rebel Star #Prabhas from #ProjectK," the film's production house captioned the first look poster.
Prabhas and Deepika are currently in the US along with Haasan to unveil the film's official title, trailer, and release date on the first day of San Diego Comic-Con (SDCC) on July 20. According to the makers, this is the first time that an Indian film will debut at Comic-Con.