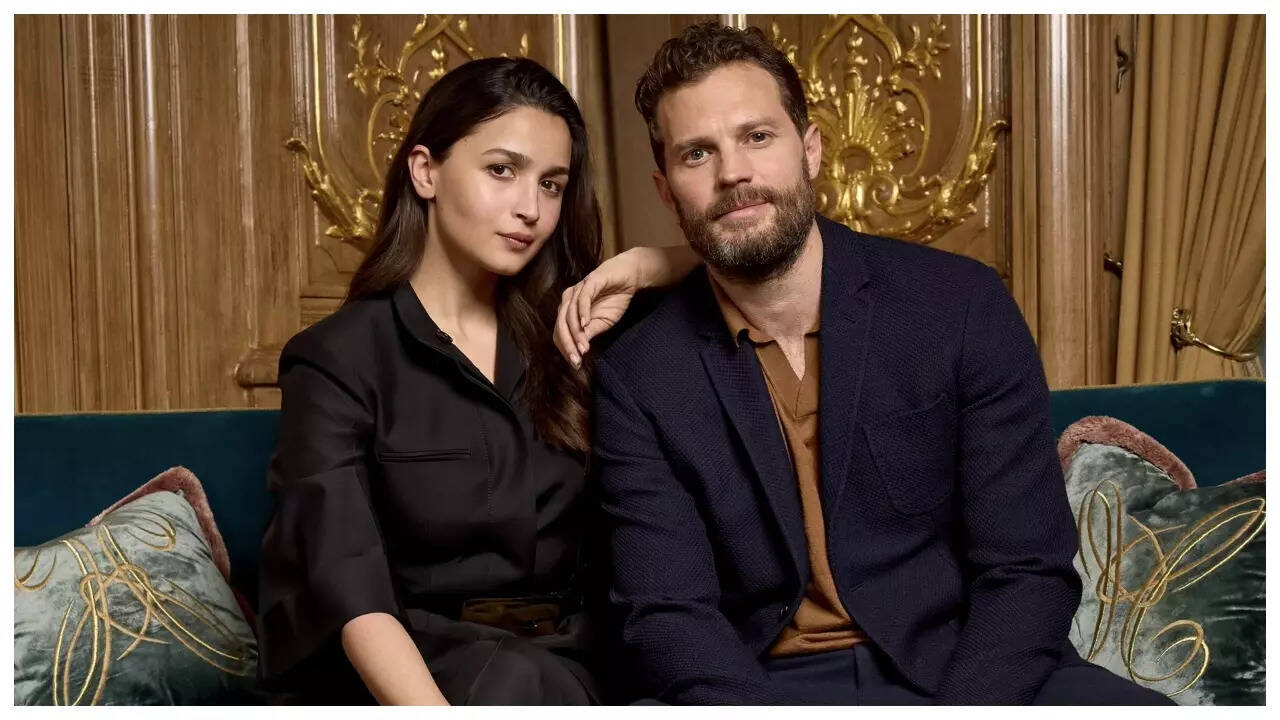 Bollywood actress
Alia Bhatt
made her Hollywood debut on Friday with the release of her spy film 'Heart Of Stone'. The film, also starring Gal Gadot and
Jamie Dornan
in lead roles, skipped a theatrical release for a digital release.
Bhatt became the latest Indian star after Priyanka Chopra, Deepika Padukone, Dhanush, Ali Fazal, among others who made a name for themselves in the West. In the film, she played the antagonist Keya Dhawan, who goes up against Gal, an agent of The Charter, a secret peace-keeping organisation that works in the shadows.
Read Also
Heart of Stone Twitter review: Despite the charisma of Alia Bhatt and Gal Gadot, netizens find this espionage thriller "strictly average"
'Heart of Stone', the new film on OTT starring Gal Gadot and Alia Bhatt, has earned a mixed bag of reviews. Packed with action, this espionage thriller stars 'Wonder Woman' Gal Gadot as Rachel Stone, an intelligence operative, Jamie Dornan as her aide named Parker and Alia Bhatt as Keya Dhawan, the
Alia Bhatt does not see herself moving to the US like Priyanka Chopra: What she did was extremely brave, I don't think I could do that
Alia Bhatt doesn't have a grand plan for her future in Hollywood and does not see herself moving to the U.S., like her friend Priyanka Chopra Jonas.
Gal Gadot talks about the reasons for her special connection with Alia Bhatt
The popularity of Alia Bhatt's most recent movie, Rocky Aur Rani Kii Prem Kahaani, which also stars Ranveer Singh and is directed by Karan Johar, is shining through with the latest box office figures. Though the film is already generating good revenue at the box office, Alia has already moved on to
While over the years several Indian stars have featured in international projects, Alia played the role of a girl of South Asian heritage. While staying true to her roots, she also made sure to stick to her Indian accent, over adopting an American accent for the film.
Interestingly, Bhatt's English dialogues in her Indian accent, won the appreciation of desi fans around the globe. Taking to Twitter, many hailed the star for embracing her character and not 'faking' an accent. "I loved how Alia hasn't faked her accent and kept it the way it is," a Twitter user wrote after watching the film.
"Yar I loved Alia's acting and her accent felt very natural," another wrote.
Another said, "My biggest irk is Bollywood actors in English films is their dialogue delivery & accent always seem artificial/jarring but thankfully that wasn't the case with Alia as she did well & now that she has got her foot in the door hope she gets better opportunities."
Another praised the actress for keeping her character 'natural' unlike other actresses who adopt 'weird mannerisms'. "@aliaa08 who has done a wonderful job in #HeartOfStone Unlike other bollywood actors who ham and ham and have weird mannerisms when they act in Hollywood movies, Alia Bhatt is elegant, graceful and natural. No funny accent either," read another tweet.
"Alia Bhatt's accent feels so local in #HeartOfStone," a fan chimed in agreement.
Others took jibes at Priyanka Chopra who has always been criticised for her 'fake accent' in Hollywood movies and even her web shows. However, fans stepped in to defend Priyanka against the nasty comments saying, "People don't understand it all the characters Priyanka played in Hollywood are America. Alex Parish was born and raised in America.. she will have the accent."
In the globe-trotting spy thriller 'Heart of Stone,' Bhatt's role as a tech prodigy named Keya is one that's hard to describe without spoiling the twisty plot, but it's an important one. Opening up about the part, the actress who has grown accustomed to being a lead in Bollywood, said she was happy to delve into a more supporting part — as long as it had substance to it.
"The way I judge it is if you take the character out of the story and you still have a film, then that character's not important," Bhatt said in an interview with AP.
The actress added that she doesn't have a grand plan for her future in Hollywood and that she does not see herself moving to the U.S. like her Priyanka. "I think what Priyanka did was extremely brave and very different from what anyone has ever done. She's such an inspiration to every young girl from India that has that big dream to be a global icon and a global star," Bhatt said. "I don't think I could do that. I want to continue to do movies in India. And I want to be able to get these one-off, amazing international opportunities."
"I still don't know what I'm doing," she added. "It's just this one film and we'll see how it goes from here."