Actor Shim Hyung Tak got hitched to his Japanese wife Hirai Saya over the weekend and priceless pictures from their wedding have made it to the internet. Hirai is a non-celebrity and the duo reportedly met four years ago in Japan, when Shim Hyung Tak was shooting for a TV show there.
The couple had a wedding ceremony iN Japan, followed by a second wedding ceremony oN August 20.Shim Hyung Tak looked dapper in a black suit while Hirai Saya looked every inch gorgeous in a white wedding gown with sheer detailing and stunning embellishments.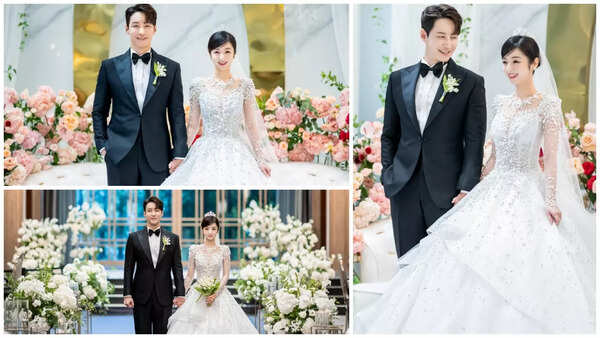 Along with the dreamy pictures, Shim Hyung Tak's agency Alomalo Humain Entertainment also shared a statement from the actor, which read, "I am beyond happy to have wise and lovely Saya as my wife. After my last tears I shed at the wedding in Korea, I will stop crying and become a strong husband for Saya and our family. I promise to protect my wife for the rest of my life."
Jun Hyun Moo hosted the first part of the wedding ceremony while comedian Moon Se Yoon hosted the second part. Lee Seung Chul and Shin Sung performed the wedding song, interestingly, they will also join forces with Shim Hyung Tak fpr Channel A's "Groom's Class."
Shim Hyung Tak debuted as a model in 1997 and went on to feature in several popular dramas like 'Three Sisters' (2010), 'Welcome Rain to My Life' (2012), 'Man in the Kitchen' (2017) and 'Touch Your Heart' (2019) to name a few. In April 2023, Shim Hyung Tak had announced his wedding with Hirai Saya.