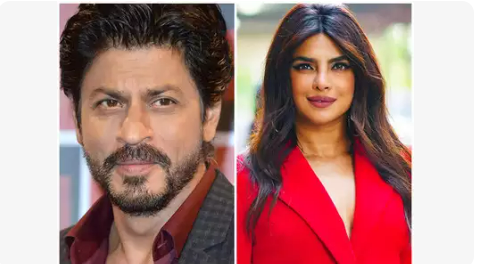 Priyanka Chopra
celebrates her 41st birthday today. The actor, who is now considered as one of the most successful performers in the world , started her career as a beauty pageant winner. All of 18, Priyanka then went on to win laurels to the country internationally as well.
At one of the beauty pageants that Priyanka participated in, Shah Rukh Khanwas seen as a judge and he asked Priyanka a hypothetical question about who she will marry in future, if given a chance.
He said, "Hypothetically, if you were to marry one of the following, who will it be? An Indian sportsman, likeMohammad Azharuddin — who would take you all around the world, make your country proud and make you swell with pride. Or an artistic businessman with a difficult name to pronounce like Swarovski, who would bedeck you with jewels and fine necklaces and you would never have to buy a chandelier for your house ever again. Or a Hindi film star like me, who has nothing better to do than to give you a complicated multiple-choice question about a hypothetical wedding like this."
Priyanka, like always, came up with the perfect answer. She said, "If I was to choose one of these three very difficult choices, I think I would go to a great Indian sportsman. Because when I come back home, or when he comes back home, I know I will be there to be his support to tell him I am proud of him, just as India is. To be able to tell him, 'Hey look, you did your best and you are the best,' and I will take immense pride in my husband who will be a man of strong character if he can bring so much pride to my country. Thank you very much."
Post winning Miss World, Priyanka went on to have a long and successful career in Bollywood, followed by her stint in Hollywood.