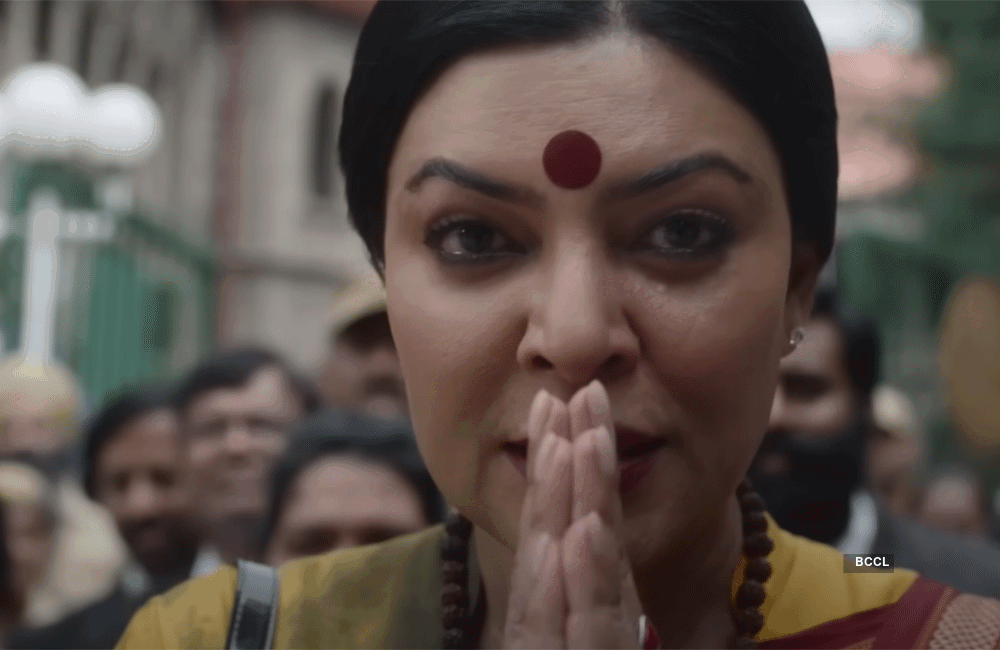 STORY:
'Taali' is based on the life and times of Shreegauri Sawant, a transgender activist who fought relentlessly until the third gender found its place on all official documents in India.
REVIEW: Getting Sushmita Sen – a former Miss Universe and an epitome of grace and feminine beauty to play the role of a transgender, is as bold as it gets. National award-winning director Ravi Jadhav known for popular Marathi films like 'Natarang', 'Balgandharva' and 'Balak-Palak' grabs audience attention with his rather unconventional choice of the actress to play Shreegauri Sawant in 'Taali'. And Sushmita Sen puts her heart and soul into essaying with all honesty. However, the end result is a mishmash of some powerful moments from Sawant's life and a long and laborious narrative that doesn't always manage to engage us. The reason is the script, which shies away from fully exposing the harsh realities of transgender life. Much of the portrayal seems sanitized and superficial, occasionally missing the mark in reaching deep into our hearts. The languid pace of the series further compounds these issues, raising the question of whether the narrative could have thrived better as a concise two-hour film.
The show's non-linear narrative chalks Gauri's internal and external struggle right from childhood, her physical transformation, embracing motherhood and her emergence as a powerful voice in the transgender community. However, barring a scene or two, we don't feel the power that Gauri exudes and the tangible impact of the change she brings. Sushmita conveys this mostly through her expressive wide eyes and a voice slightly altered in pitch, perfectly tailored for the role. Her accent oscillates between some colloquial Marathi and perfect English for which she's known. Nonetheless, she brings the required grace and emotional heft to Gauri's character and skilfully portrays her innermost turmoil. Sushmita's performance is the glue that holds 'Taali's' somewhat unsatisfying narrative together. Rest of the actors play their parts well.
The series' soundtrack adds a significant layer to the storytelling, especially the captivating introduction. The attention to detail in recreating the attire and ambience of yesteryear Mumbai is evident. Sushmita's make-up and gradual transformation has the intended shock value and she sheds all inhibitions to fit into the role. Ultimately, despite its imperfections, the creators, Sushmita Sen and Shreegauri Sawant warrant a round of taalis for their unwavering conviction in daring to embrace the unconventional.
Watch Taali Trailer: Sushmita Sen Starrer Taali Official Trailer