Sunny Deol
is the man of the moment, his film Gadar 2 has taken a massive opening at the box office with a long weekend waiting ahead. But today, Sunny had a small moment when he lost his cool on a fan who wanted a selfie with the star.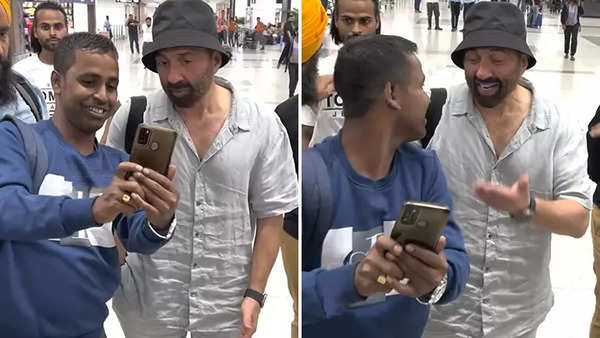 In a video that is now going viral, Sunny Deol is seen walking out of the airport when a fan approaches him for a selfie. The actor obliges but the fan is struggling to get the photo as the star was still walking.Sunny slows down for a moment and even then the photo didn't happen and then he comes to a complete standstill and even then the fan struggled. By now Sunny's team was getting anxious and was seen pulling the fan out of Sunny's way and this is when Sunny actually yelled at the fan to get his photo. The photo finally happened and Sunny went away.
Earlier in the day Sunny's son Karan had wished his father on the release of Gadar 2. He wrote, "As the world eagerly awaits #Gadar2, I'm filled with excitement and pride for you Your hard work and dedication are unmatched. Here's to a remarkable release Papa! #Gadar2 releasing in cinemas near you tomorrow, book your tickets now!"
Sunny was quick to reply to him saying , "Thank you my son". Bobby Deol also dropped heart emoji on the post.