Just a day before
Sonu Nigam
's 50th birthday celebration, the versatile singer has come across a scam on his social media page.
A woman, named as Erica, has been reaching out to his fans claiming to be from the singer's social media team. She has been sending messages to people on social media that only a select few will get an audience with the singer.
As soon as Sonu Nigam learnt about this, he has warned people to be aware of this person in question.
The singer is yet to file a police complaint on the same.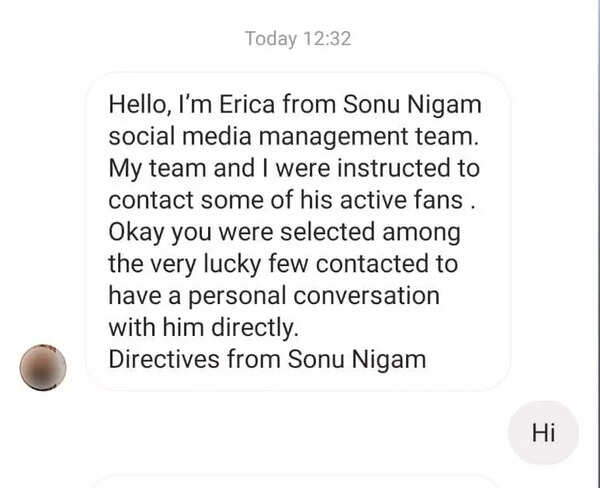 His legal advisor and friend Ashish Joshi said, "A similar case has occurred couple of months back when a person posed as Sonuji's EA and demanded 50k INR from his fans in lieu of a FAN ID card which will give access to benefits like meet and greet Sonu Nigam, free concert tickets etc. We had filed a police complaint then and the person's bank account was blocked by the cops."
He further added, "For this instance, we are still gathering more information and will take appropriate legal action against the culprit early next week. No fan should fall prey to such scams."
Earlier in February this year, Sonu Nigam was allegedly manhandled over taking a selfie at an event in Mumbai. The Indian Singers Rights Association (ISRA) and the Federation of Western India Cine Employees (FWICE) had urged the Maharashtra government and law enforcement agencies to take serious note of the unsavoury episode and to ensure such incidents are not repeated with any singer/artist.
Meanwhile, Sonu Nigam will be celebrating his 50th birthday at the Jade Ballroom, Sahara Star from 8.45 pm onwards.