Four years after
Made In Heaven
dropped on Amazon Prime Video, creators
Zoya Akhtar
and Reema Kagti are back with its second season. The show that touches upon socially relevant issues against the backdrop of Indian weddings, drops online today. Sobhita Dhulipala and Arjun Mathur who play wedding planners and their on-screen teammates – Shashank Arora and Shivani Raghuvanshi – talk about their reunion and what's in store for the audience this time around.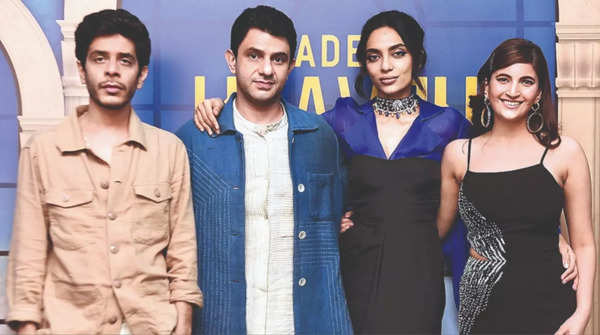 Shashank Arora, Arjun Mathur, Sobhita Dhulipala and Shivani Raghuvanshi
'It's quite an extravagant show'
Speaking about why it took four long years to return, Sobhita shares, "It's quite an extravagant show. It's set against the wedding backdrop, which requires a large setup and grand set designs. There is no joy in compromising and putting something out just because kaam khatam karna hai. It's made with love and sometimes it takes time." Arjun adds, "We faced two lockdowns during our shoots. The shooting was planned for eight months, but took around 18 months. We shot in extraordinary circumstances, completely out of our control, but finally, we are glad that we are here."
'The new cast members and characters bring in a lot of freshness'
Apart from the main cast, the season will also feature Mrunal Thakur, Radhika Apte, Dia Mirza Rekhi, Pulkit Samrat and Sanjay Kapoor, among others, as guests. Says an excited Shivani, "It feels nice and fresh, because otherwise wohi chehre aapko dikhte rehte hai. The new cast members and characters will bring in freshness." Arjun adds, "We embrace these new characters and include them into our family. We become the hosts. After seeing season one, most actors were ready to jump in and take on the opportunity." Shashank shares, "From the newer lot, I enjoyed working with Radhika, Imaad Shah, Sarah Jane Dias, Mrunal… you learn something from every person that you work with."
It's been a breakthrough show for me: Arjun
Arjun's performance won him a nomination at the International Emmy Awards 2020 in the Best Actor category. He shares, "This has been a breakthrough show for me. After watching the trailer of the second season, I had to pinch myself. It is a matter of great privilege because as actors, we aspire to headline shows and shoulder the responsibility of big projects!" Shivani adds, "I have grown up watching Zoya's work. I have been a part of couple of projects, but after this show, people have started calling me Jazz (her character in the show)."
On-screen wedding planners Sobhita and Arjun take a rapid Bollywood quiz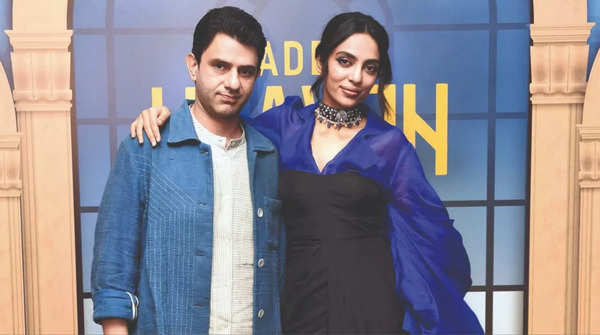 Arjun Mathur and Sobhita Dhulipala
What's the best Bollywood wedding you have ever seen?
Sobhita: None, because I am never invited to one!
Arjun: I am a big fan of Virushka's (Virat Kohli and Anushka Sharma) wedding. I have followed it on social media.
What's your all-time favourite wedding ritual?
Sobhita: In our Telugu culture, there is a ritual where a bride, after the Gauri puja, is put in a basket and all the uncles carry her to the mandap. It really looks cute; the bride in the basket looks like a doll.
Arjun: I just want to eat and go home. Just eating good food at a wedding makes me happy.
What's your favourite location for a destination wedding?
Sobhita: I just love the traditional part of a wedding. I want to do the puja and spend the money on vacationing. Mujhe destination wedding nahi karna hai… kitna paisa waste hota hai!
Arjun: I love beach weddings.
As wedding planners, if the two of you are assigned to design Salman Khan's wedding, how would you go about it?
Sobhita: Oh, very exciting! There will be so much hype around this wedding. It will be fun heading the marketing division of this shaadi.
Arjun: I think I will sell tickets in black, for people to come and see this wedding (laughs).
A perfect song for the sangeet night would be?
Sobhita: Any massy Tamil hit number
Arjun:Mehndi Laga Ke Rakhna
A funny line on your wedding invitation card would read?
Sobhita: Showing up is not necessary!
Arjun: Empty stomachs are not compulsory!