Shriya Pilgaonkar is dishing out one impressive performance after another! After winning hearts with her performance in OTT series like 'Guilty Minds' and 'The Broken News', Shriya recently delivered another ace with OTT movie 'Ishq-e-Nadaan'. She got the internet talking with her single mother portrayal. In a conversation with ETimes, the actress opened up about her OTT success, recent trip with parents Sachin and SupriyaPilgaonkar and the perks of being a star kid among other things.Excerpts:
How was your experience of playing a pregnant woman in Ishq-E-Nadaan?

It's always interesting and a challenge as an actor to portray a life experience that you actually haven't had. For me, playing Sia who's pregnant was interesting because she's a girl who decides to be a single parent and somewhere it's an aspect of her life where she's trying to prove to herself that she doesn't need anybody. There are several internal battles she's fighting and at the same time I think somewhere this decision of being a single parent comes from the fact that she had a difficult relationship with her father and she feels like she doesn't need any support to do this. So it was interesting, physically it's always a little hard to wear that fake belly and to act but the body language came naturally because it actually felt uncomfortable. I ended up actually feeling a bit moody with that belly on because the structure of it is such that invariably it changes your body language. So yeah, it was an interesting experience to portray what a pregnant woman would go through.
Your scene schooling the maid about financial expenses in Ishq-E-Nadaan has gone viral. What's your take on it?

I feel that's always a good sign for an actor when a scene from their work is discussed and that scene is actually meant to have a conversation because it's between two strong independent women, both of whom within their circumstances are showing certain strength. For Sia, somewhere she's very protective of her house help, she doesn't want her husband to take her for granted and Sia as a character, somebody who's very competitive and because of her experience with the men in her life, I think she has her guards up, whereas her house help has a completely different approach to her life and I think somewhere when both these women bare their souls, they end up learning things from each other. I think what the house help says to her is that this is not really a competition, I'm here on this journey with my husband and not to try and prove anything or to win over anything, it's not a race. This thought really leaves my character with something different to think about and I'm really glad that people are having a conversation about it. Some people have misinterpreted the conversation but I feel all in all it's a good thing when people discuss your work and have healthy discussions around it and that's something that I really enjoy.
What do you look for in projects?

To be honest, I want to maintain a balance of doing series and film work. I really enjoy doing different genres and I like stories that will entertain you and will give you food for thought, that will get you to look inwards while entertaining you. So I think both these aspects are very important. Personally, I like different genres and I have done more of dramas and thrillers which is why I enjoyed doing Ishq-e-Nadan which had a bit of romance, some comedy in it and moving forward I am choosing scripts that are versatile and characters that are different. So I rely a lot on my instinct when I pick characters because I want to be re-imagined in different parts. So yeah, a lot of it is also when I enjoy reading something, I read it like an audience first. So I always think it has to be a balance of entertainment as well as a story that people can relate to and that somewhere, you know, gets them to think about things as well.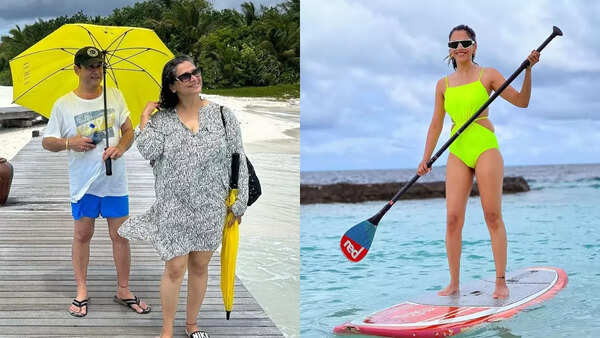 Do you go to your parents for advice on acting projects?

I definitely discuss my choices with them, but they don't necessarily tell me what to do, but they allow me to sort of ask myself the right questions. But yes, they always give me wonderful guidance with things. Eventually, this is my journey, and sometimes there are decisions that you make which go in your favour, sometimes they don't. At the end of the day, it's my job to make sure that whatever decisions I make, I have to try and make sure that somewhere they add some positive value to me as a person and to my career. But yes, I always like to discuss it with them, but they know that my rise and my fall, all of that is a part of the learning experience as an actor.
Have you ever felt an edge for being a star kid?

I've never operated from an entitled space. I don't think I've ever used the star kid card to get work. For me, my journey has been pretty much organic. Honestly, of course, when you come from a family of actors, and especially actors like my parents who have so much experience, their experience itself is something that's invaluable to me. So, yes, there is an edge in terms of experience, in terms of them understanding the nature of the business, and the sort of guidance that they've given me to build emotional strength is more important than anything else. But my entry into the film industry, the way my career has been, has not been based on my lineage, because that's just not the route I have taken. And each person has their own journey, so there's no judgement on that, really.
Shed some light on your recent holiday with your parents.

I just wrapped the shoot of Broken News Season 2 and before I get into another film shoot, I wanted to take my parents for a quick holiday and since I'm not here on their birthday, this was like a pre-birthday celebration. I took them to Maldives and it was just the most incredible vacation we had and you know, we all love water. So we had the best time, just relaxing, just spending time and Maldives is a place that as a child, I wanted to go there because I had seen pictures of the beaches and as a young girl, I sort of promised my parents that I'll take them one day. So that was really cool that I was able to do that and yeah, it's really fun to travel with my parents and you know, once every year, we like to do something like this together as a family. So this was like a pre-birthday celebration since both their birthdays are in August and I'm going to be away for work.