Actors
Shilpa Shetty
Kundra,
Akshay Kumar
and Suniel Shetty's starrer romantic drama film 'Dhadkan' turned 23 on Friday.
To mark the occasion, Shilpa shared the film's motion poster on her stories and wrote, "Thank you for loving Anjali, Dev and Ram unconditionally for so many years. Here's to the next 23."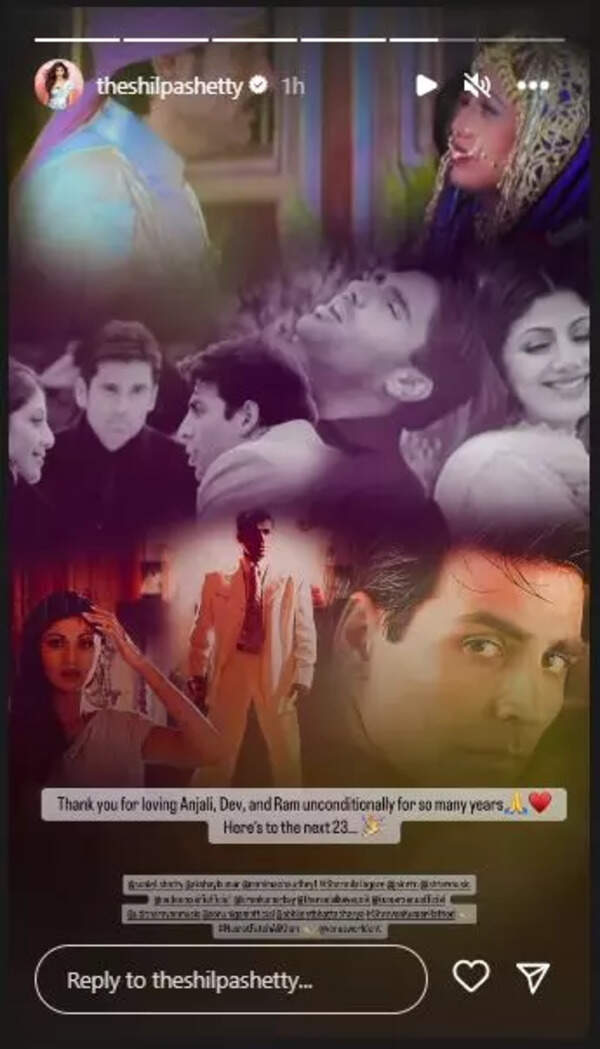 Shilpa portrayed the role of Anjali in 'Dhadkan', a wealthy and influential woman who falls in love with a man from a lower socio-economic background, Dev (played by Suniel Shetty) but ends up marrying Ram (played by Akshay) a rich businessman.
Her portrayal of Anjali was highly appreciated for its depth and sincerity.
Shilpa's performance showcased her versatility as an actor and her ability to bring emotional nuances to her characters. The film was not only a commercial success but also received critical acclaim.
Her performance, in particular, was widely praised for its impact and contributed to the overall success of the movie.
Helmed by Dharmesh Darshan, the film was released in the year 2000 and still holds a special place in fans' hearts.
Meanwhile, on the acting front, Shilpa will be seen in Rohit Shetty's OTT debut 'Indian Police Force', which also stars Sidharth Malhotra and Vivek Oberoi. The series will stream on the OTT platform.
She will also act in 'KD-The Devil' as Satyavati alongside V Ravichandran, and Sanjay Dutt. The pan-India multilingual will be released in Tamil, Kannada, Telugu, Malayalam, and Hindi.