It has been like a dream come true for actress Lehar Khan. After playing a superhero in Brahmastra, the 24-year-old will now be seen portraying a vital member of
Shah Rukh Khan
's girl gang in Jawan. And being an ardent fan of
SRK
, it makes it even more special for her.
In an exclusive conversation with ETimes, Lehar spoke candidly about her experience of working with Shah Rukh Khan, director Atlee, Vijay Sethupathi and Nayanthara in Jawan, her journey, her biggest support systems and mentors in the film industry.
You are one of the few members of SRK's team who has been highlighted in the Jawan trailer…
It was obviously very unexpected because we hadn't even seen the prevue before it was released. So we were all very happy to see ourselves because we thought it was going to be more of the first cut of the trailer and it will be about the hero, the whole aura of the character he is bringing in. So it felt good. In fact, it is still very unbelievable that I am on the screen with Shah Rukh Khan. It was just amazing.
How did you land your role in this film?
So I had an interview. I was called for a meeting. I went to Red Chillies office to meet Atlee sir and after meeting him I think exactly 3 days after it was my birthday, 4th July and I had an audition on 5th. And on the 6th, I got a call that you got the film. It has never happened before because they usually take at least a week. So when I got the call in a day, I just went in to tell my mom. Both of us were jumping because we both are like the biggest fans of Shah Rukh sir.
Is this your first time with Shah Rukh Khan?
No, no. This will be my second film technically with Shah Rukh sir because I was in Brahmastra but I didn't interact with him honestly. I couldn't meet him because I didn't get the character with him. I didn't know when the next project with him would be. I think internally I definitely was manifesting it because a very big part of my heart was broken. I knew he was playing a scientist and we didn't meet him, so it was a big heartbreak.
So did you get a chance to interact with him in Jawan?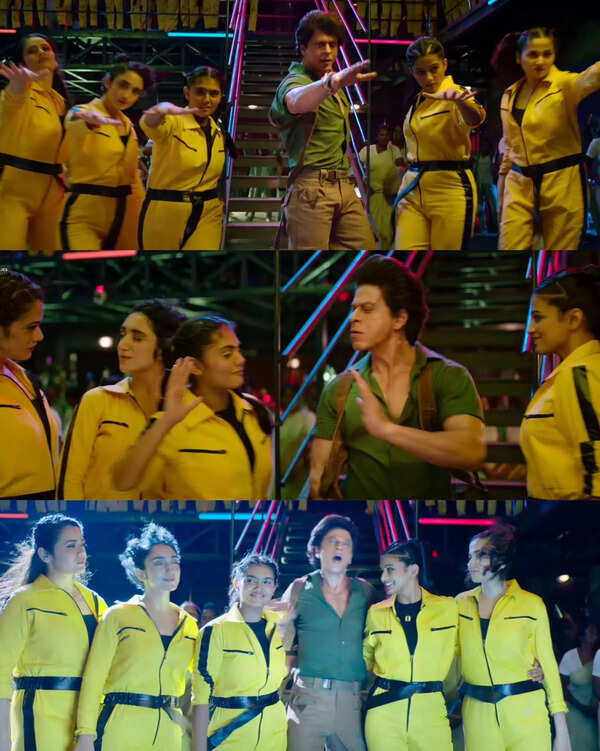 Yeah. We are his girls and he is our chief. I had a lot of interactions with him. I remember very well I had a lot of props in my hands and my collar was uneven for the shot. The costume team was supposed to come in and fix it. But then he came in and fixed my collar. This was very natural to him but in my head I was like, 'oh my god, oh my god.' He is that sweet. So he just set everything and I looked at him and I was like. 'thank you' and he was like, 'don't worry just give your shot nicely.' I was like 'okay cool'. He is that person on set who makes everybody very comfortable and he is so warm. He gives the best hug whenever he comes in. You feel like you are so welcomed on the set. This is one thing that stays in me.
And how was your experience with Atlee, Vijay Sethupathi and Nayanthara?
I will start with Atlee sir. Working with him is a big thing. I have watched his films. When I got to know that I am working with him, we thought he would be different, but he has a very affectionate personality. He is very expressive in showing gratitude in his work and behaviour with everybody. He will be grateful and thankful to everybody equally. I like him a lot and working with him was a very good experience. As a director, he is very patient. He will give you inputs, he will see what you bring in. He is like a blend of both. It was very satisfactory working in such an environment.
About Vijay sir, I saw his film Super Deluxe and since then I have been following him like a mad person. He is a very shy and very quiet personality, very polite, very gentle. He has a very playful process. He stays in his character. I remember he was there in one place, I just went to him and he called me ma'am. He has so much politeness and respect. As an artist, it was a very, very fulfilling experience.
About Nayanthara, I was in awe of her. Her whole persona, her aura is so strong and she is very sweet. With her, you find a certain inspiration in some actress to look forward to. This is something I really want to achieve. I liked her a lot and she is equally sweet during our interactions.
How did you prepare for this role since it involves action?
Actually, I prepared a lot for Brahmastra because I was playing a superhero. For 6 months, we did MMA, personal body training because I was also very chubby at that time. While I was doing my audition for Jawan, they were asking for physical fitness for action. So I told them about my preparation for Brahmastra and that worked really well for Jawan. I think my basics were very clear already.
Tell me about your journey so far.
So basically, as an actor, my journey started when I was 11 and that too I was a dancer. I did a lot of competitions on the zonal level then cable and TV. There was a show called Kids Dhoom, I got selected and then I ended up coming first by the end. From there I got a short film called Destiny which was from London Youth Film School. I just got on and I was not even sure if this is what I want to do. I was 11 years old, even my parents were like 'ok fine, you will get an experience from there'. After that, I was called for this film Jalpari. I went for a look test and immediately I got it. That was very shocking because that was the main lead. We shot for one month and of course it was Nila Madhab Panda film who is basically the director of I Am Kalam. It was a very big opportunity but even after that there was no clarity. I was not mentally prepared whether to act or not. That was also more like a fun experience but definitely a huge opportunity. I got to meet actors like Parvin Dabas, Suhasini Mulay and Tannishtha Chatterjee. After 2 years, Tannishtha ma'am talked to Nila ma'am and they wanted somebody of my age for Jalpari. She just brought up my name and through that Nila ma'am called me. We did a video call and they asked if I could cut my hair like a boy. They gave a basic narration of the entire film. My dad loved it, my mom loved it. So at that moment I was like okay I will cut my hair. Then working with Leena (Yadav) ma'am in Parched and with the rest of the cast Radhika Apte, Tannishtha Chatterjee, Adil Hussain, Sayani Gupta, all of these people were so inspiring and so effortless actors. I was also 14 by then and I felt this is what I want to do. Whenever I was done shooting, I used to assist Leena ma'am or take her makeup bag, but I used to do something. There was much passion and love on the set, I felt this weird energy and that made me understand that this is what I want to do.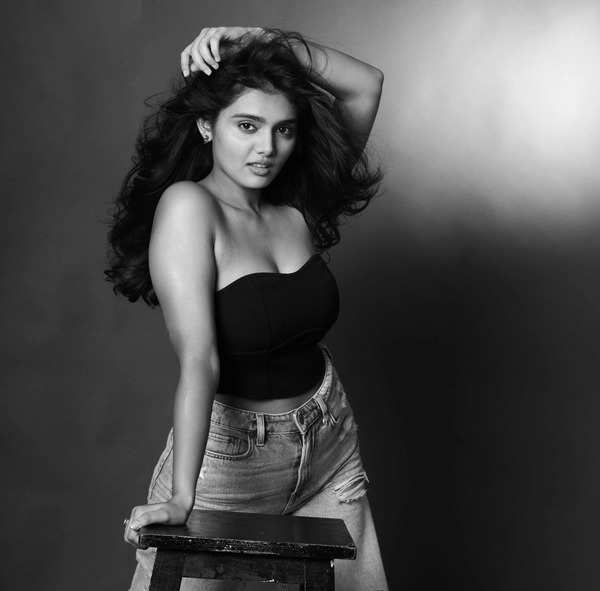 I think the best thing as a child is that your parents support you. I'm from Delhi. My dad's business, everything was in Delhi. And they were like ,'we will shift to Mumbai because that's the right place for you.' It was a huge thing that they did on their part. After shifting to Mumbai, I was also finishing my school and then my graduation and a part of me was so excited about that I did my graduation in filmmaking from Mumbai. During my whole college year, I ended up getting Brahmastra. Then Dahan happened. It was also released last year in September after a week of Brahmastra and it also went really well. And then I ended up getting Jawan. So this has been my whole journey as an actor.
Are your parents happy now?
The thing is I lost my dad in 2021 during the second wave of COVID and a lot of things changed within me. I realised the whole energy that I am getting as an actor to perform comes a lot from my parents. But my mom is very happy and I want to keep working hard. I know that my dad is watching over me and he will be very proud of me because he has been that person who has been my cheerleader since the day first. I was a child who used to draw very badly like old hand drawings and he used to say that I have made some Picasso. He has always pushed me a lot. He was always the happiest and excited to see Brahmastra and it was a sad thing for me that when the movie came out, he was not there with me. So things have changed that way. But I am pretty sure that I am still working really hard to make them proud and I will get to do all of that we had planned in whatever way I can.
How has life changed after becoming an actor, are your friends already teasing you?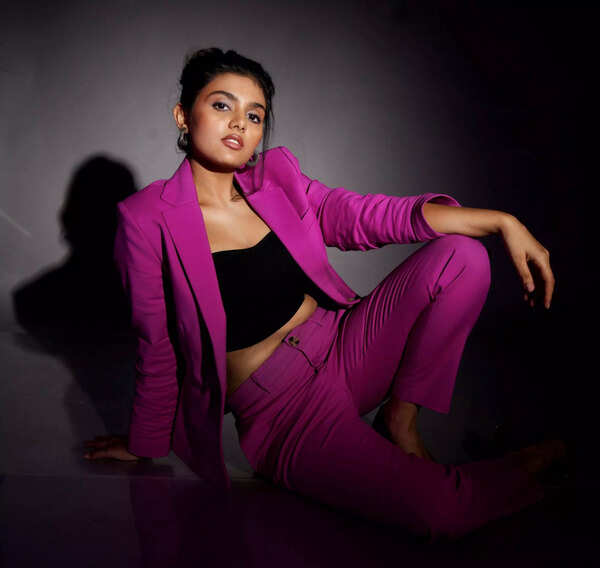 There is a change but I have a very strong feeling that it hasn't come to me yet. The small ones have come but I think the big ones are yet to come so I am waiting for that to happen. I think everybody around me is getting used to me. At times when I sit at home I talk very normally. Then I suddenly remember a memory from any set and I tell it to somebody very casually and it makes me realise that thing hits them in a very different way. When I was 11, it was a very sweet change. My school was very proud of me and I was in 8th standard at that time. I used to play basketball and the kids of the nursery used to come and watch me. My coach used to talk like me, 'go go go meet them'. One day, they came in the queue and started taking autographs on their hands and they were like, 'now I will never wash this hand.' That was my phase in school. I used to get very embarrassed in front of my class. And there were a lot of things like 'oh popular girl in school.' But I think there is still time for a big change but it will come.
Do you still love the attention that you are getting?
I love the attention. I think I am not used to that. I am not a very extroverted person. I am very introverted so I get very quiet in my life. So meeting new people is a little difficult for me but I think it is about getting comfortable. I think once I get used to it, I will like it a lot. As an actor I think I am very choosy and my work is very particular.
Do you have a mentor or someone who has chosen to guide you in the industry?
I think I have been blessed with not one but multiple mentors. I don't come from a NSD background or something like that when it comes to acting as a newcomer. I would say Mukesh Chhabra has been like a big mentor to me. He always remembers me. He has cast me. He keeps telling me, 'it's not acting that you can go and learn, it's something that I can just observe when I see people and I think I have faith in you.' Mukesh sir is definitely one big huge mentor. Then director Leena Yadav has been more like a mentor. Both of them have been a set of guardians or a second set of parents for me. Whenever they introduce me somewhere, they always introduce me like their daughter. They have been in my journey throughout. They have always been aware of what I am doing, always wishing me well.