She was raised by liberal parents who encouraged her to blossom, thrive and be who she wanted to be. And here's what we have today — a bindaas, spunky, confident and cool girl, who likes living her life
zara hatke
. Someone who is proud about not "being manicured". Take it, or leave it — that's Sara for you,
darshakon
! Sitting in her lovely Juhu home, we talk about all that matters – success, failure, beliefs, criticism, love, and most of all, about her honest, true self. Read on…
With films ranging from
Kedarnath
,
Simbaa
, Coolie No 1 to
Atrangi Re
, Gaslight, and your recent release
Zara Hatke Zara Bachke
, would you say that your career has been
zara hatke
, or did you tread more
bachke
?
I definitely think that my career has been hatke.
Aankh Maare
(
Simbaa
) dropped on December 6, 2018, and
Kedarnath
released the next day, on December 7, and just those two pieces of work are so different. However, I think whenever I have played a girl from the heartland of India, it has connected with the audience, because I am that person in my soul – in the way I travel, eat, talk or my values. Whether it is the Bihari dialect in
Atrangi Re
or dressing up like a Punjabi girl in
Zara Hatke Zara Bachke
(
ZHZB
), these are things you have to work on, but desiness to me is an emotion. So, the desire to be versatile is always there, but beyond that, there has been no planning my career trajectory.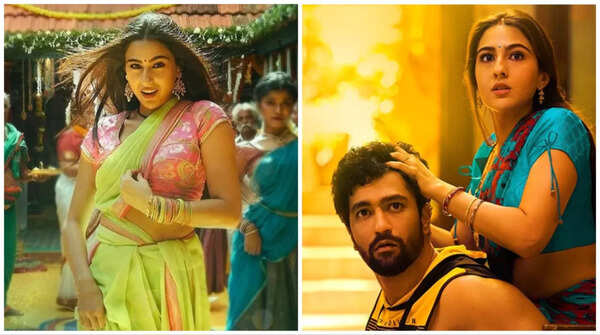 Sara Ali Khan in Atrangi Re and (right) with Vicky Kaushal in Zara Hatke Zara Bachke
You have received a lot of love for ZHZB, which went on to become a success. But how do you deal with the harsh criticism that comes your way for some of your work? In fact, a lot of opinions and comments on various aspects of your life are put out there by people on social media. How deeply does it affect you?
I think it is important to understand what the criticism is. If I am being criticised for going to a temple, the length of my shorts or the colour of my dupatta – then I don't care. It's no one's business, but my own! But, if I am being criticised about my work, and if they don't like my work, then that's a problem because I work for the audience. It is important to take feedback, learn and grow. If I had carried the burden of the failure of Love Aaj Kalonto the set of Atrangi Re, I wouldn't have been able to deliver. Whatever I do, I do it with my heart and soul. It is difficult to detach when you love something so much. It broke my heart when the media and audience that gave me so much love for my first two films panned me in Love Aaj Kal. It shattered me entirely. But I decided that main haar nahin maan sakti, and I have to do better. I am not one of those people who will say that they don't care. Of course, I do. I don't let failure or criticism break me, but I don't let it make me either. Now, when I meet people at the gym, they are much nicer to me than they were a few months ago (owing to the success of my film). The love I received for ZHZB has given me a lot of confidence, but I didn't let it excite me much as I know it's till next Friday. So, I don't get too attached to the love, for I know that it might not last.
In the last few years, do you think you have come into your own?
Yes, I have. I am getting better at being able to surrender to the director's vision. I think somewhere, I had become a little insecure after some of my films that released didn't get the kind of response and love that I had hoped they would. Suddenly, I became unsure…ki bharosa bhi karu to kispe karu, kitna, kya karu? To fully let that feeling go and be able to honestly present yourself in every set is a different learning. Also, because I am loud, funny and bindaas, one thing I have learnt recently is that the idea is not to be the joker on set. The idea is not to exhaust yourself so much that action aur cut ke beech mein kuch rahe na because you have to leave the juice and meat for what really matters. The rest is all useless.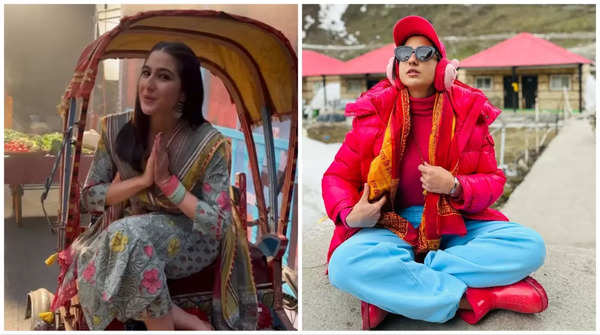 Sara Ali Khan often shares glimpses of her life after work on social media
When you interact with your fans and the media – whether in person or via social media – there seems to be a certain ease and comfort. You are fun, chatty and even goofy. Does it come naturally to you, and is this your honest, real self that you put out there?
I guess I am so different from others that I come across as bindaas, ziddi, pagal…aur mujhe yeh sun ke bahut garv mehsoos hone laga ki I am not manicured, and I started liking that. I started enjoying the fact that people appreciate me for who I am. Since childhood, I was encouraged to be myself by my parents. But people often told me, 'Talk softly, don't laugh so loudly, your body language and posture should change now that you are going to be an actor.' Then I actually got accepted for who I am, and I was like…why should I waste my energy trying to be someone else. I can be different people for my screen roles, and if I need to do justice to all these characters on screen, I need to be Sara when I am not any of these in real life, else I will go crazy. I admire people who can put up this front 24/7. It is exhausting, and I want to save that energy for action and cut. It is not that I say anything anywhere, I do have that awareness. But yes, off-camera, I want to be myself and be real.
Having done all-out commercial films to the hatke ones – is there any genre you specifically want to explore or do more of?
I want to be able to do everything. There is a certain connect that I feel to heartland India, and I would like to do another one in that zone. But I also want to do a royal period drama and a romantic film. I want to reach a point where people say that there is no genre that Sara can't do. I set very high standards for myself; I always have. I believe that if you aim for the moon, you will land on the stars. Anand L Rai taught me that – give a bad shot, but never give a safe shot. Take a risk, take that leap.
What is Sara's ideal man like? Do men get deterred by your honesty and frankness?
I don't know if it is a deterrent, but it is who I am. I have learnt thus far in life that I don't mind being loved, I don't mind being hated, but I don't want to lie – whether it is to my friends, audience, media, or the man in my life. You have to take me for who I am. I do have an opinion, a brain, a heart, and I am not going to silence any of them. Hopefully, I will find the right person who accepts that.
'I don't want to be known as a knock-knock queen, that's not my name'
I am beginning to understand what the job is and what isn't. People pleasing is a defence mechanism you will adopt when you don't think you are good enough for the job. I went through that phase after Love Aaj Kal when I thought my jokes would be appreciated if not anything else. But I am realising that the work will speak. I don't want to be known as a knock-knock queen, that's not my name. That is only funny if there is a decent amount of work to substantiate it. Confusing audiences into buying their love by giving intelligent interviews or jokes on reels instead of work is not the approach. The more films I do, the more I realise that.