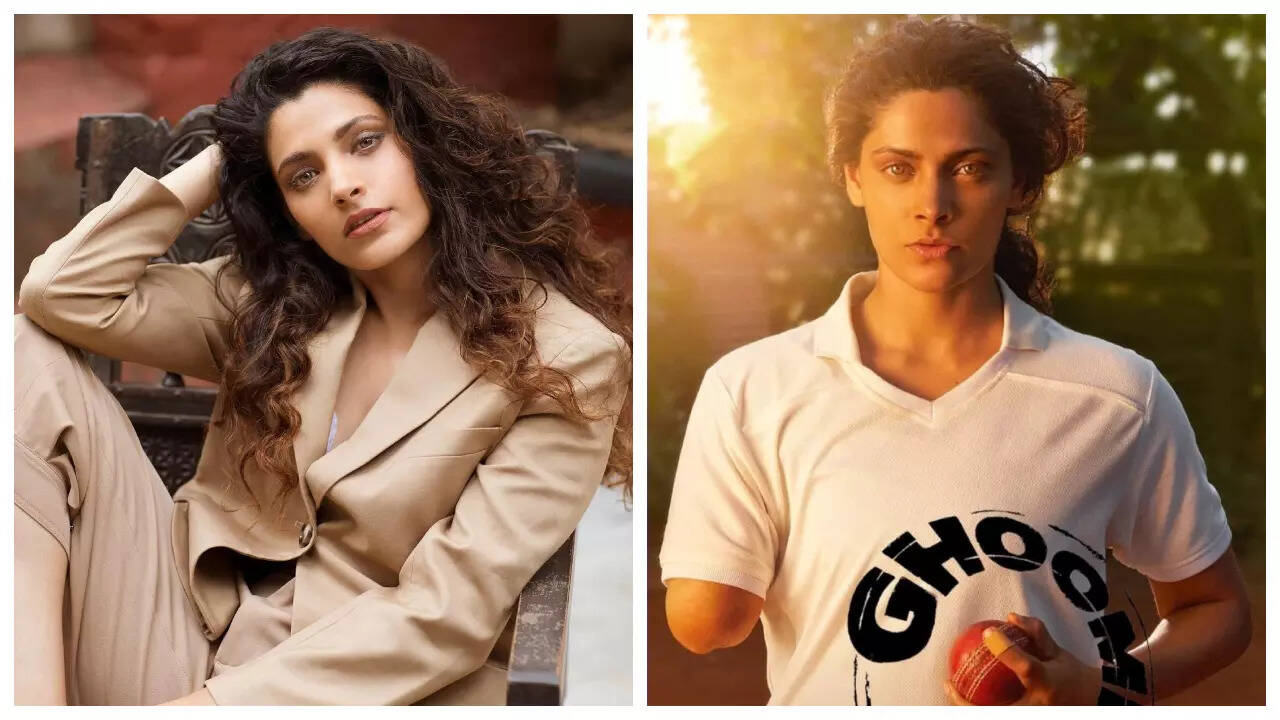 Saiyami Kher has been garnering immense love and appreciation from the audience and critics alike for her performance in the recently released film, 'Ghoomer'. The actress plays the role of a para-athlete in the film. ETimes caught hold of Saiyami for an exclusive chat where she opened up about how she prepped for the film, what makes R Balki stand apart from others, her bond with
Abhishek Bachchan
and more.Excerpts…
Your performance has been receiving rave reviews from all quarters. How does it feel?
Exciting and very overwhelming. I guess this is what we live for. For our work to reach people. For our work to be liked by people. So it's all very overwhelming. And I just hope that more and more people go and watch it. And the love keeps pouring in.
How did you come on board for the film? And how did you prep for your character?
I actually came on board for this film a really long time ago. R Balki sir saw me playing
cricket
somewhere once and he had decided in his mind that if he makes this film, he will do it with me. We actually ended up doing it.
I had a good 4-5 months to prep for the film. But I was also shooting for my show, 'Faadu' with Ashwiny Iyer Tiwari. I used to shoot all night and then go and prep for my character in 'Ghoomer'. I would do my cricket practice for an hour and a half, sometimes two hours. I had ex-Indian cricketer, Murali Kartik come in and coach me. So there was a whole lot of physical prep that I put in. But besides the physical prep, it was also emotionally very challenging. I was fortunate to speak to a few para-athletes who played for India and won medals for India. So they really helped me in my emotional journey for my prep for 'Ghoomer'.
You have been an ardent fan of sports in your real life, especially cricket. Does that make you stand apart in your female friends circle?
I have played the sport ever since I was very young. And I think that's the main reason why I bagged this role. Because I have played this sport. And Balki sir felt that it's not only about playing cricket. It's also about the body language that a sportsman shows when they're not on the field. So he said those small intricate details, nobody will be able to get besides somebody who's played this sport. So for me, I guess because that's been my backdrop, it was much easier. But having said that, I am not a left-hander in life. I am a right-hander in life. So learning all that was like learning a new sport altogether. Because I had to do it with my other hand. But it was a dream, to say the least. It's something that I have been wanting to do for the longest time.
You have worked with Abhishek in 'Breathe: Into the Shadows' before. How was it shooting with him in 'Ghoomer'? Did you ever get intimidated by him?
I was not intimidated at all. Because we spent a lot of time together on 'Breathe…' And also he's just one of the nicest, most warm people you can come across. He makes you feel very comfortable. He takes care of you. It's just so much fun. And I think Abhishek has done a really good job in this film. Because I believe it's a very tough role to play. I think playing an alcoholic is not easy at all. And he's done it with so much ease and so much grace.
In the trailer, you probably see that he's so insensitive. And his character is so crass. But by the end of the film, you're rooting for him. So I feel that it's a very challenging place to be. And he's done it really well.
What did you guys bond on, on the set? Because he's also quite a sports person himself.
Because we've known each other for some time, I think the bonding was already there. But of course, it was cricket, it was food, it was a different sport, not just cricket. And then Balki sir and he have known each other for a very long time as well. So they have a great equation. I have known Balki sir for very long as well. So I think it just felt like family. Whenever I went on set, it was like I was going to my hometown or something. Because everyone was so comfortable and so close to each other.
What makes R Balki stand apart from the other directors you've worked with?
I have been spoiled time and again by the filmmakers I have worked with, starting with Rakeysh Omprakash Mehra sir, Anurag Kashyap, Neeraj Pandey and now R Balki. He is somebody who I have known for 7-8 years now. He's just the most non-filmy human being I know. I really get along with him because I'm not that filmy in real life.
He's obsessed with cricket. I don't know anyone who's as obsessed about cricket as Balki sir is. So we used to be discussing, and Abhishek used to be like, you two be quiet, we need to talk. Because we used to be discussing cricket, playing cricket. We were just completely obsessed about the game. And I feel he is a very intelligent filmmaker. He is obviously unique with his ideas, that we all know. He is a very sharp filmmaker. And I really hope I get to work with him again.