Ranveer Singh is currently riding high on the success of his latest movie Rocky Aur Rani Kii Prem Kahaani which just entered the 100 crore club in the country. The audience has loved Ranveer not only for his style and charisma, but also for the way he cracked the loud but adorable Punjabi character of Rocky Randhawa in the film.
The actor recently held an Instagram Q&A session and answered a few questions his fans had for him.
One of his fans asked him about the much appreciatedKathak sequence in the film. He said, "Your Kathak in the film was surprising… How much time did you take to learn?" To this Ranveer replied, "It took about a month. It was difficult to imbibe the essential grace in the dance form, given all the muscle mass that I was packing at the time!"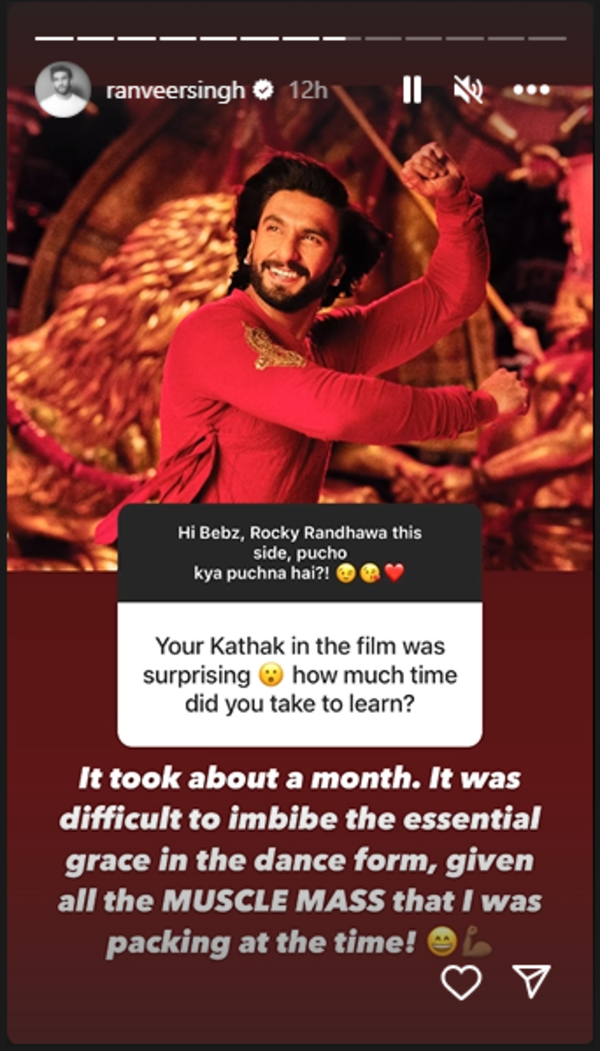 This particular dance sequence has garnered immense attention, being compared to the original performance by Madhuri Dixit and Aishwarya Rai Bachchan, with some even suggesting it surpasses the original. According to reports, recreating the iconic dance was no small feat.
Ideally, Johar would have reached out to Pandit Birju Maharaj, the legendary Kathak exponent, to train the actors, but his passing made that impossible. Instead, the pair was rigorously trained by top Kathak gurus. Initially, both actors were hesitant about embracing the delicate feminine movements required for the dance, but they gradually overcame their inhibitions.
Meanwhile, during a recent interview, Tota shared that Karan Johar was very particular that Tota's character Chandan Chatterjee cannot look like a caricature and it has to be someone who is confident in his own skin, somebody who is proud of his culture, his dance form and art.