Aks, Rang De Basanti, Delhi-6, Toofan – Rakeysh Omprakash Mehra is known to choose some of the most unconventional stories for his films. Delhi-6, the box office failure of which pushed him deep into alcoholism, gets more love today with many feeling that it has become more relevant than ever. Soon after, Mehra bounced back and scripted Milkha Singh's biopic Bhaag Milkha Bhaag which turned out to be a huge success.
As the film gears up for a re-release a decade after its release, Rakeysh bares his heart out on his reason behind choosing to tell the compelling story of Olympian Milkha Singh on celluloid, his extended meeting with Singh while writing the film, zeroing in on Farhan Akhtar for the role, and more. For the first time, the filmmaker also shares an anecdote of shooting in Pakistan for the film in this #BigInterview with ETimes. Read on.
What compelled you to choose to tell Milkha Singh's story on the celluloid?
For the longest time, I was wanting to tell a story, weave a story around the Partition of India. In Milkha Singh, I found a perfect character who was the victim of the partition of India. And to weave the story around his life with the backdrop of partition and to tell an inspiring story. In the history of modern India, the partition holds a very seminal place. It is also the largest human migration in the history of mankind. There hasn't been a larger migration of humanity. The people were just crossing over on both sides.
Overnight, they had lost whatever they had built and generations of their families had built. The ones who suffered are the women and the children. And Milkha Singh was one of them, who was 12 years old and witnessed the massacre of his family at large, mother, father, brother, sister, cousins, the village. Somehow, he made his way to Delhi, stayed in a refugee camp, and didn't have clothes to wear, or food to eat. He even picked up the knife to do petty crimes like stealing coal from the railway yard just to fill his stomach. He didn't have shoes to wear and how does a person like him go out to create a world record and a gold medal at Cardiff Games, even in the Commonwealth Games in Athletics which is an alien sport to Indians.
We are not a running country. We play hockey and we play cricket at best at that time. To challenge the world in their own sport, in their own backyard, and win and become an international icon at the time when India was just being born. The facilities were not the same, the communication was not the same. He would train barefoot and all that and spikes and all came very late in his life. It was a very inspiring story to tell to the generation today. One, you could talk about the history of this country during the period from 1947 -1960. Two, you could relate to the youngsters and tell them that with so little he could achieve everything and so much. So, there is little for us to complain about anything.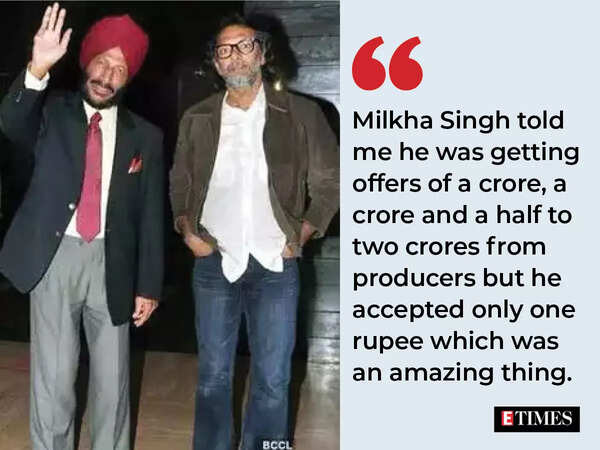 So, when you met Milkha Singh and told him that you want to tell his story, how did he react?
His first reaction was that
beta aap khana kya khaoge
? Then, he sat me down and I distinctly remember, I reached Chandigarh at 9:30-10:30 in the morning and my return flight was at 5:30 in the evening. I met Nimmi Aunty first and then met him after another half an hour, he had gone to play golf. So, he came, took his shower, and got into his suit. He used to change his suit twice a day. Once in the afternoon whenever there was a visitor and once in the evening when he went to the club.
Then we had food and we started talking about his life and then he started speaking. It was almost 4' O clock and I was getting late for the flight. 4:30 pm I am getting a call from my Bombay office, from the airport, messages were coming, that the gate will close and all that. I told my office to cancel the flight, get me into the hotel, and stay back in Chandigarh for 5 more days. I bought some kurta pyjamas and a toothbrush and heard him out over the next five days again and again. Full day, he used to be with me and I would walk with him when he was playing golf, I would speak to him. And then go home for lunch and then I would go back to the hotel. Rest for some time.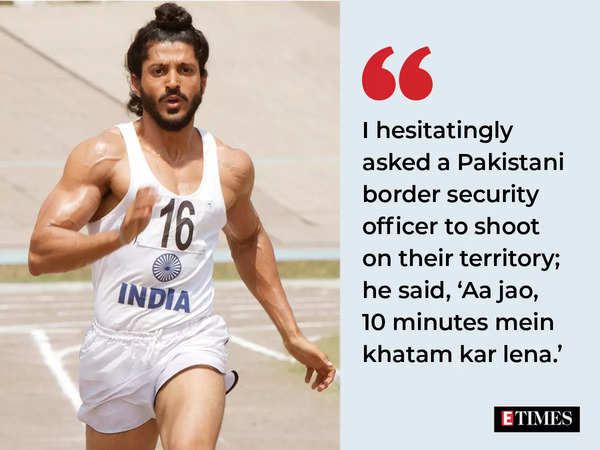 Did he just open up about his life?
He opened up childlike. He opened up innocently. He didn't hold anything back. He had to trust me first. It took time to win his trust. I think it was day 3 or day 4 when I first saw tears appear in his eyes when he spoke about the same thing that he had told me on day one, but now he was sharing it with much more feeling. And actually, what meant to him when he witnessed the massacre of his family.
The second time I noticed his tears was when he said, "
Bete mere haath se gold medal gir gaya Rome Olympics mein
." He was the favourite but he lost the gold medal. And it was a technical error, he was leading the race for 250m and he looked behind, how far behind the others are. That moment the others took. I found these two moments as the defining moments of his life. One which defines the person he was, the demons he was carrying inside him, and the stars he was nurturing. And two, he was as an athlete at the greatest stage when he couldn't get through the medal podium. So, that night I wrote the first scene of the film and the last scene of the film in the Chandigarh hotel where I was staying.
And I told him
humari film aise shuru hoti hai aur end aise hoti hai
. You are running away from your demons. When you look back you always see the demons are chasing you. And later, when you run this beautiful race in Pakistan and the President of Pakistan says, "
Puttar aaj tu dauda nahin, udiya hai. Aaj se duniya tere ko Sikh nahi, Flying Sikh ke naam se jaanegi. Pakistan tujhe yeh khitab dete hue bahut fakr mehsus karta hai
". When that moment happened it was a friendship game organised between General Ayub Khan and our first Prime Minister Jawaharlal Nehru.
This time when he is taking this victory lap and he looks on his side, it is his childhood which is smiling at him. In his childhood, he was always scared. it had witnessed the beheading of his own father. So that trauma was there. In between there were so many amateurs from his life.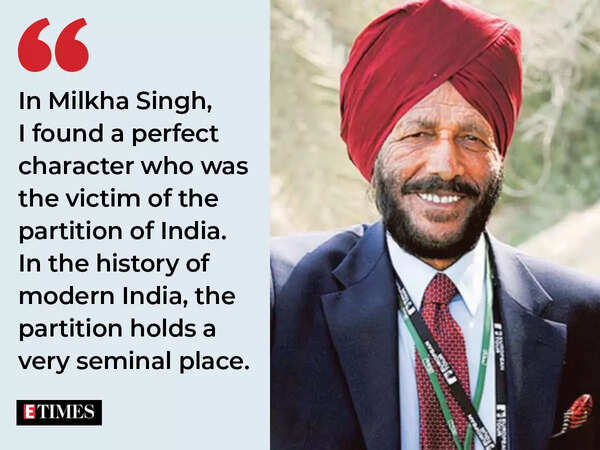 When you finished telling him the story, what did he tell you in the end?
I said, "
Main aisa kuch likhne jaa raha hoon
." He said, "
Main toh filmein dekhta nahi hoon, pata nahi kaun kya banata hai, lekin Jeev (his son, golfer) keh raha hai ke agar aapke upar film banani hai toh Rakeysh Mehra hi banayenge.
" And he just took Re1/- for the rights of his film. I clearly remember he told me he was getting offers of crore, a crore and a half to two crores from producers but he accepted only one rupee which was an amazing thing.
How did your search for Milkha begin?
First, I started doing music with Shankar-Ehsaan-Loy, then started feeling the film. I always like to enter my film with music. Even with Rang De Basanti, I did that. Except for Aks, my process begins with music. Then I started speaking once the script was ready and Prasoon has done an amazing job of putting the storyline together. I had to take it and break it into the past and the present and do the screenplay of it. I enjoy doing it like that. It had worked for me in Rang De Basanti. The style went further in Bhaag Milkha Bhaag. Once all that was in place, I started speaking to various actors I thought would fit the character.
So, you first went to Aamir Khan?
I don't remember the sequence who I went to first, but Aamir being a close friend, I did speak to him that I am making a film like this and what he feels. I screen-tested a few actors, Ranveer Singh was one of them who screen-tested for the film. But when I spoke to Farhan Akhtar, it was just a twenty-minute conversation and he immediately got it. It's not that others didn't get it. He immediately felt one with the role. And when I looked into his eyes, I saw Milkha Singh's eyes. The same intensity and if you see the photograph specifically the eyes, I could imagine Farhan playing a rustic Sikh from a village and everybody around me told me what was going on. You are saying Farhan and Farhan is a rockstar. He is a Rock On!! star, so I said these are all labels. These are all cliche. An actor is an actor. The actor identifies with the character. It's the best thing that can happen. Then I showed them the simile of Sunil Dutt being so suave in Waqt and then he played Birju in Mother India.
Then I approached Divya Dutta. In my book, there's a chapter where everyone shared what they felt about Bhaag Milkha Bhaag.
10 saal ho gaye hain film ko
. We are celebrating it with a homage to Milkha Singh. We are holding a special screening tomorrow. The entire family may not be present. Jeev is playing a tournament in London. He will try but his daughter Soniya is there and her family is there. The entire casting crew whoever in Bombay is there will be present. On the 6th of August the screen. On the 6th of August, the film will release in 30 cities across India.
My wife, our producer and editor of Bhaag Milkha Bhaag has also edited Rang De Basanti and has also won a National Award for that. She had a dream of taking this film to the deaf and dumb and all the films we make. With this film, the dream has come true. This film has been adapted in ISL which is the Indian Sign Language. So, there will be a box there with sign language. So, people who did not understand the film earlier because they could not hear, now they will see it in their language. It's more inclusive.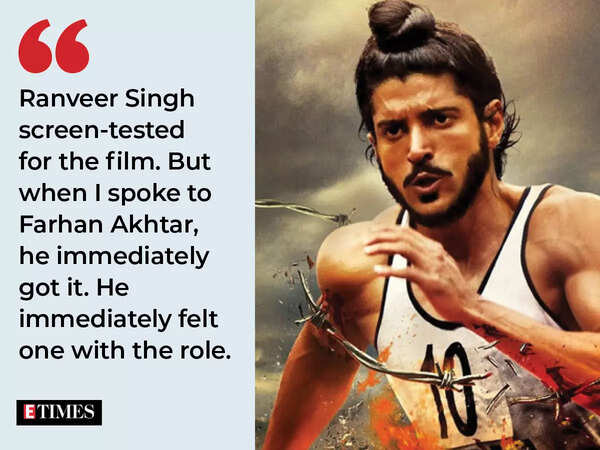 What is that Pakistan shoot? It is an interesting trivia which you have not shared ever.
It was during the pre-climax of the film, there was a scene where Jawaharlal Nehru and Colonel Ayub Khan wanted this Friendship Game. So, Milkha Singh lead the contingent to Pakistan. It was called the friendship games. the Indian contingent went on a bus. Obviously, you have to cross the border.
Woh wala scene picturise kar rahe they
. I was making this film as realistically as possible. So, I said let's shoot from where they crossed. I found out that they crossed through the Ferozepur border. So, we went to the Ferozepur border and we got permission from BSF to shoot. But the permission was to shoot from India and not the border of Pakistan.
The gates open on the Indian side and the bus would cross and would stop. So, every time we shot and I felt, "
Yaar, maza nahi aa raha
. The bus has to go to the other country or come from the other country to India."
Maine darte darte request kiya wahan ke jo official they, BSF ke
. I asked, "Can I take my camera?"
He said, "How was that possible? You don't have your passport, you don't have a visa. Even if you had that you don't have the permission to shoot that."
So we spoke to the other officer who is the counterpart on the Pakistan side.
He said, "What's happening? What are you doing?"
I said, "We are doing a film on Milkha Singh. This was called the Friendship Games.
Ek hota hai desh, aur ek hota hai watan, aur woh apne watan laut rahe they
. He was born on that part of the land."
He said, "
Aa jao, 10 minutes mein khatam kar lena
."
He walked me and my cameraman, I remember. I carried the camera, Binod Pradhan carried the stand and lenses. We said, "
Hum zyada log nahi aayenge
. We kept the things that side. I said, "Action!" The gate was opened and the bus went through and we got the shot.
Was this film screened in Pakistan?
Mausam per depend karta hai. Kabhi chalti hai, kabhi nahi chalti hai. Us samay shayad release nahi hui thi, screening band thi. Rang De Basanti Pakistan mein bahut dhoom dhaam se release hui thi.
In fact, there is a channel called Aag which got started after Rang De Basanti. There is a documentary on Rang De Basanti called Rubaru.
When we will get to see you and Farhan together again?
We worked together in Toofan. Our last release was Toofan. Hopefully, we get to work more and more.