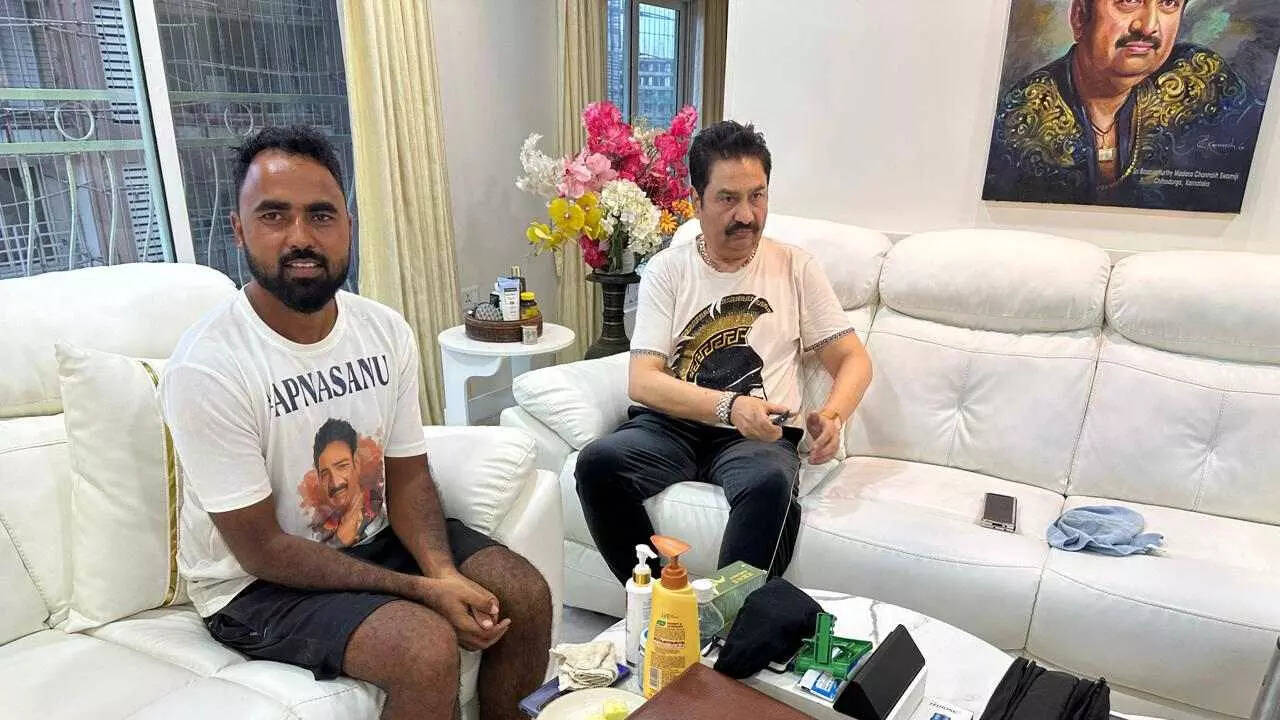 In a heartwarming display of unwavering admiration and respect, Rajesh Balodiya, an ardent fan of the legendary singer Kumar Sanu, embarked on an extraordinary 1200 Km solo cycle ride from Jhunjhunu, Rajasthan, all the way to Mumbai. His sole purpose? To meet his musical idol and pay tribute to the maestro's incomparable contributions to the world of music.This exceptional journey, fueled by love and passion, marks a remarkable event in the history of the music industry, as
Kumar Sanu
becomes the first singer to receive such a profound token of adoration.
Rajesh Balodiya, hailing from a modest middle-class family, cherished Kumar Sanu's songs as more than just melodies; they were powerful emotions that had accompanied him throughout his life. Setting off on his bicycle, Rajesh faced various challenges and unpredictable weather conditions, but his unwavering determination drove him forward. His incredible journey captured the attention and admiration of people across the country, inspiring them with his dedication and love for the iconic singer.
"My family has always known how much Kumar Sanu's songs mean to me. This journey is not just a physical one; it is a heartfelt tribute to the living legend and his timeless music," Rajesh expressed with unwavering determination.
As the sun set on August 4th, Rajesh's remarkable expedition concluded in Mumbai, where he met Kumar Sanu at the prestigious Gem Paradise on Veera Desai Road, Andheri West. Emotions ran high as Rajesh prepared to present his heartfelt tribute to the musical legend.
When informed about Rajesh's extraordinary endeavor, Kumar Sanu was visibly touched and moved by the overwhelming love from his dedicated fan. "It makes me emotional to see so much love from them. I exist because of this much love and support from my fans," expressed Kumar Sanu with genuine humility and gratitude.
Rajesh Balodiya's solo cycle ride to meet Kumar Sanu stands as a unique and heartfelt chapter in the annals of the music industry. It showcases the unbreakable bond between a revered artist and a devoted fan, where music transcends beyond entertainment and becomes an inseparable part of life's journey. As the music industry witnesses this momentous occasion, it reinforces the fact that true artists are not just performers but creators of emotions that touch the souls of their listeners. Kumar Sanu's contribution to music is a testament to the enduring power of melody and lyrics to touch lives and inspire people to express their love in extraordinary ways.
As Rajesh's unforgettable expedition comes to an end, it serves as a poignant reminder that true artists not only entertain but also create emotions that touch the souls of their listeners. Kumar Sanu's enduring contribution to music is a testament to the timeless power of melodies and lyrics to inspire, unite, and make dreams come true.