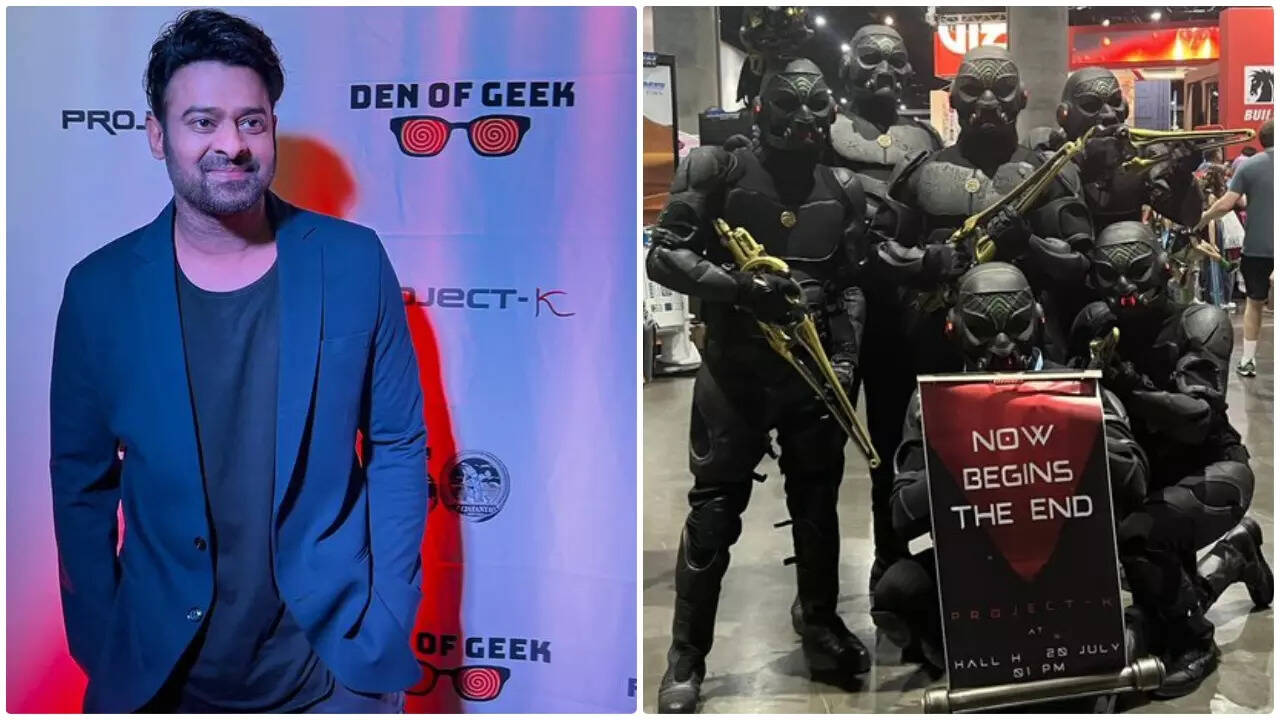 Hours after launching the first look poster of his mysterious character in 'Project K', Prabhas hit the red carpet at
San Diego
for the film's promotional event. Dressed in a suit and tee the actor put on his best smile for the fans and the cameras.
Videos of fans screaming Prabhas' name quickly went viral online, along with photos of the star. The hunk was also spotted catching up with his Baahubali co-star Rana Daggubati, who was also present at the event along with Kamal Haasan.
While the actors promoted their film at a special event, performers dressed as 'Raiders' in all-black body armour and menacing helmets, marched to the fan event at Hall-H. Many took to social media to share clips of the troops in their costume promoting the movie as they posed with a banner that read, "Now begins the end."
Those attending ComicCon also got special illustrated comic stip posters, giving them a tease of the film set to hit the big screens on January 12, 2024. The strip reads, "In the darkest of the dark days of Kaliyug, where all hope was lost and heroes were all but a forgotten story. An evil rose to destroy all gods and make man worse than an animal."
It then features an armed guard forcing a man to pledge allegiance to their god. "Salute to our god now or this will be your end," the guard threatens, prompting the man to say, "I'll rather die than salute your go!"
"There's no choice, old man, nobody is coming to save you… salute!"
The strip ends with Prabhas' character stepping in.
More details of the same will be unveiled today in a special Q & A session set to take place at the festival.
In the picture, Prabhas dons the same body armour as seen in the first look poster. The star will rock a rugged look with long hair. Prabhas's first look from 'Project K' was shared on social media by the film's producer Swapnadutt Chalasani.
Directed by Nag Ashwin, 'Project K' boasts an ensemble cast of industry luminaries, including Deepika Padukone, Amitabh Bachchan, Kamal Haasan, Prabhas, Deepika Padukone, and Disha Patani, among others.
The film is a sci-fi epic and is set in a distant future. It will also mark Deepika's debut in Telugu cinema and will have a wide release in multiple languages.