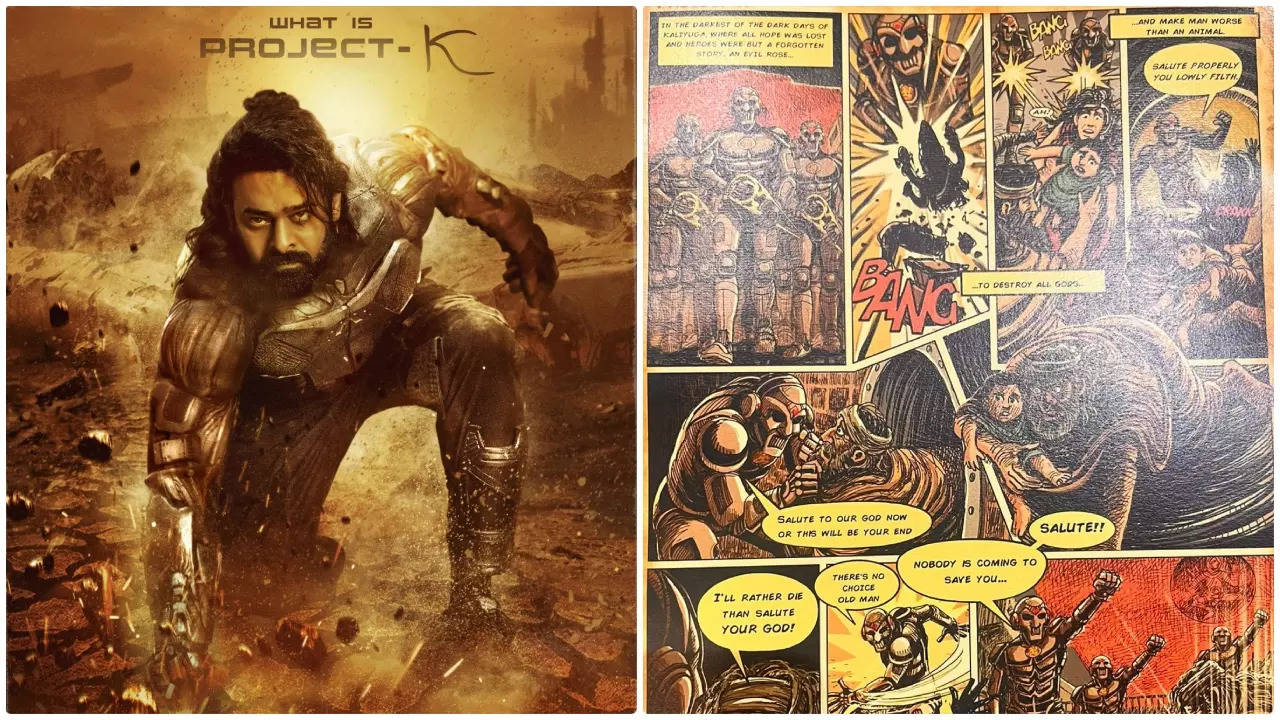 'Project K', the upcoming sci-fi action flick starring Prabhas and
Deepika Padukone
in lead roles is all anyone is talking about since its poster launch on Wednesday.
The film directed by Nag Ashwin and produced by Aswani Dutt is creating quite the buzz at the
San Diego
Comic-Con with the film's team and its leading man, out and about engaging with fans. In viral clips from the festival, performers dressed as villainous armed guards from the film, dressed in all-black body armour and menacing helmets, were seen marching into Hall-H.
Many took to social media to share clips of the troops in their costume promoting the movie as they posed with a banner that read, "Now begins the end."At the event, a special illustrated comic strip poster was shared giving fans a tease of the film set to hit the big screens on January 12, 2024. The strip teases a mythological twist to this story of good vs evil set in a dystopian future. It will also delve into Hindu mythology, as the comic strip features a guard smashing an idol believed to be of Lord Shiva.
The strip reads, "In the darkest of the dark days of Kaliyug, where all hope was lost and heroes were all but a forgotten story. An evil rose to destroy all gods and make man worse than an animal."
It sees the armed guard forcing a man to pledge allegiance to their god. "Salute to our god now or this will be your end," the guard threatens, prompting the man to say, "I'll rather die than salute your go!"
"There's no choice, old man, nobody is coming to save you… salute!"
The strip ends with Prabhas' character stepping in.
Interestingly, in a previous interview, director Ashwin revealed that 'Project K' follows the story of a modern-day avatar of the Hindu god Vishnu, who is believed to have descended to earth to protect the world from evil forces.
He went on to add that the film will be high on sentiment and will focus heavily on the emotions of the characters and their relationships with each other. He also promised that the film will be full of stunning visuals, immersive sound effects and amazing special effects.
More details of the same will be unveiled today in a special Q & A session set to take place at the festival.
The film is a sci-fi epic boasts an ensemble cast of industry luminaries, including Deepika Padukone, Amitabh Bachchan, Kamal Haasan and Disha Patani, among others. It will have a wide release in multiple languages.