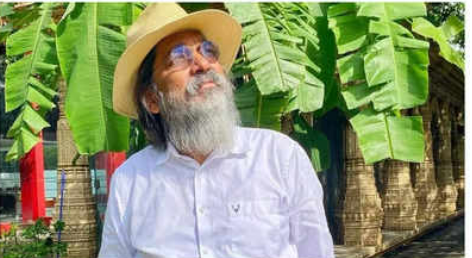 Yesterday, the entire industry went into shock when it was learnt that Art director Nitin Chandrakant Desai was found dead at his studio in Khalapur. While prima facie, it looked like a case of suicide, the police has now confirmed the same, after conducting the post mortem. According to reports, a team of four doctors conducted the post mortem and the Raigad police, in a statement revealed, "Postmortem of art director Nitin Desai has been conducted by a team of four doctors.
Read Also
Ashutosh Gowariker on his way to ND Studios; says, 'I am stunned and shocked with Nitin Desai's demise'
Ashutosh Gowariker, who has worked with Nitin Chandrakant Desai on films namely 'Lagaan', Panipat, and Jodha Akbar, to name a few, mourned over the death of the famous Art director, who committed suicide at his N.D. Studios, Karjat, at the wee hours of Wednesday (August 3). Reports states that Nitin
'Nitin Desai bonded well with local villagers, gave jobs to them at his studio'
Nitin Chandrakant Desai, 57, was found hanging at his studio, which stands on 42 acres of land at Chowk village in Raigad district, on Wednesday. Locals remember him as someone who bonded easily with them.
As per preliminary findings, the cause of death is due to hanging. Further investigation is underway."
Earlier, a source from his studio had exclusively informed ETimes that Desai had left behind an audio recording. The source said, "It was planned properly by ND. Last night (Tuesday) he took all the keys from the security and told his boy to leave him alone at the Studio as he has some important work to be done. ND came to see him off at the gate and asked him to come next morning around 8:30 am. He also asked him to see the recording which he said he will find in Studio no 10."
"At night, on the sets of Marathi Pavool Padte Pudhe, Studio number 10, he drew a bow and arrow with sutali (rassi), he placed a ladder on the bow and arrow, and hung himself," the source further informs.
In the recording, Desai also requested not to let ND Studios be taken away from him. He also specified that his last rites be performed at Studio no 10.
Desai is known for projects like Lagaan and Devdas. He had opened this sprawling studio in the Khalapur taluka on the outskirts of the financial capital where films like Jodha Akbar were shot. His company ND's Art World is engaged in the business of organising, maintaining, operating replicas of historical monuments and providing facilities and services related to hotels, theme restaurants, shopping malls and recreation centres.