Neetu Kapoor took to her Instagram handle to share to cryptic post about families not being the same anymore. This comes after
Kangana Ranaut
took an indirect dig at
Ranbir Kapoor
and
Alia Bhatt
.
Check out her post here: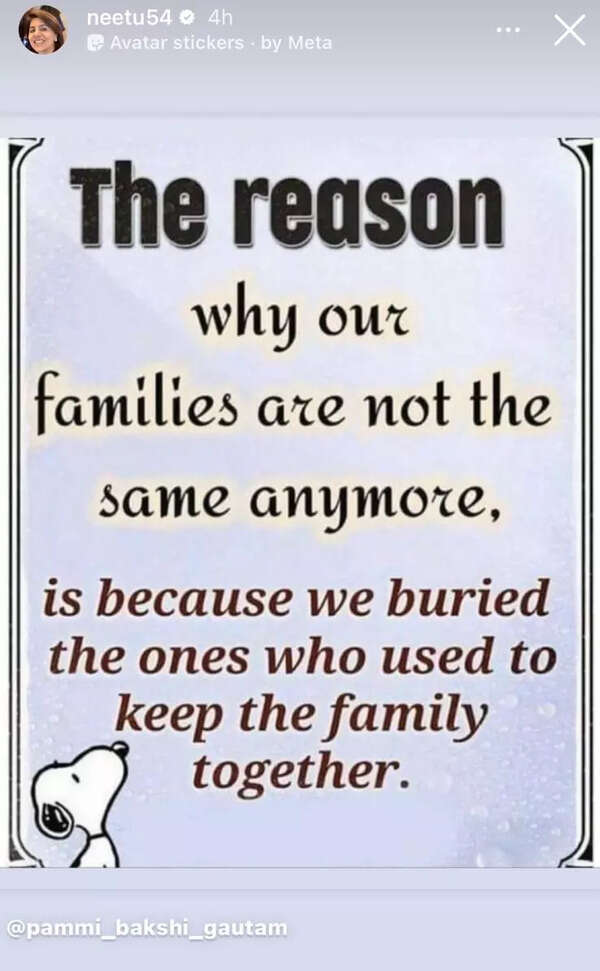 Her post read, 'The reason why our families are not the same anymore is because we buried the ones who used to keep the family together'.
Kangana in her Instagram post wrote, 'In another news a farzi husband wife jodi who lives on separate floors and pretend to be a couple are spreading fake news about movie announcements which aren't being made also calling a brand owned by Myntra their own… besides no one wrote about how wife and daughter was snubbed from a recent family trip, while so called husband was texting me begging and pleading to meet him.This farzi jodi needs to be exposed.'
In another post, she added, 'This is what happens when you marry for movie promotions/ money/ work and not for love… this actor who married under the pressure of a mafia daddy was promised a movie trilogy in return for marrying papa ki pari, movie trilogy has been canned and now he is desperately trying to break free from the fake marriage… But sadly no takers for him now… He must focus on his wife and daughter… This is India ek baar shaadi ho gayi toh ho gayi… aab sudhar jaao.'
While Kangana refrained from taking anyone's name, netizens feel that she was talking about Ranbir and Alia.