With the success of Gadar 2, music composer and songwriter Mithoon has witnessed the kind of mania which he had never seen before in his career. He is known for his emotive and soul stirring music and it has worked well in the
Sunny Deol
and Ameesha Patel starrer.
In an exclusive conversation with ETimes, Mithoon candidly spoke about creating music for the Anil Sharma directorial, launching singers like Arijit Singh and Mohammed Irfan, how life has changed after marriage with Palak Muchhal and more.
Your songs became popular much before the release of Gadar 2. How does it feel?
This is what we work for. The numbers are great, but more than the numbers, it is about seeing the mere emotion of the people and how attached they are to the songs. I went to the premier with the public itself in PVR two days back and I actually saw people standing up and dancing while the songs were playing. Obviously, I have seen the success of Aashiqui 2 and Kabir Singh in my own career, but this kind of mania, this kind of mass connection, I had never seen before. So it's definitely a very big joy for me as a music composer.
Was it challenging to maintain that essence and emotion intact?
I really don't relate to the word challenge because I don't really see doing music as a challenge. I either have to do something and then I do a film or I don't do it. I don't really see it as a challenge. When Anil Sharma ji called me for Gadar 2, I felt very excited. I felt a creative urge to do music for this kind of a story. And for that matter, I even recreated the work of Uttam Singh and Anand Bakshi saab. With all respect, I have done it. And I think that's why that respect can even be seen when the people are hearing the songs today. They can see the love and respect I have for my seniors. And I think that's why it has worked as a recreation even in today's time when recreations are actually not getting accepted. Gadar is a great example I think for the entire fraternity of how recreation should be done.
Are you in favour of recreating music?
I don't have a specific opinion that way because I feel it's a very relative question. Everybody can feel differently about it. My opinion is the way I have done it, Udd Jaa Kaale Kaava or Main Nikla Gaddi Leke for that matter, I feel that the very basic essence of the song that is created by the original creator should not be tampered with. I insisted on them being given credit alongside on all the platforms. So I think that's just my personal integrity speaking the way I wanted to do it. But I don't have a general opinion to make about what people feel and how things should be done.
What do you enjoy the most – creating the entire album or contributing songs to the project?
I definitely enjoy doing the entire album provided I am given that kind of time because I take some amount of time to work on music. I don't have a song bank. A lot of people come looking for them these days and I don't have a song bank like that. So I always work on a brief. I am one of the few composers who actually ask for a narration. So when Anil Sharma ji gave me a narration and he gave me the kind of time I wanted to do, I obviously would love to go for that. And all the songs shine the way from beginning to end. You feel a different level of fulfillment as a composer. But I have also done a song called Tumhe Kitna Pyaar Karte in Bawaal which did very well a couple of months back. So that happens in a short time when there is less time and we need a song. I worked with Nitesh Tiwari and Bhushan Kumar for that film and the song did equally well. The film was also doing well on the OTT platform. So I can't say no to that. I enjoy that also to some extent. It just depends if I am given more time, I would love to do the full album.
Audiences connect to your songs emotionally, right from Woh Lamhe, Aadat, Maula Mere Maula. Do you consciously maintain that essence in your music?
It's definitely not a commercial tactic from my side. But yeah, it's who I am. It's my natural instinct. I like writing about those emotions. I like writing about human feelings. I like creating melodies which have a long-lasting lingering effect. I like silence in my music. I really enjoy it a lot. So I think that's why it always works for me and I hope it works for me in the future as well.
In between, you had come up with your solo album, Tuhi Mere Rab Ki Tarha Hai. And after that, we didn't see you coming back with that again. Are there any plans to bring out your solo album?
Not right now. But I can do very well. I didn't get the kind of connectivity I would have loved for that album. Because I worked on it with all my heart. And after that, I've stayed away from non-film music. And I see right now there is too much stutter in the non-film zone. While it is good to have an industry in the non-film, I feel there is too much information for the listener. There are too many options because of which a lot of good songs also go hidden. I don't have any immediate plans as such. I've been getting a lot of offers from many places to do something like that. But I'm going to take it a little slow. Just focus on my film project for now. And maybe next year I'll do something.
You launched Arijit Singh with Phir Mohabbat and Aye Khuda. And now he has become one of the most sought-after singers in the industry. How do you feel about it?
I feel happy. I feel he is the most sought-after because he deserves to be that. Completely deserving of the talent that he has. But at the same time, it's something that is my job. As a music director, it is my job to find the right voice, the best voice for a song and deliver it to my listeners. So, be it Arijit, Mohammed Irfan or Shilpa Rao, who also had her first song with me. So, the thing is, it's not just about any one particular singer. But I feel that I just do my job.
Do you stay connected with your proteges?
We do stay connected according to our own personalities. I am not a very socially connected person. Neither is Arijit. He remains in his own zone. So do I. So, we don't speak much apart from work. But whenever we connect, it is with all our heart. And we respect our individual spaces.
You also found the voice of your wife Palak Muchhal…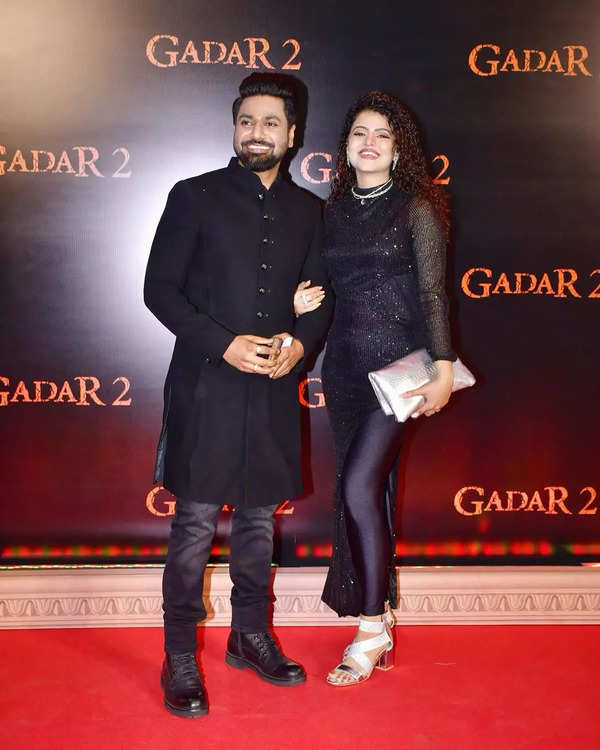 I happened to work with her on Aashiqui 2. And it was my father, actually, who had highly recommended her to me, specifically for Aashiqui 2. Because Mohit Suri wanted to launch Aashiqui 2 with new voices. At that time, we had Arijit Singh or Ankit Tiwari and Palak as well. So the idea was to create a new soundscape for the album. And when we were looking for a new singer, I happened to find Arijit back then when he came and met me. And my father happened to tell me about Palak. And he told me, you must listen to her. And we called her and we recorded her for a song. And once we heard her, both of us, myself and Mohit Suri, we were very convinced that she should be the voice of Arohi.
Was that the time you felt a connection with each other?
The fact is that me and Palak, we both are very socially awkward. We don't really have any social life of that sort. And she also would speak very less back then. Even I am known for my low profile, to be completely immersed in my studio all the time. So we obviously had a lot of mutual respect for each other. I've known her for a long time after Aashiqui 2. But there was nothing personal of sorts. I think it was a couple of years back when I reached out to her and then to her family and things got formalised.
How has life changed after marriage?
Marriage is an institution that we both highly respect. We respect the values and traditions given to us by our elders. And we believe that it has been created for a very very valid reason, that it is quite a foundational sacrament in society today. And we see it that way. I think we are just really blessed to have each other in our life. Life just becomes all the more beautiful. And with both the families coming together, we are extremely grateful, joyfully enjoying ourselves.
Coming back to Gadar 2. How was your experience working with Udit Narayan?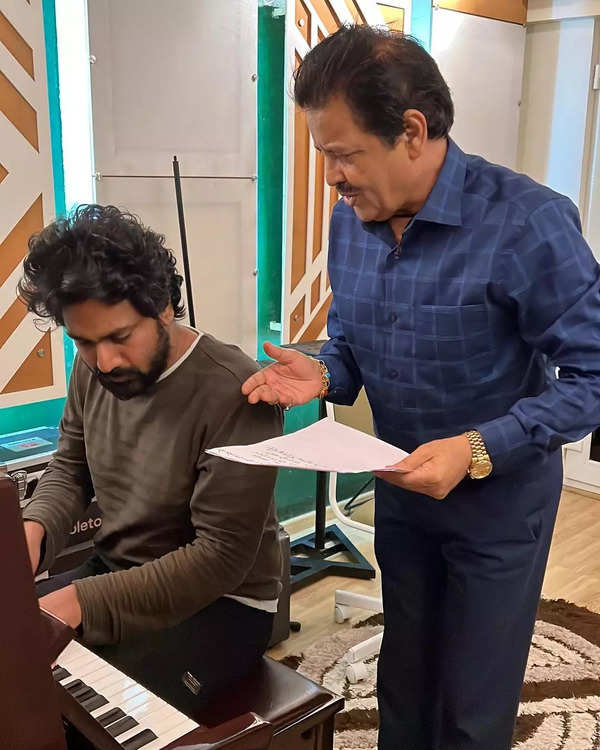 Udit ji actually was like a bundle of energy in the studio. I'm so proud of him to say that he is one of the finest singers of our country today after all the work that he has done. He has worked for 43 years. After that for him to have the urja, to have the passion in the studio, was really inspiring. He would actually come and spend hours with me to rehearse, to understand my thought process, to understand the new production design that I created. And to see his commitment, dedication, it was just so inspiring for me. And today when people are loving him all the more, he is all over the country, I just feel he completely deserves it. And I feel so proud that I took a stand. It was my idea that Udd Jaa Kaale Kaava should be retained in Udit Narayan's voice. I feel very proud of that actually.
How would you describe your 18-year-old journey as a musician?
I just don't know what more I could ask for. I just thank God everyday. Because as a teenager when I saw my father working and when I decided to be a Hindi film composer, this was what I wanted life to be. Listening to or seeing the lives of all the great composers, seeing the works of Madan Mohan, RD Burman, Laxmikant–Pyarelal and later on AR Rahman sir. Seeing them work and create this magic on cinema, this is what I wanted to do. I was never in it for fame. I was never in it for social media. I just wanted to make music and just make this my life. And today when my life is only about this. And today when I see people stand up, dance, clap and listen to the music I have created, I just feel extremely grateful. I feel that God has given me more than what I could imagine.
Has it ever happened where people recognised your songs but they don't know who the composer is?
I actually don't have that kind of a negative perception at all. I can speak personally for myself. I feel that I have received more love than I can handle wherever I go. Even when I am travelling. I was in the UK last month. And even when I was walking on the streets, I had people walk up to me and tell me about songs which I myself had forgotten about. I have millions of people who follow me on Spotify and I love that app because it is only about music. It's not about your opinion. It's not about your pictures. It's not about any other drama. It's only about the music. So I don't have that kind of negative opinion on that. I am very grateful for the way my life is. And how people have responded to me and to my work. And even if it happens at some point where somebody might not remember my name, I still don't mind it. Because ultimately it's about my music. That's who I am. As long as they have heard my work and they are loving it, I am just grateful about it. Nothing can change the fact that it's still my song. And I am the creative father of the song. So I just feel all happy.
Have you faced any kind of injustice in the music industry?
No. I haven't. I am just grateful for everything that I have been through in my life. And the industry has always given me a lot of love and respect. In fact even today, some people feel that I have a certain creative process of mind to work which can sometimes be a little taxing and a little difficult in terms of working. But I still am very grateful to all my directors who give me the time, who give me the space to do what I want to do. And not only the fraternity, I think the entire country has been so receptive to my music. Like as a 20-year-old composer also what I made, as a teenager also what I created. Back then I created Tere Bin song in Bas Ek Pal and it became an overnight rage. So I have nothing to complain about. I am just grateful. And I have always found love and respect wherever I have gone.