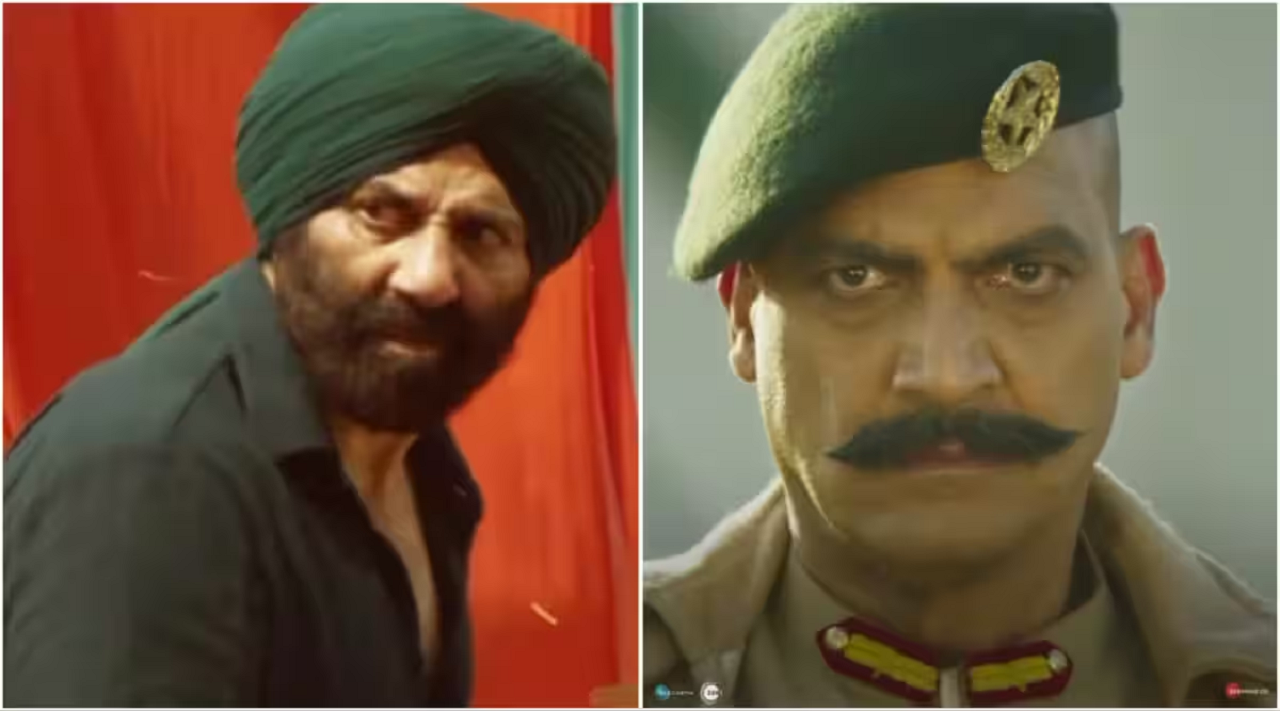 Gadar 2 is doing record-breaking business at the box office right from day 1. ETimes sat down with a candid chat with the antagonist Manish Wadhwa who spilled some beans about working with
Sunny Deol
, his role in the film and much more. Read on.
So, far, most of the shows that you have done are more historical and mythological.
Not really. Because the thing is all those which I did, were really good and super hit.
So, you can say they were so many. I have done only three historical shows and three mythological shows, that's it. I have done MahaKumbh and Time Machine.
How do you work on your look?
I shaved my head for Chanakya 12 years ago. After that, I continued with the same look, always. 'Kans' cannot be bald. But they wanted me to maintain the same look. So, I did that role with the same look. People liked my role. It was so good as I got an award for that. God has been kind. When you are acting, the character you play should come out. People can see whether you've played the role with total conviction or not.
Today, we live in a hypersensitive society. How do you prepare for a historical or mythological role because there's a certain responsibility? Do you check the facts?
Yes. Actually, this is not just for me, this is for every actor. People always say, what a film Amitabh Bachchan or Dharmendra, or Shah Rukh has made! They are actors like me. Our responsibility is more as an actor because if I say a wrong line or these actors deliver a wrong line that will be on them. People will say couldn't you see the wrong in the lines?
If you are doing a historical or a mytho film/show then the responsibility is all the more. You can't say anything wrong, can't do anything wrong. You won't believe it when your show is On Air you cannot even eat outside. You cannot eat non-veg, you cannot drink, you cannot smoke, there are so many things. Because people are seeing you in the same character.
Did it happen to you or did you avoid doing that?
See I do not drink nor do I smoke. Sometimes I eat eggs. But I always think about what people will say if they see me eating this. I do go out, but I am careful that nobody sees me. How big is the responsibility, otherwise it breaks people's hearts. Because they are looking up to you. They are watching you, that you are Chanakya and you are eating all this. This is just about eating and drinking. Just imagine when you are playing that character how much responsibility you have on your shoulders.
Sometimes it so happens that the lines are not correct or up to the mark for the role. It happens unknowingly but then the corrections are suggested by actors and they are implemented also. Even in the case of Kans, although he is a negative character he is still connected to mythology, connected to Krishna so the lines cannot be wrong.
Why did you choose to play a negative character?
It's not up to me as an actor to decide whether I should play a negative or positive role. I have done so many positive characters like in Chanakya, Peshwa Bajirao, MahaKumbh, and Time Machine. It's up to you, how you see me for that role.
After Gadar 2, I am going to become a pure villain. It's okay. When Anil Ji and Sunny Paaji met me for the first time, Sunny Paaji said, "Amrish Ji was there in Gadar. There used to be villains in the film industry. Now, there is no designated villain in the industry. I mean there are actors who play negative roles but pure villains like Pran Sahab, Ajit ji, Amrish Puri, Shakti Kapoor, Danny, Gulshan Grover and so many others are missing. But there is no such particular villain in the industry right now. We are missing Amrish Ji, do you think you will be able to do this?"
I told him, "Aap mujhse karwa lijiye, I will try my best." I think he liked this he said ok.
You met Anil Sharma first, but how did this Gadar 2 thing happen?
He was looking for a villain for a long time. He had spoken to someone. But still, he was not satisfied. They were looking for someone who could be as good as Amrish Ji and would look formidable in front of Sunny Deol. I'm not saying that I'm as good as Amrish Ji, but even if I can come anywhere close to him, it would be a big thing for me.
In the meantime, they finished their first schedule in Manali and Dharamshala. The second schedule is totally driven by the villain. India part was done but the story based on the Pakistan side was yet to begin filming and they had not finalised the villain.
I did my first South film Shyam Singha Roy with fight master Ravi Verma. He is the fight master in Gadar 2. So, they asked him if he could suggest a name for the villain's role in the film. Ravi Ji showed the video of our film. Sir saw it and I was called in for the role. The next day, I get a call from him and I met Anil Ji. He said, "I have seen your role as Chanakya. Your Hindi is good, and your voice and personality match the character of my film. I am ok with you."
So, without any look test and audition, I get selected. But I will have to speak to Sunny Ji. A small look test with my lines was done and Sunny Ji was also happy with my test. He liked it and asked me if I could do justice to the role. I said yes and I bagged this role in three minutes.
What was the thought in your mind to play a Pakistani General?
The very thought of working in the film Gadar was exciting for me since the film was appreciated across the world. I was going to play a villain in the second part so that excited me. I was also nervous at the same time. Then they narrated the film to me.
I had already acted as a Pakistani General in Pathaan but he was the General of today's time. But in Gadar 2 I had to play the General from 1972 era. It was a very challenging role, playing two different characters with the same uniform, carrying the same aura yet from two different timelines. Actors look for such kinds of roles. It was fun.
Tell us how it was working with Sunny Deol, on set and off set.
He is very calm, very sweet, and a thorough gentleman. He sits quietly and thinks about improvising the role, not just Tara Singh's role but how the film can become better. He used to give his input on how to make that scene look better. He used to think about how the entire team can make the film good.
Tell us about the confrontation scene with Sunny Deol. How was it?
In fact, that was my first scene with him and the first scene of the film. It was shot in Lucknow at the same location where the hand pump scene with Amrish Ji was filmed. The scene was one-on-one with Jeete and Tara Singh. A thought crossed my mind that doing this first scene itself will be the biggest responsibility. It was fun.
I was slightly nervous because I didn't want to make any mistake. Anil Ji's process is that he calls the actor after dinner on the night prior to the shoot day. He asks his actors what they feel about the character as they're living that life. He would ask me how I perceive the character, what I think about the lines of dialogue, whether he should be saying it or not and things like that. He doesn't force anything on you.
So, our opinions were equally important. He never forced his thoughts upon us. So, this made the working environment very comfortable. He stressed on 'Live the Character'. He would correct us wherever he felt it was necessary as the director of the film. Even Sunny Ji worked on the same lines. What if we do this instead of that? Speaking about the shoot in itself is so nostalgic. I just wish I can go to the shoots again.
What do you think of Pakistan bashing which is something that people thrive on today? You are somebody who is going to get bashed. How do you feel?
If this would have been 20-25 years back, people would have hit me with shoes and chappals. The character in this movie is out and out negative, very cruel. We are going to watch such cruelty on the screen after many years, in India. Some of them might still curse my character, "maaro isko".
And I love India. If anyone says something bad about my country, of course, I'd feel bad. I think my character is going to receive 'gaalis' from the beginning only. He's very cruel.
Since you are a very popular actor, what kind of reactions are you getting from your fans and peers?
They're very happy. They're liking it. A few of them have posted on Instagram saying, "Sir, we have seen you as Chanakya, where you are talking about Akhanda Bharat, then why are you playing a Pakistani?" So, my simple answer to my fans is, I am an actor. A person who talks positively is liked by all. Just like Chanakya, everybody loves him. Even I like his teachings. But I think when you look at a negative character, it is in fact a positive thing that you know that you don't want to do what the negative character does.
Portraying such a negative character, did it affect you in any way?
No, not at all. Because this is my job. I have been trained that way. I come from a theatre background and serials. I am also a voice actor. So, I'm trained in that also. It's not that I am always doing right. That's why you need a director. I am a blank slate. I will like my directors to write on this slate. You guide me and I will do my best.
As a voice-over artist, what have you dubbed for?
I have dubbed for many English films into Hindi. Megamind… In Captain America, I have given voice to Bucky Barnes, the Winter Soldier. On Netflix, I have given voice to Mickey Haller in 'The Lincoln Lawyer.' You have to learn and practice every day for voicing as well as acting. It is their acting and you have to match that. At the same time, you are observing something. In the word ACTOR, 'O' stands for Observation.
Sadly, from Hindi theatres, you earn no money. So, for survival, you need to do something or the other. In spite of being good actors, they have to work in serials, films, voice-overs, web series etc. But there's a limit to what you screen on OTT. If it includes more sex, foul language, and so on, viewers may not like watching such stories after some time.
Have you refused any work or refused to be a part of the project because it contains foul language?
No. I haven't refused. If there is something sensible, then only I take up the project. I have done the web series Chhatrasal for MX Player. Some short films are lined up. In one such short film, I play the role of a monk, a very positive guy. The other film portrays me as a very bad guy. I have decided to use bad words only if needed, not just because it is for the OTT platform. I will do such films only if the content is good.