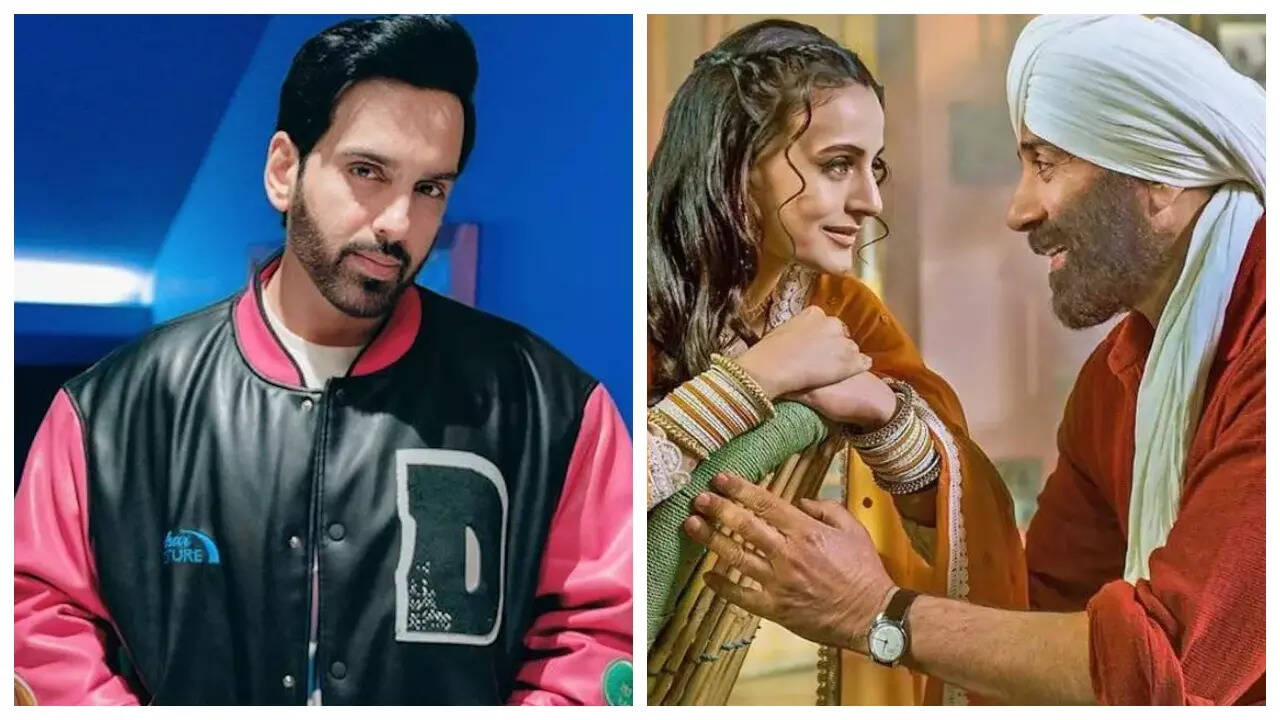 Fans are super excited to witness the magic of
Sunny Deol
and Ameesha Patel's 'Gadar' once again as the second instalment is all set to hit the theatres on August 11. Apart from the lead pair, the film also features Luv Sinha in a special cameo role. ETimes sat down with the actor for an exclusive interview where he spoke about working with Anil Sharma, recalled fond memories of watching 'Gadar' as a kid and more.Excerpts…
'Gadar 2' is one of the most anticipated films of the year. How excited are you for the release of the film?
I am very excited for 'Gadar 2' because 'Gadar' was a historic film. And I am sure that the efforts of Mr Anil Sharma, our director, and everyone involved in the film will pay off as they made it on a very grand scale. It's much bigger than part one, obviously in terms of the way it's been shot, the way it looks, and also because they have made a lot of advances over time in the craft of filmmaking.
How did you come on board for the film? Tell us something about your character.
I came on board because I have a habit of reaching out to filmmakers or directors directly or approaching them through their office to basically say that I would like to work with them or I would like to be considered for a role and in this case also I reached out to Mr Anil Sharma and I met him and we had a brief discussion in regards to the role and I agreed to be a part of it because of the fact that obviously it is a film like 'Gadar' and it was going to be a massive film.
As far as my character is concerned, I can't disclose too much about it at this point because obviously I think that would be better explained by the direction team or more importantly the director. So at this point unfortunately I won't be able to disclose too much about it.
'Gadar: Ek Prem Katha' was a blockbuster when it was released 22 years ago. Do you have any fond memories of watching the film as a kid?
I actually remember going to watch 'Gadar' in a single screen theatre in Vile Parle with a few of my relatives. I was obviously quite young then and it was an amazing experience. I remember how the audience reacted. But I think in terms of how the audience reacts to certain films or to certain actors, we are missing that today. But you still see that kind of reaction with giants of the industry like Shah Rukh Khan, Aamir Khan, Salman Khan, Hrithik Roshan, and Ajay Devgn. And obviously even when you see someone like Sunny Deol in a film like 'Gadar,' I think the audience reacts to them in a very different way compared to other actors. So I think I have really good memories of watching Gadar and it left an impact on me for sure.
How was it working under the directorship of Anil Sharma?
Working with Anil sir was a really good experience. As a director he is very helpful to his actors. He is very calm. He makes sure that things get done. But he also makes sure that they get done in a positive manner without creating a sort of negative atmosphere on set. Even though my role in 'Gadar 2' is a special appearance, I would definitely want to work with Anil sir again in another film if given the opportunity.
Can you share any fun or interesting anecdotes from the sets of 'Gadar 2'?
I remember one incident because I felt sick due to the heat in Lucknow. As an actor, I give my 100 percent to my work. When the shot was getting ready, I didn't want to leave the location and go back to my van because I wanted to stay in character. But the only problem with that is I was doing that while it was 45 degrees temperature and because of that I fell sick. I developed heat sickness. It was not a heat stroke because I didn't faint or anything like that thankfully, but I definitely fell sick due to the heat and I had to be very careful.
In fact, one time right before the shot was about to be taken, I had to move away from where I was with everyone because I needed to go and find medicine. So Anil sir was also wondering what happened but then I explained to sir that I was going to fall sick and I really didn't want that happening in front of everyone.