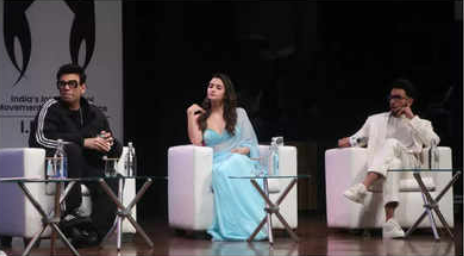 Karan Johar, who is awaiting the release of his next, Rocky Aur Rani Kii Prem Kahaani recently spoke about his directorial debut Kuch Kuch Hota Hai, that released in 1998. Speaking at the International Movement to Unite Nations (IIMUN) Back To School series, Karan, who was accompanied by his RARKPK stars Ranveer Singh and Alia Bhatt, said the romcom was loved was many, but it was not without flaws.
He said, "I feel like I have grown as an individual, The first film that I made, Kuch Kuch Hota Hai, I firmly believe that the gender politics of that film was all wrong. It is propagating incorrect gender politics, there is a lot of surfacesness in that film. Of course, there is nostalgia so you love it, but you don't scratch the surface of the film and see that what Rahul is doing is actually not what I would want all the Rahuls in the audience, or all the boys in general, to do."
To this, Ranveer chipped in and said, "Woke zamane mein nahi chalte Kuch Kuch Hota Hai (The film will not work in a woke period)."
Karan replied to the same and said, "No, it's not about woke. It's about the dynamic we show in cinema and the film is a strong representation of how it can translate to belief today. Rahul was saying all kinds of wrong things. He said, 'Hum ek bar pyaar karte hai (We fall in love once)," but he got in love twice. He said, 'Hum ek bar shaadi karte hai (We marry once)," he got married twice. He was contradicting himself throughout the film. "
'Rocky Aur Rani Kii Prem Kahaani' marks Ranveer and Karan's first collaboration. The film also stars Dharmendra, Jaya Bachchan and Shabana Azmi in key roles. It is slated to hit theatres on July 28.