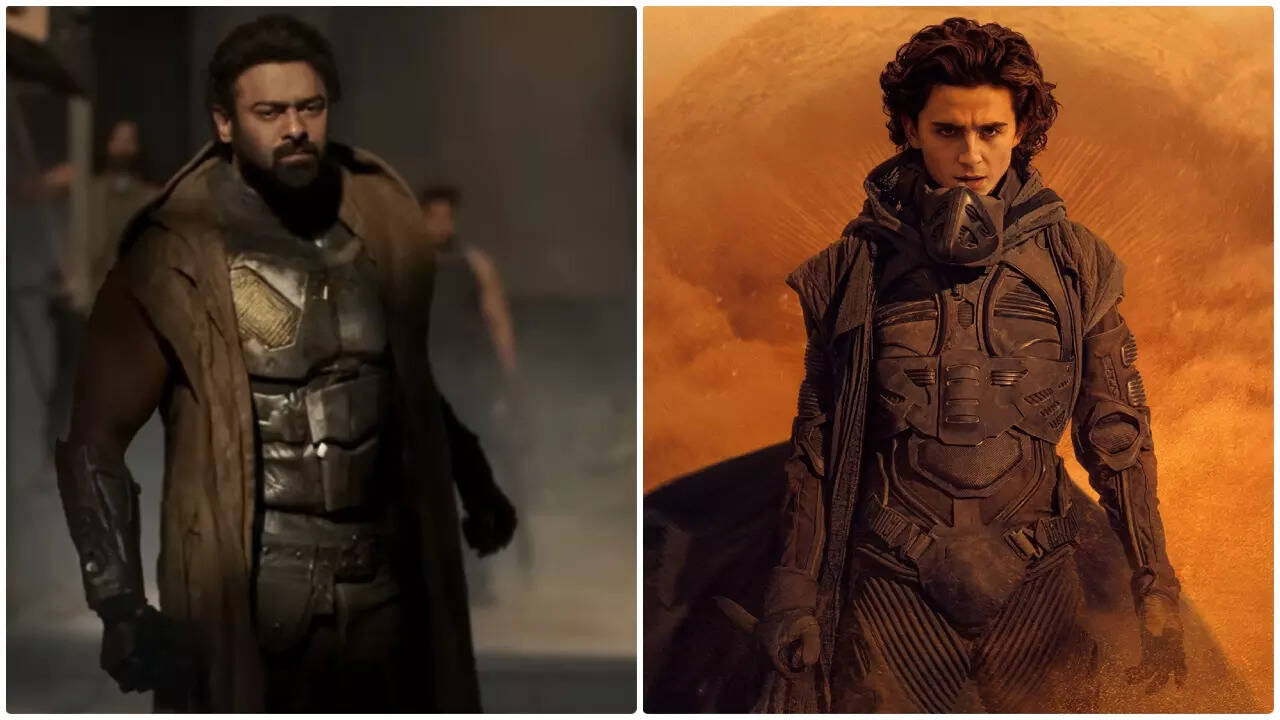 Director Nag Ashwin with his leading man Prabhas, dropped the first teaser of his upcoming sci-fi action film 'Project K' at the San Deigo Comic Con on Thursday. At the big launch event, attended by actors Rana Daggubati,
Amitabh Bachchan
, and Kamal Haasan, the team unveiled the new title of the film and said "PROJECT -K is now Kalki 2898 AD."
The teaser captivated audiences with its visionary concept and spellbinding visuals.
Read Also
Kalki 2898 AD teaser launch: Prabhas admits he is 'bored' of making VFX heavy films; assures film collab with friend Ram Charan
The teaser launch of the eagerly anticipated sci-fi movie 'Kalki 2898 AD', starring Prabhas, took place at San Diego Comic-Con, with the cast and director taking questions from fans after the showing. During the Q&A section, Prabhas who has been working on a number of famous franchises, was asked if
Project K is now Kalki 2898 AD: First teaser video shows Deepika Padukone, Prabhas in a futuristic world
Nag Ashwin's directorial Project K has now been named as Kalki 2898 AD. The first teaser video showcases Deepika Paadukone as a warrior while Prabhas as the rising force against evil forces raises expectations.
Twitterati TROLL Prabhas' 'Project K' first look; call him 'sasta Iron Man'
The first look poster of Prabhas for his upcoming film, 'Project K' has garnered mixed reactions from fans. Some praised the actor's superhero look while others made fun of it, calling it a "sasta Iron Man." The sci-fi movie is directed by Nag Ashwin and stars Deepika Padukone, Amitabh Bachchan,
Project K: Prabhas takes the internet by storm with his superhero avatar in Nag Ashwin's epic science fiction film
Prabhas's first look from the upcoming film 'Project K' has caused a sensation online, generating immense excitement among fans and movie lovers. Revealed on July 19, the highly anticipated poster showcases Prabhas in an impressive superhero persona, leaving viewers captivated. With his long hair
It not only gave glimpses of the dystopian world built for the film, but also gave glimpses of the many characters. While Prabhas stood apart as the hero,Deepika Padukone also featured in the film as what appears to be an elite women's Raider squad. The clip also teased the film's villain with spectacular imagery.
After watching the highly publicised clip, fans could not deny its similar to the Denis Villeneuve-directed Oscar-winning film 'Dune', starring Timothee Chalamet and Zendaya. Despite the similar backdrops and background scores of the two films, Indian fans took to Twitter to express their excitement about the film and declared that it was 'India's answer to Dune and Star Wars' franchises.
"This is #Prabhas' most exciting film post-Baahubali 2. The big scale, stunning visuals, interesting theme and score. Looks like our answer to Dune and Star Wars… Eagerly waiting for this one," a fan tweeted.
Another said, "World building is clearly inspired from star war and Dune but end of the day it's all about presentation and storytelling but to be honest I'm impressed with KALKI Glimpse hoping for the best."
"I am surprised, looks really good. I loved the music, and Prabhas in the glimpse, looks similar to Dune," wrote a fan and added, "But I don't think they will adopt the same description of #KalkiPuran because the look of the film is different."
Another fan clearly bowled away by the teaser said, "#Kalki2898AD actually exceeded my expectations & looks like a great visual spectacle. Many wannabe kool people'll be calling "Dune ripoff" "Star Wars ripoff" but this looks fascinating, especially Amitabh Bachchan's role of Ashwatthama & finally a role where Prabhas looked great."
"Looks great in VFX CGI, Set Design, Costume, Music. It will be a game changer for indian cinema. Also It Feels like Dune only with Set and backdrop. Very excited to see the concept of #Kalki2898AD. Now I have high hopes," said another fan in a tweet.
Keeping in mind the hate Indian films receive for allegedly 'copying' Hollywood films, another tweeted, "If this would've been Bollywood, people would've ripped it apart and compared each and every scene with #Dune and #StarWars. Just saying."
Looking past the similar visuals, several fans lauded the director for bringing this futuristic film to life with half the budget of Hollywood films. Although 'Project K' is one of the most expensive films ever made in India with a budget of an estimated Rs 600 crore, it is a small still a fraction of the money spent on the American movies. Dune 2, the sequel to the Oscar-winning film, has an estimated budget of USD 200 million. This roughly converts to Rs 1640 crore. The original Dune film was made on a budget of USD 150 million.
Pointing out the huge differences in the budgets, a fan said, "Funny how both #ProjectK and #Dune trending at the same time. #Kalki2898AD With half the budget of Dune, ProjectK is having almost similarly rich photography cinematically. #NagAshwin really did great job. Hope the plot will blow the minds of western audience as well."
Another said, "#Dune – 1300cr #Alita – 1200cr Both of their combinational try with just 600cr is a great achievement! Kudos to the entire team of #Kalki2898AD #ProjectK."
The new title perfectly encapsulates the essence of the film, generating curiosity and excitement among fans and cinephiles worldwide. Directed by Nag Ashwin,'Kalki 2898 AD' promises to transport audiences to a world never seen before in Indian cinema. The film's premise, set in the distant future of 2898 AD, seamlessly blends futuristic elements with rich storytelling, offering an unparalleled and immersive cinematic experience.
The film is all set to hit the theatres on January 12, 2024.