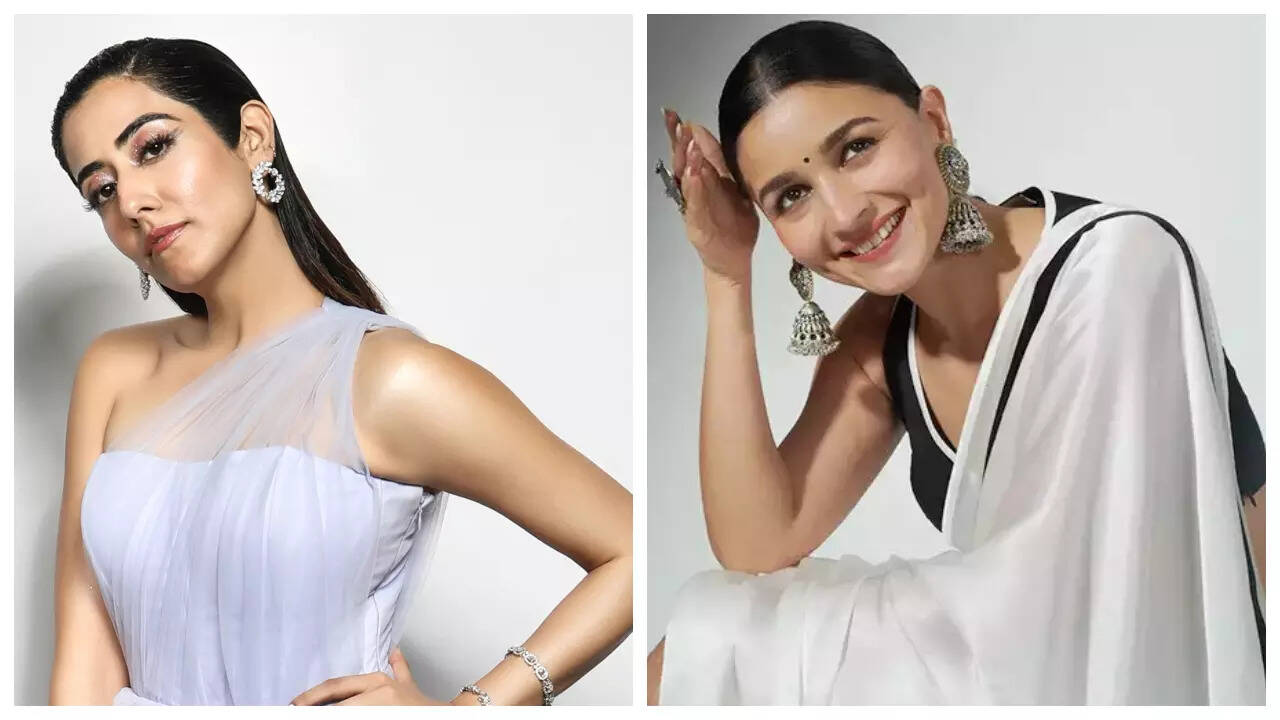 The blockbuster trailer and chartbuster songs of
Karan Johar
's 'Rocky Aur Rani Kii Prem Kahaani' has made it one of the most awaited films. Its song, 'What Jhumka??' has been topping the music charts ever since its release. ETimes got in touch with the voice behind the song, Jonita Gandhi for an exclusive chat where the talented singer expressed her excitement over positive reception of the song, singing for a Dharma movie, lending voice for
Alia Bhatt
and her journey in the music industry so far.Excerpts…
'What Jhumka?' has been receiving immense love from all sides. How does it feel?
It feels amazing! The song has a very fun and energetic vibe, and I am all about it. I also love the number of reels that are pouring in of people doing the hook step. The song feels like a celebration.
The song is a classy reprisal of the classic 'Jhumka Gira Re'. What was your reaction when you first heard the song?
I loved the idea of using the hook of the original song but not having someone sing it. It was a good blend of old and new, with more focus on the new since all my lines were original. I heard the song and knew it would be a banger. The song has an infectious energy.
Pritam Chakraborty is one of the most talented musicians in
Bollywood. What, according to you, makes him stand apart from the rest?
I think Pritam da understands what listeners like and want. His ability to compose singable tunes which become anthems in households across the country is amazing. He is a versatile composer with a team of extremely talented people around him. One stop shop for hits!
Apart from this, do you have any other favourites from Pritam's past compositions?
This is the hardest question to answer. It reminds me of the first time I performed with him at one of his concerts – I couldn't believe that every single song on the setlist (of a 3 hour concert) was such a memorable hit. The range of his music spans genres and decades, and I grew up singing a lot of his music.
How was it crooning for Alia Bhatt who is currently at the top of her game?
I am a huge fan of Alia. I sang a song for her second film, 'Highway' and it was in that film that she stole my heart. Ever since then I have believed she's cut differently, and I have been stunned by her performances over the years. I personally think my voice suits her face (laughs), so I am happy to have voiced a song for her again.
How is it working with Karan Johar?
I haven't had the chance to work with him in person, but as a Bollywood fan who grew up in Toronto, Dharma films have been a huge part of my youth. Some of the most 'iconic Bollywood films' I watched while growing up were his. He knows how to make entertaining films and curate some of the most entertaining music. 'What Jhumka?' is no exception.
Do you have a bucket list of actresses you would like to sing for?
I do not. When I was growing up and aspiring to sing for films, I think the only person I wanted to sing for at that time was Madhuri Dixit. I crossed that off the list a few years ago. Since then, I have been trying to focus more on being the face of my own voice as much as I can.
While remixes like 'Pasoori' have been receiving negative feedback, the ones like 'What Jhumka' have received positive feedback. What is your take on remixes?
I don't think it's fair to generalise and say one is getting negative feedback vs positive etc. There are people who will like and support certain remakes while some are starkly against the idea… that's the beauty of music – it is subjective. The only thing I would say when asked about my take on remixes is that we have ample talent and musicians, and the ability to make new, original beautiful music. So, although I have enjoyed some of the remakes that have triggered my nostalgia and made me fall in love again with songs I have already adored, there is no real need for remixes.
From recording songs in your bedroom for YouTube to becoming a successful playback singer, how do you look back at your journey so far?
I look back with pride. It's been a wild ride and I have met some of the most incredible people along the way. I keep learning new things about myself and what I want – I have evolved a lot over the years and have adapted my goals as an artist. Looking forward to what's next!