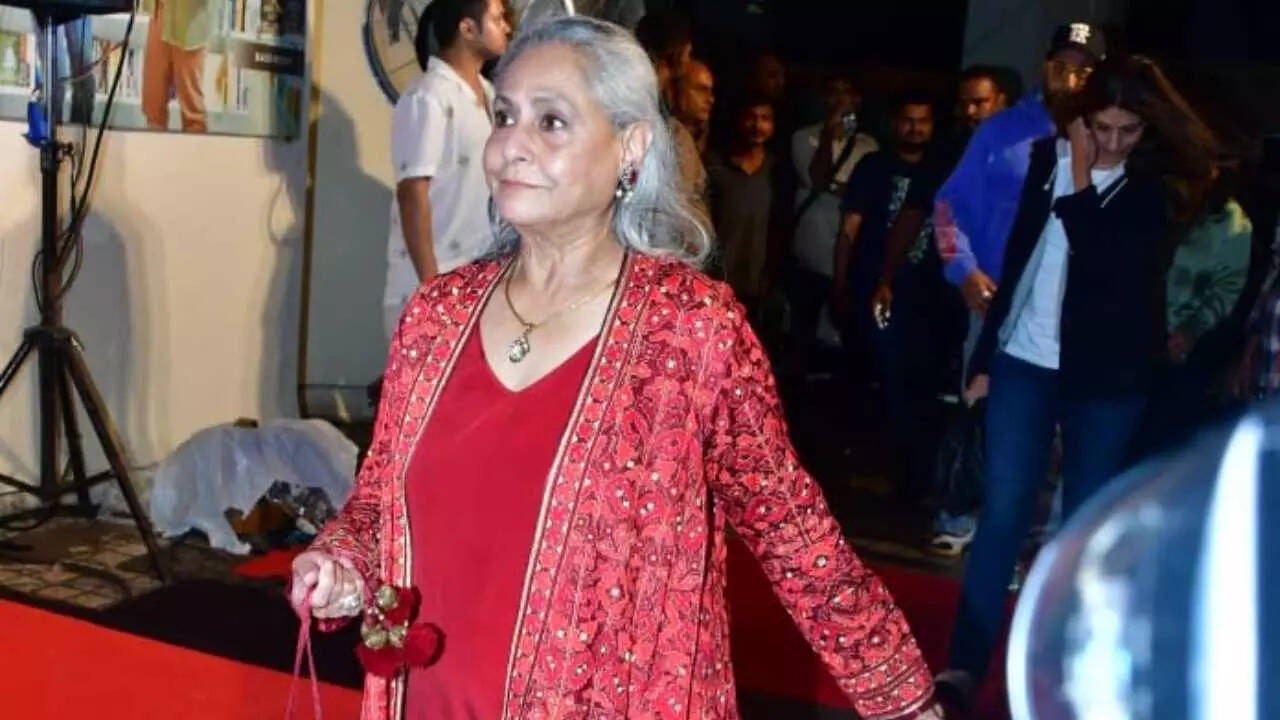 Veteran actor
Jaya Bachchan
on Tuesday got angry at paps at the screening of her upcoming romantic drama film 'Rocky aur RKii Prem Kahaani' in Mumbai.
To attend the screening, she arrived with her son Abhishek Bachchan and Shweta Bachchan.
As she entered the venue, she stopped for a moment for Shweta and Abhishek to accompany her. Meanwhile, the shutterbugs started calling out to her to click her picture.
Irked by their shouting, Jaya shut them down and said, "I am not deaf.
Read Also
Ranveer Singh, Alia Bhatt, Ranbir Kapoor, Vicky Kaushal, Katrina Kaif: Celebs attend Rocky Aur Rani Kii Prem Kahaani screening
A special screening of Karan Johar's directorial Rocky Aur Rani Kii Prem Kahaani was hosted in Mumbai and it was attended by Ranveer Singh, Alia Bhatt, Shabana Azmi, Jaya Bachchan, Katrina Kaif, Vicky Kaushal, Ranbir Kapoor, Neha Dhupia, Angad Bedi, Ananya Panday, Javed Akhtar, Abhishek Bachchan,
Chilao maat, aaram se baat karo," and was then seen entering the theatre along with her kids.
Well it's not the first time Jaya Bachchan scolded the paparazzi's, she is known for her no-nonsense attitude towards the paps.
Several big B-town actors like Ranveer Singh, Alia Bhatt, Ranbir Kapoor, Karisma Kapoor, Vicky Kaushal, Katrina Kaif, Neha Dhupia, Sara Ali Khan, Ananya Panday, Ibrahim Ali Khan and Chunky Panday among others attended the special screening.
Helmed by Karan Johar, the film stars Ranveer Singh, Alia Bhatt, Dharmendra, Jaya Bachchan and Shabana Azmi in the lead roles and is all set to hit the theatres on July 28.
Recently the makers unveiled the songs 'What Jhumka' and 'Tum Kya Mile', 'Ve Kamleya' and 'Dhindora Baje Re' and the official trailer of the film which received massive responses from the audience.
The trailer took us into the lives of Rocky Randhawa and Rani Chatterjee, whose lifestyles are diametrically opposed. While Rocky is a Punjabi lad from a wealthy Punjabi family, Rani comes from a Bengali household where knowledge and intelligence are valued above all else. And they fall in love but soon the couple realizes that their families don't like each other. Then Rocky and Rani decide to 'Switch' and live with each other families to impress them.
'Rocky Aur Rani Kii Prem Kahaani' promises to be a wholesome, big-screen entertainer, blending Johar's storytelling finesse with an impressive ensemble cast, grandeur and music. There were also many scenes of the two romancings and fighting, celebrating all kinds of festivals with their families, and possibly a wedding.