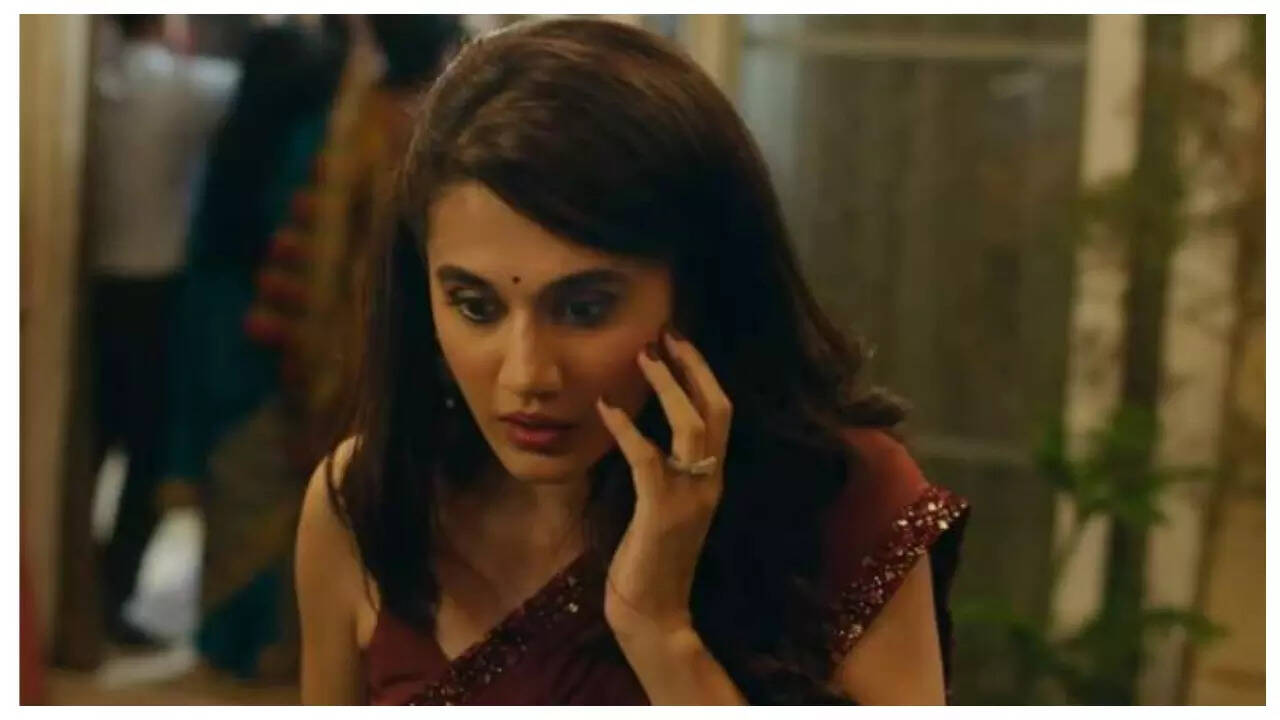 Before penning this piece, I was discussing Anubhav Sinha's Thappad (2020) with a friend and she clearly, in utter oblivion and a gross failure to grasp what the movie actually represented, said, "Yaar, but the husband was not a bad man and while I don't justify the slap, she could have worked out in the end." And this in a nutshell, is the problem with our society and one that Thappad deftly tries to smash.
On the spectrum, Amrita (Taapsee Pannu) and Vikram's (Pavail Gulati) marriage is near-perfect. A sprawling bungalow on the outskirts of New Delhi, Vikram's high paying job with London prospects in the offing, and a mother-in-law (Tanvi Azmi) who 'dotes' on her 'bahu'. Director Anubhav Sinha also makes it to a point to firmly establish Amrita's routine in the first ten minutes of the movie, that includes waking up at the crack of dawn, plucking lemongrass to make tea, checking her mother-in-law's sugar levels and then hovering around her husband, handing him his lunch dabba and sometimes force feeding him breakfast as he gets ready to drive to work in his swanky car.
The crevices if any, are extremely well masked under rose-tinted glasses of blissful domestic life, where Amrita outwardly has the freedom to do anything , yet 'chooses' to give up her career and become a homemaker, only teaching dance part-time to her widowed neighbour's daughter. Over a period of time, she loses a sense of self in the relationship, completely immersing in her husband's choices, that include his favourite colour blue, spread through much of the decor in the house.
As Vikram displays a complete inability to do things on his own (including finding his official files), he also inadvertently disregards Amrita by not including her in any of his official decisions, assuming she won't have an opinion to give.
Outwardly content with the facade of domestic equality, Amrita and Vikram host a party at their house, where Vikram gets into a drunken argument with a colleague when he learns that his London promotion has been passed on to someone else. Sensing that this might turn ugly soon, Amrita quickly intervenes, only to have Vikram slap her instantaneously, in front of the entire party. Visibly stunned and initially in shock, Amrita gathers herself and decides that this marriage is over, leaving the audience to wonder if this was a hasty decision, one that Amrita does not budge on till the end of the movie.
As the movie progresses, we realise that patriarchy is so inherently ingrained in our system that most of the things that are blatantly sexist are passed off as 'normal' in our society. Women being relegated to domestic duties only (either by choice or forcefully), men being clueless about household chores and simply treating their wives as procreating machines are all signs of a deeply regressive society, one that forces women to accept and rejoice in being offered the 'bare minimum.'
In retrospect, Vikram was not 'evil' by any standards, but like most men, was completely at sea as to what he had done to irk Amrita so much that she is contemplating divorce, even casually quipping to his wife, 'Shit happens Amu, people move on.' His thinking probably stemmed from his mother, who, otherwise loving towards Amrita, constantly asks her to 'compromise' after the slap episode, saying that women need to adjust sometimes. Eventually, she accepts her mistake, even admitting she could have done a better job in raising Vikram.
Amrita's story is simultaneously intertwined with two other women. One is her househelp Sunita, whose husband abuses her almost everyday after getting drunk. The other is her lawyer Netra, who in spite of being extremely successful and married into an elite family, still faces discrimination at the hands of her brash journalist husband. The movie subtly portrays that abuse cuts across classes and can occur in any household. Even when the otherwise firebrand lawyer Netra asks 'just one slap, what's the big deal?', Amrita simply retorts by saying, 'just one slap, but nahi maar sakta', (can't hit), a stance she maintains throughout the movie.
Over a period of time, initially dismissive of her stand, Amrita's family comes around to accepting her decision even as the sword of 'log kya kahenge' (what will people say) looms large on her conservative mother's (Ratna Pathak Shah) head. However, her feminist father, played by the formidable Kumud Mishra, says to Vikram, "Zyada zaruri sawal ye hai ki aisa hua kyun", (the important question is why this happened), rather than expecting him to mull over how it happened.
Anubhav Sinha also makes sure not to picture a rosy picture of divorce and subtly captures the pain and incessant trauma it brings, coupled with the ugly court battles, rife with shocking accusations that Vikram hurls at Amrita. Amrita's father once again describes it perfectly by saying that the right decision isn't always the one that makes us happy, at least not initially.
As Amrita sums it up by saying, 'Us thappad se mujhe vo saari unfair cheezein saaf saaf dikhne lagi jisko main andekha karke move on karti ja rahi thi', (that slap made me see all the unfair things I had been ignoring), she starts to subtly come out on her own during the divorce proceedings, wearing her favourite colour yellow and driving her own car, insinuating that the blindfolds have come off, this time for good.
You can watch Thappad on a leading OTT channel…
ETimes Decoded is our weekly column where we deconstruct movies, characters or plots to uncover a fresh, often undiscovered perspective.