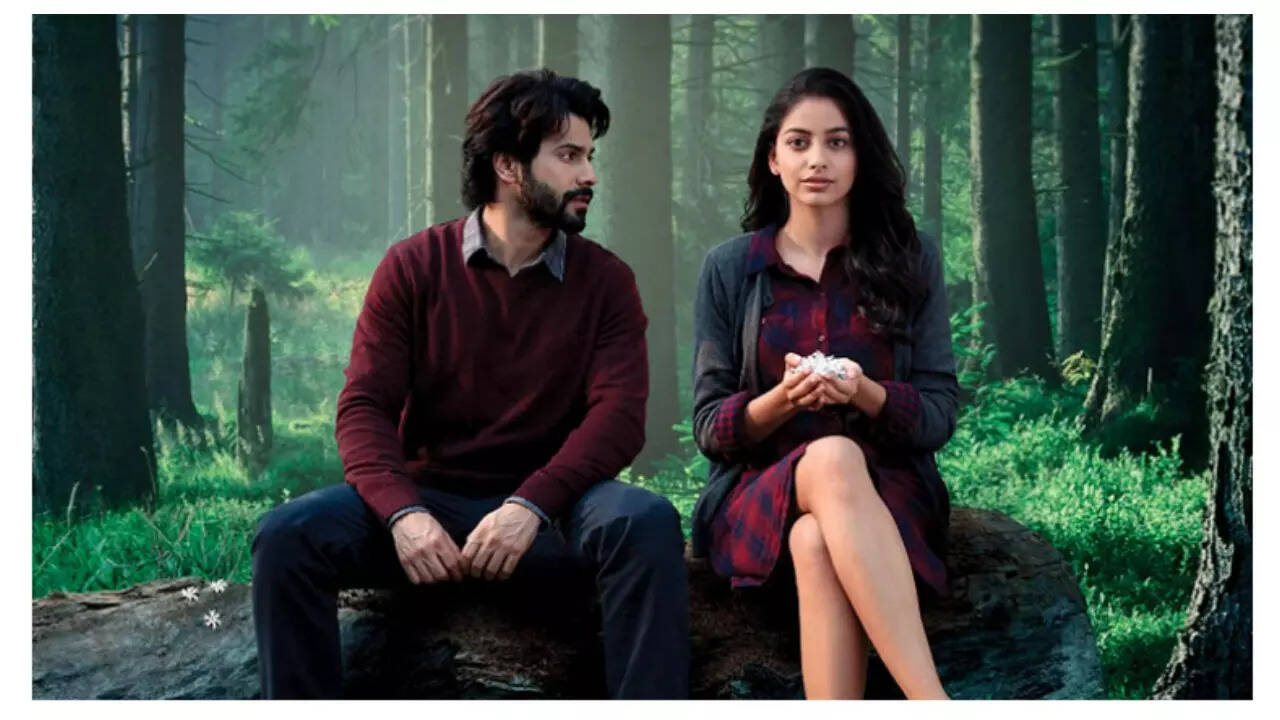 In one of the scenes of October (2018), Dan nonchalantly observes Shiuli's urine output bag at the hospital and instantly asks the nurse, "
aaj thoda kam nahi hai
?" (isn't it a less today?). In any parallel universe, this scenario will not play out as romantic in any sense of the word, (and in essence, it isn't really), yet there is nothing that is run-of-the mill in this Shoojit Sircar directorial, that isn't a love story per se, but reeks of the emotion through every crevice and corner of its 1 hour 55 minutes run time.
In a real-life set up, hotel management trainees, the disgruntled Dan (Varun Dhawan) and the effervescent Shiuli Iyer (Banita Sandhu), would have finished off their training at an upscale property in New Delhi and gone their separate ways. They aren't into each other by a mile, not even as colleagues or friends, so much so that even if they would have crossed paths a couple of years later, one would have walked past the other, without notice. Their personalities in itself could not have been more contrasting – while Dan is a careless whiner, Shiuli is disciplined, diligent and composed.
Yet on New Year's eve, Shiuli casually asks 'Where's Dan?' as the trainee group gets together for an intimate celebration, in the high rise balcony of the hotel. Minutes later, Shiuli, while attempting to sit atop the third floor parapet, comes tumbling down and almost immediately goes into a vegetative coma-like state. Initially shocked and dismissive, Dan is however, unable to get over the fact that she was mentioning him just before the fall, and starts visiting her in the hospital, as a show of solidarity.
Slowly, Dan becomes so invested in Shiuli that it begins to hamper his work and interpersonal relationships. Despite Shiuli's mother, Prof Vidya Iyer (Gitanjali Rao) insisting that he navigates his young energy in building a career, Dan continues to bond with the comatose Shiuli, almost becoming her mirror image and her sole connection with the outside world.
Interestingly, very little 'happens' in October – there are no heavy dialogues, no songs, not even too many characters (Just Dan, Shiuli and Prof Vidya Iyer, apart from some secondary ones). Yet, watching Dan and Shiuli's Swan Song is a cathartic experience like none other, one that is an adept exploration of grief and unflinching devotion, bringing closer two individuals, who, under normal circumstances would not have exchanged more than a sentence or two.
Over a period of time, Dan does attempt to go back to a 'normal' life, taking up a job in Kullu, but returns within weeks, unable to take his mind off Shiuli. She, on the other hand, otherwise non responsive, conveys to him her disdain for deserting her through anger and disappointment welling up in her eyes, prompting Dan to profusely apologise to her. As time passes, the mere presence of Dan begins to calm Shiuli as she starts showing immense improvement, even managing to walk with aid, until things take a turn for the worse…
Director Shoojit Sircar, known for breathing life into his characters, takes it up a notch with October. Varun easily puts in the best performance of his career, as he seamlessly transitions from a good-for-nothing slacker to a man, whose only job is to look out for Shiuli. On the other hand, the demure Banita heavily depends on her expressive eyes to do most of the talking – she is underrated and restrained, just as much as needed. The capital New Delhi also serves as a key background character – starting with Shiuli's name, derived from the flower Shiuli, that roughly blooms in October and is short lived, blooming by the day and dying by night, yet its fragrance lasts days.
October isn't a love story by any standards – you can replace Dan and Shiuli by any two individuals, who barely know each other and come close under tragic circumstances, prompting both of them to undergo a deep internal awakening that rides over traditional parameters of love such as looks, physical bonding or even chemistry. More like a poetry in prose, October is akin to a book you want to sit with on a cold winter morning under the balmy sun, and one that will leave you with a purging myriad of emotions, including unparalleled sorrow and short-lived joy.
You can watch October on a leading OTT platform.
ETimes Decoded is our new, weekly column where we deconstruct movies, characters or plots to uncover a fresh, often undiscovered perspective.