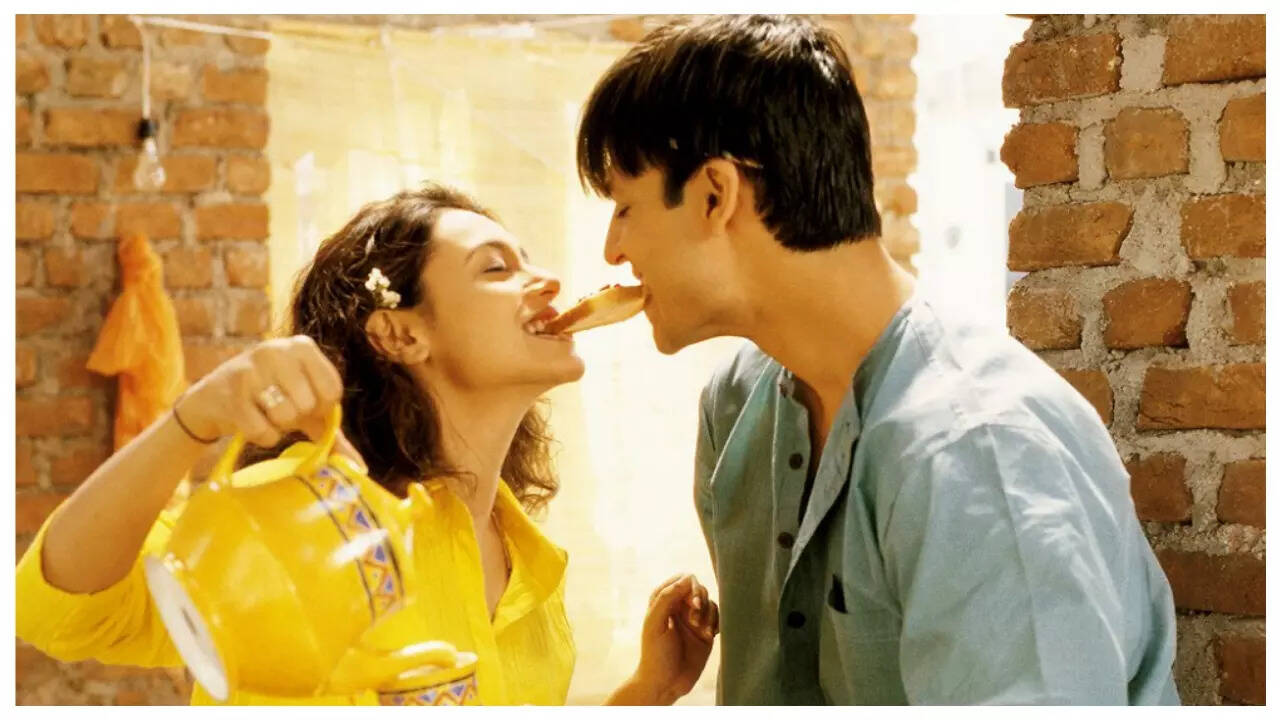 In Shaad Ali's Saathiya, a head over heels in love Aditya (Vivek Oberoi) relentlessly pursues Suhani (Rani Mukerji) aboard the local trains of Mumbai. In one of the scenes, he proposes to her by saying, "I love you,
main tumhare liye kuch bhi kar sakta hoon
." (I can do anything for you). An hour later into the movie, the same Aditya, in a heated argument lashes out, saying, "
Tumhi likhi thi meri kismat mein, ab saari umar tumhare saath sar phodna padega
", (I am stuck with you for all my life), thus proving that unlike a typical Bollywood ending, there are no happily ever afters when it comes to marriage – an institution that is often rife with fear, insecurity, ego squabbles and misunderstandings.
Read Also
Bollywood tadka in Melbourne as Rani Mukerji, Karan Johar, Shweta Bachan, and Shabana Azmi get together for dinner
Rani Mukerji, Karan Johar, Shweta Bachan, and Shabana Azmi had a great time together in Melbourne, where they posed for a beautiful picture and went out for dinner, dressed in black attires. Bollywood veteran Shabana Azmi shared the picture on her Instagram handle, and expressed how she had joined
Rani Mukerji makes graceful appearance in Sabyasachi sari at IFFM Awards
On Friday, Rani Mukerji attended the award ceremony in a black Sabyasachi sari.
A remake of the Tamil film Alaipayuthey, Saathiya at its core, remains a classic love story. A young part-time entrepreneur, law school dropout Aditya, (Adi) meets medical student Suhani at a suburban wedding and is instantly smitten. He manically follows her around until she partly gives in and agrees to let their parents meet. However, all hell breaks loose when the middle class Sharmas and the wealthy Sehgals meet, and the alliance goes kaput before the customary tea is served in the Sharma's humble railway quarter, that Aditya's well to do barrister father addresses as a 'dabba'. (box)
A brief breakup follows, until Adi realises that he can't live without Suhani and the couple elopes and gets married. They continue to stay with their parents until an alliance for Suhani forces her to come clean to her parents, who as expected, disown them. They move together into a dilapidated old house with a kind Parsi landlord couple and kickstart their life, but soon realise that they have bitten off more than they can chew.
At the offset, Aditya and Suhani are like any other young couple in love. However, debutant director Shaad Ali does a superb job of painting them as realistically as possible, sans the trappings of a typical Yash Raj affair – there are no organza sarees flying into the air or any ornate wedding sequences. Rooted and to the point, Adi and Suhani's love story for all you know, could be playing out in one of the local trains as you read this. However, unlike other love sagas, this one sees the protagonists tie the knot in the first hour and start living soon after…
What makes a marriage work? Is it love, is it commitment, is it loyalty or is it all of the above? Turns out, more than love, it is an extreme level of understanding, maturity and a desire to make it work, often keeping your personal demons and egos aside. Adi is young and naive, Suhani is practical and a tad cold, and the duo, once out of the honeymoon phase, grapple to live together. As Adi says, "Tum koi college jaati bachi nahi hoon ab, na hi main. Ab tumpar meri zimmedari hai and mujhpar tumhari." (You are no college student, we now have to take responsibility for each other) To this, a disgruntled Suhani curtly asks, "shaadi ke baad log pyaar karna band kar dete hai kya?" (do people stop loving each other after marriage), leaving Aditya thoroughly flabbergasted.
For starters, love is not an issue here. The fact that Adi is completely nuts about his wife is firmly established. Soon after their temple wedding, the lovelorn husband lugs along his marriage certificate everywhere and tells his wife, "Kya karen, biwi to milti nahi, toh isi he seene se lagaye rehta hoon." (What to do, in the absence of my wife, I have to keep this close to me). He love bombs her with calls when she is at work and later as Suhani reveals, he used to send her telegrams while living in the same city.
However, as the movie portrays, this hardly is enough to make a marriage work. The careless and indecisive Adi always seems to disappoint his wife, whether it is berating her for getting late after grocery shopping leaving him locked out of the house, or refusing to meet her ailing father because he slapped him once. Of course, he always comes around and the couple patch up everytime, unless an incident threatens to ruin their relationship forever…
Apart from their contrasting personalities, Adi and Suhani also rushed into marriage, leaving them completely at sea when it came to navigating domestic issues. On the other hand, like all marriages, it isn't always knives out. The movie is also full of endearing moments a young couple goes through – Suhani marking fight dates on a calendar, betting with friends that her husband will start an argument as soon as he enters the house, and playfully setting the newspaper on fire as it takes away her share of attention.
In the end, as Suhani goes missing, a paranoid Aditya frantically searches for her, realising how lost he is without her and what a nightmare it has been, establishing the fact that marriage in its entirety is about braving the storms as much as it is about watching the rainbows. While the love will ebb and flow, your commitment, respect and unwavering support shouldn't.
Saathiya is not a film that 'preaches' any grand takes on love – it simply drives home a message that marriage will never be a bed of roses. Even though a remake, Shaadi Ali shows tremendous finesse as a debutant filmmaker making both Suhani and Aditya as relatable as possible and weaving their story into an everyday existence. The soothing love score by A.R. Rahman is a masterpiece and one of his best works – pick any song in the album and you will play it on loop.
Diving straight from his dark and morose character in Company, Vivek Oberoi is breezy as Aditya, who for the most part, has his heart in the right place. Truly defining girl next door, Rani easily puts in one of the best performances of her career and won a National Award for her role. Quite a pity that given their superb on-screen pairing, the duo never shared screen space again.
In essence, Saathiya is the journey of two people finding love while going through the customary cycle of harmony, discord, repair and back to harmony. At the end of the day, marriage is not for the faint-hearted, so choose well.
You can watch Saathiya on a leading OTT channel
ETimes Decoded is our weekly column where we deconstruct movies, characters or plots to uncover a fresh, often undiscovered perspective.