Coming from a family of doctors and lawyers, Chunky Panday traded his intellectual genes to take up the toughest job in the world – that of entertaining people and spreading a smile! While his grandfather was a lawyer from the British era and his parents were established doctors, Chunky Panday independently etched his identity in films, making it a cakewalk for many others to follow in his family.
Read Also
ETimes BFFs: Did you know Farhan Akhtar and Zoya Akhtar have a cousin who's won an Emmy Award?
The Akhtar family, known for their contributions to Bollywood, has a diverse lineage of artists, psychoanalysts and professors of psychiatry. The family includes Jan Nisar Akhtar, a renowned lyricist, and his son Javed Akhtar, a multi-talented screenwriter, lyricist and poet who has won five
ETimes BFFs: Did you know Dharmendra has 13 grandchildren?
Hailing from a small town in Punjab, Dharmendra has inspired a generation of actors. In this week's Big Filmy Families, we decode his lineage in Bollywood. From his sons and daughters facing the camera to his grandsons debuting in Bollywood, take a look at the illustrious Deol family.
ETimes BFFs: Did you know Saif Ali Khan's Pataudi family has an inter-relation with great Urdu poet Mirza Ghalib?
In this week's ETimes BFFs (Big Filmy Families), we decode Saif Ali Khan's royal Pataudi family. From an inter-relation with famed poet Mirza Ghalib, to Sharmila Tagore hailing from the bloodline of the celebrated Nobel laureate Rabindranath Tagore – here's all you need to know about the royal
In today's segment of ETimes BFFs (Big Filmy Families), we decode the Pandays, how they transcended into the world of cinema and continue to entertain across the globe.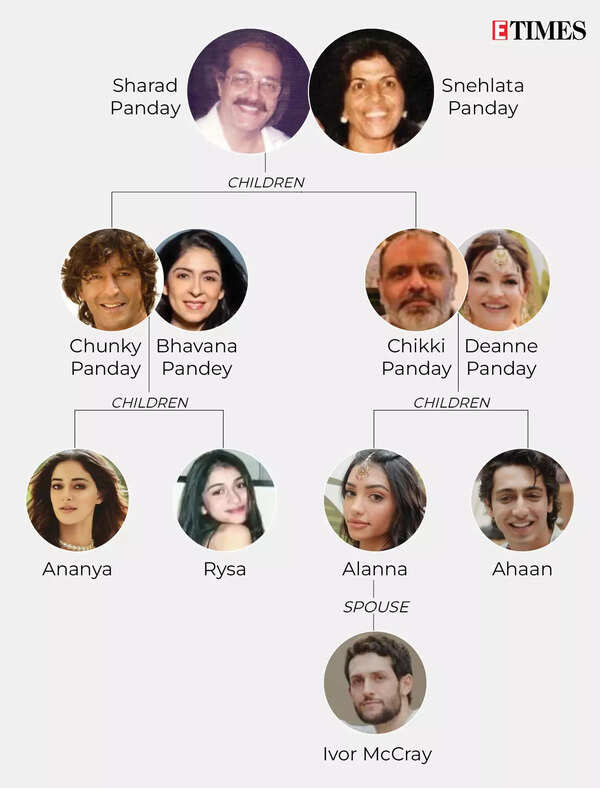 Sharad Panday

Born to Rajaram and Gangabai Panday, Chunky Panday's father Sharad harboured dreams of being an architect. He even enrolled into JJ School of Arts in Mumbai, only to be pulled out of there and put into a medical college by his father. The brainy Sharad Panday worked his fingers to the bone and established a successful career as a heart surgeon. His most notable achievement was being part of the team that performed India's first heart transplant. Dr Sharad Panday was even known for bloodless heart surgeries.
Snehlata Panday

Born to Kundanlal and Rajrani Kapoor, Snehlata Kapoor was born in Rawalpindi, before the partition of India and Pakistan. Her family migrated to India when she was just six years old. Snehlata Kapoor pursued gynecology as a student, but landed up being a general practitioner. She was a pioneer when it came to slimming and was recognised as India's first obesity doctor. Dr Snehlata Panday established her own clinic in the 70s and had a lot of film clients which also included yesteryear actress Rekha.
Dr Sharad and Dr Snehlata Panday had two children – Chunky and Chikki Panday.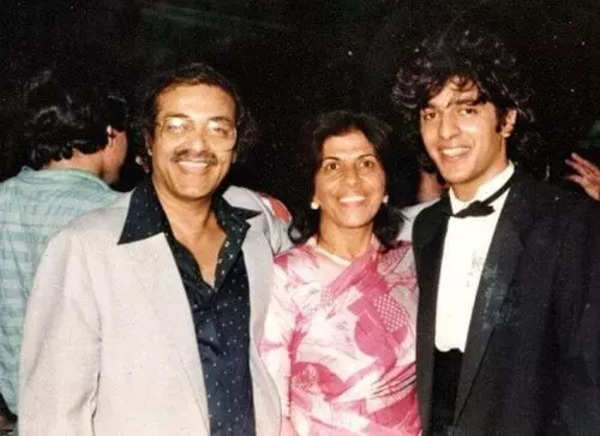 Chunky Panday

Dr Sharad and Dr Snehlata Panday welcomed son Suyash, aka Chunky, on September 26, 1962. With both his parents being the busiest doctors in the country, Chunky spent most of his childhood at his nani, Rajarani Kapoor's home in Mahim, Mumbai. Content being a graduate, Chunky Panday was clear that he didn't want to pursue a career in medicine. While his parents were keen that he should become a doctor, there was no pressure on him.
From harboring dreams to become an astronaut to selling used cars, Chunky Panday was trying it all and acting was nowhere on his list. It was only during a filmy wedding, when he saw the euphoria that Amitabh Bachchan's presence evoked, that the acting bug bit!
In a career spanning three decades, Chunky Panday has worked in over 100 films, across several Indian languages. He debuted with 'Aag Hi Aag' in 1987 and went on to deliver hits like ' Paap Ki Duniya', 'Tezaab', 'Don' and the much successful 'Housefull' series. Beyond his humorous characters, Chunky Panday also received much recognition for his villainous avatars in projects like 'Abhay' and 'Saaho'.
Bhavana Panday

Another brainy in the Panday family, Bhavana was supposed to pursue a career as a chartered accountant and landed up becoming an air hostess. Chunky Panday calls her the most intelligent one in their family! For the love of travel, Bhavana Panday worked as an air hostess and flew for a couple of years. Soon after, Chunky and Bhavana crossed paths, fell in love and got hitched on January 17, 1998.
Before the exposure that OTT brought into her life, Bhavana worked as VJ for a TV channel and even owned an events company. She even started her own fashion label, which was later sold off. Bhavana now enjoys the limelight that 'Fabulous Lives of Bollywood Wives' has brought along and continues to be a constant support for her daughter's acting aspirations.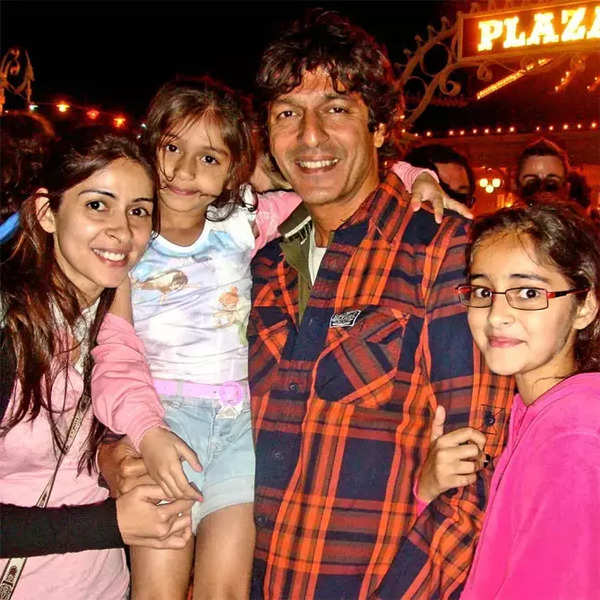 Ananya Panday

Chunky and Bhavana welcomed their first born, Ananya, in the same year as their wedding. Born on October 30, 1998, Ananya is carrying forward the legacy of her father. After completing her schooling at Dhirubhai Ambani International School in 2017, Ananya applied for further studies at University of Southern California. But her acting plans came into the way and Ananya went on to debut in Bollywood with 'Student of the Year 2' in 2019.
Rysa

Born on March 10, 2004, Rysa is Chunky and Bhavana's second born. She is still studying and has some inclination towards filmmaking. Dad Chunky shares that Rysa has the 'x' factor to be in the industry but she doesn't like being in front of the camera. While sister Ananya has already made it big in Bollywood, Rysa is still weighing her options.
Chikki Panday

Dr Sharad and Dr Snehlata Panday's second child, Aloke aka Chikki, was born in November 1996. He runs his own business and is also a co-founder of a non-profit public trust that promotes affordable education and similar initiatives. In 1994, Chikki married Deanne, the couple have two kids – daughter Alanna and son Ahaan.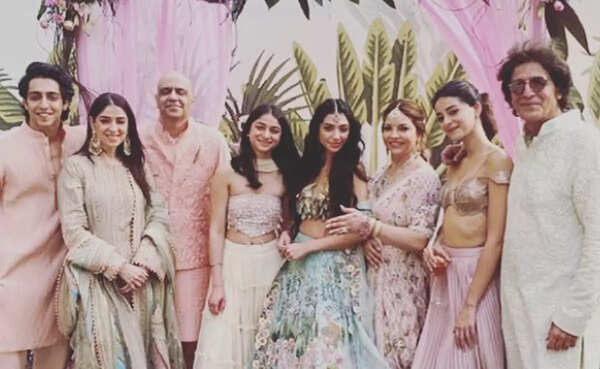 Deanne Panday

A woman of many talents, Deanne Panday is a fitness expert, lifestyle coach and has authored several books as well.
Alanna

Chikki and Deanne Panday's first born, Alanna (August 1995), is a social media influencer with over 1.4 million followers. Armed with a degree in fashion management from London College of Fashion, Alanna shares posts on beauty, fashion, lifestyle and travel. On March 16 2023, Alanna married long time beau Ivor McCray, who is a filmmaker by profession. The couple run a YouTube channel which features several personal vlogs.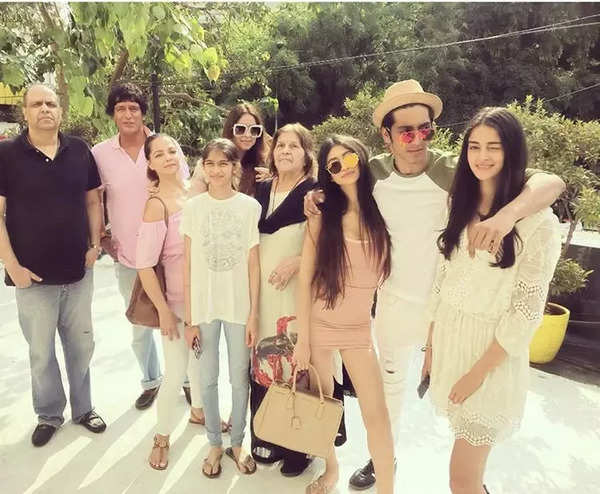 Ahaan

Born in December 1997, Ahaan is following the footsteps of uncle Chunky and first cousin Ananya. Touted as the next Gen Z star, Ahaan is exploding on the social scene of star kids and has bagged a contract with Yash Raj Films, who will be launching him in Bollywood. For now, Ahaan has Gen Z swooning over his looks on Instagram, while he sweats it out for a big debut in the coming years.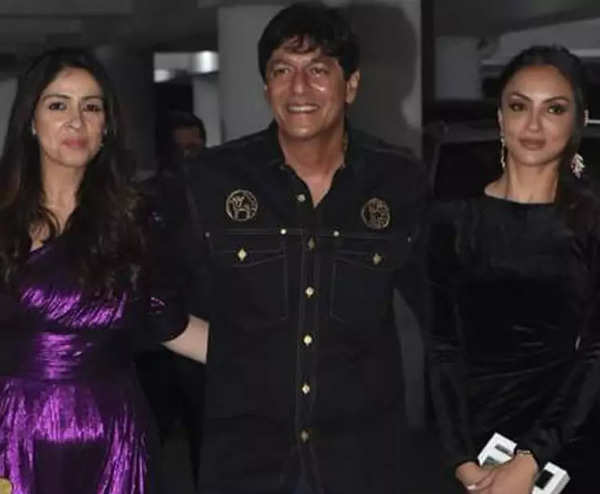 Did you know Ananya Panday and
Seema Kiran Sajdeh
are second cousins?

Seema Kiran Sajdeh (previously Khan) and Bhavana Panday's friendship was detailed in 'Fabulous Lives of Bollywood Wives', but did you know they are related too? Seema is the daughter of Chunky Panday's first cousin! Chunky Panday's mother, late Dr Snehlata Panday and Kiran Sajdeh's mother were sisters, which makes Ananya and Seema second cousins!
Chunky Panday's first cousin is married to an Emmy Award winner!

Chunky Panday's first cousin Purva is married to Sam Cullman, a cinematographer, director and editor of documentaries. In 2012, Cullman and partner Marshall Curry were nominated for an Academy Award in the Best Documentary category for 'If a Tree Falls: A Story of the Earth Liberation Front', while in 2014, his project 'Art and Craft' was shortlisted for an Academy Award in the Best Documentary Feature Film category. Apart from Academy Award nods, Cullman won an Emmy in 2020 for his directorial 'ReMastered: The Lion's Share', in the Outstanding Arts and Culture Documentary category.