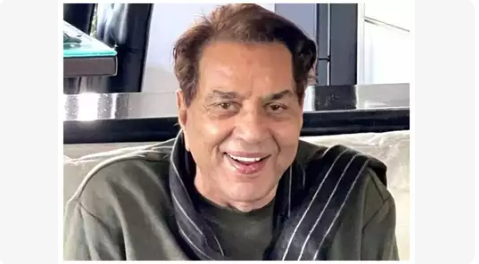 Veteran actor
Dharmendra
is currently garnering accolades for his brief, but important role in Karan Johar's Rocky Aur Rani Kii Prem Kahaani, in which he plays Ranveer Singh's grandfather Kanwal, who suffers from Amnesia.
Recently, the 87-year-old took to his Twitter handle to share some pics of himself. Looking youthful as ever in a black tee, the actor wrote, "Friends, some photos by my grandson Dharam.
I call him 'USTAAD'. A good time paas with Ustaad."
Netizens were pleasantly surprised by Dharmendra's youthful looks and could not stop going gaga over him. One user wrote, "Handsome as always." Another one commented, "Handsome Forever!! You were the HE-MAN of industry and still today you are."
Coming back to RARKPK, the internet has been buzzing about Shabana Azmi and Dharmendra locking lips on the big screen, even if for a few minutes. While the internet had a lot to say about the on-screen PDA, according to Shabana, her husband Javed Akhtar didn't seem to mind it.
In an interview with Zoom, Shabana opened up about Javed's reaction while watching her big-screen kissing scene. She said, "Oh he was not bothered."
Revealing what the veteran writer had objections to, was her 'rowdy behaviour' in the theatre, whistling, cheering and applauding during the movie. Admitting that she went 'insane with excitement', she added, "Javed was like, 'I don't know this woman sitting next to me.'"
Talking about the kiss, the actress told the portal that she never guessed that the scene would create such a fuss and said that the audience in the theatre was cheering and laughing when the kiss played on-screen. She added that while she hasn't kissed as many actors on-screen, she said that shooting the scene was never an issue. She went on to tease, "Who wouldn't want to kiss a man as handsome as Dharmendra?"