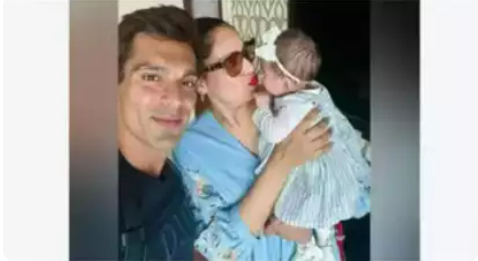 Bipasha Basu recently took to her IG handle to share a pic with daughter
Devi
where the little one seems to be extremely excited to reunite with her mom. While Bipasha looked stunning in a green dress, Devi, whose back faced the camera, was seen wearing comfy lounge wear. Sharing the same, the actor wrote, "Uffff the love in her eyes when mamma is back home Lucky Mamma." Bipasha's husband Karan Singh Grover could not get over the adorable moment and dropped an 'aww' on the picture.
Bipasha is quite active on social media and often shares pics of her family. Recently, she took to her IG handle to share an adorable family moment along with husband Karan Singh Grover and daughter Devi, where the toddler's father is seen reciting the Hanuman Chalisa to her. Sharing the video, Bipasha wrote, "Bedtime Rituals Papa , Mamma & Devi".
Earlier, the Bengali beauty in an Instagram live with
Neha Dhupia
, opened up on daughter Devi's heart condition at the time of birth and how the little one had to go through surgery at three months.
Getting emotional, she said, "Our journey has been very different from any normal mother-father, it has been a lot tougher than the smile that I have on my face right now. I would not wish this to happen to any mother. For a new mother, when you get to know that… I got to know on the third day of me having a baby that our baby is born with two holes in her heart. I thought I'll not share this, but I'm sharing this because I feel that there are a lot of mothers, who helped me in this journey, and it was very difficult to find those mothers… "
She also said, "First 40 days 40 nights, I didn't sleep for a second. It took me 40 days to process it, accept it, understand what is going on after giving birth. Out of those, 15 days Karan was not in the city with me because he had a film which he tried to back out from but he couldn't. I was alone, I didn't tell my family. She wasn't allowed to meet anyone with cold and cough, my whole family had viral at that time. I didn't let anyone meet Devi. Everyone thought why I had gone weird, but I was being fiercely protective about my daughter."