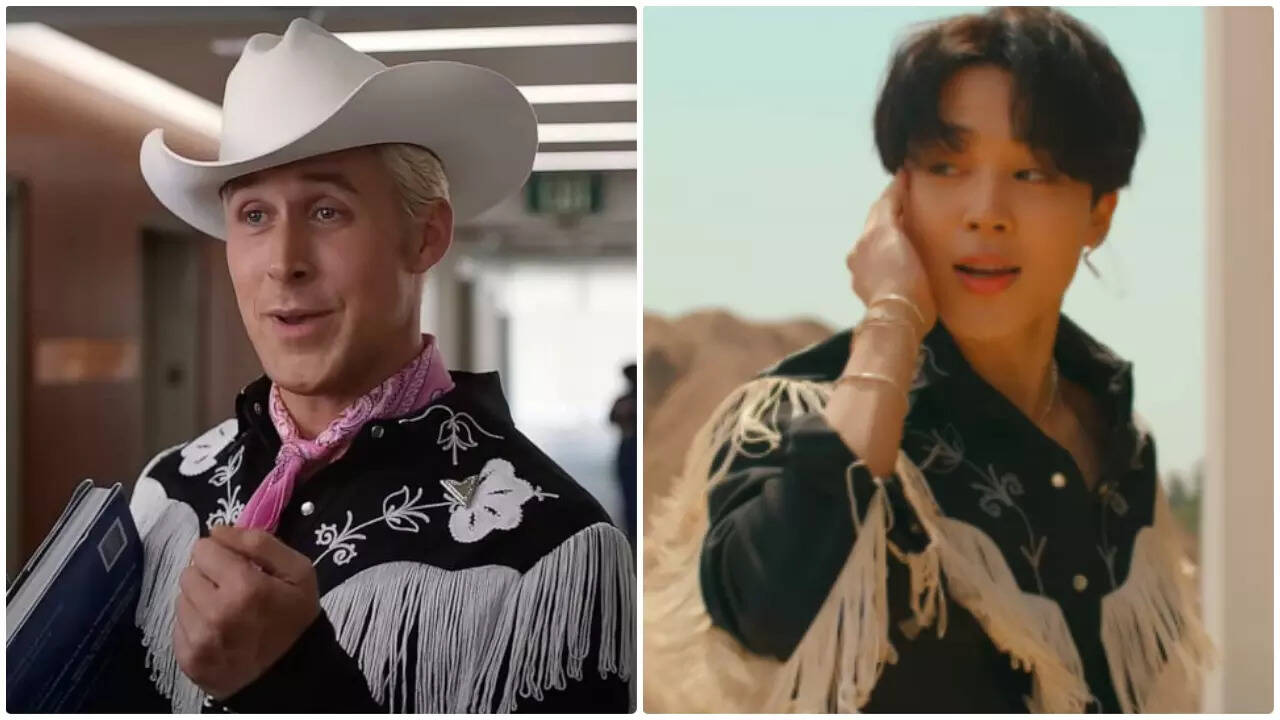 Ryan Gosling
is extending an olive branch to BTS' Jimin for breaking the sacred 'Ken Code'.
Ahead of the highly anticipated release of his film 'Barbie', Gosling took over the film's official social media handle to post a video sending out a heartfelt apology from one Ken to another.
Fans of the K-pop supergroup BTS noted that Gosling's Ken wore the exact same cowboy outfit worn by Jimin in his hit 'Permission To Dance' video.As the star broke the cardinal rule in Barbie land – Never copy another Ken's style – he not only apologised but also offered his most prized possession to the superstar."Hi Jimin, it's Ryan Gosling here. I notice that your 'Permission to Dance' outfit is the same as my Ken outfit in the upcoming movie Barbie. I have to give it to you — you wore it first. You definitely wore it best," he said before going to add, "there's an unspoken Ken code that if you bite another Ken's style, you have to give them your most prized possession. I hope you'll accept Ken's guitar as my humble offering. And besides, Ken doesn't really play anyway, so… it'll be much better in your hands."
"Had to give Jimin this (guitar) for his KEN-RGY!" read the caption of the post.
The post caught the attention of Jimin fans who took to social media to say , "Our Jimin is the real Ken!"
Another said, "Jimin's favourite movie is the notebook and Ryan gosling, the lead, just gave him a guitar (as Ken)."
Another said, "So basically it's canon Jimin is a Ken."
While Jimi is making waves in the music world for his solo tracks, Gosling is winning praise for his performance in Greta Gerwig's 'Barbie' also starring Margot Robbie. In the film, the actor, much like his 'La La Land' stint, goes on a musical note and performs the 'Just Ken' ballad.