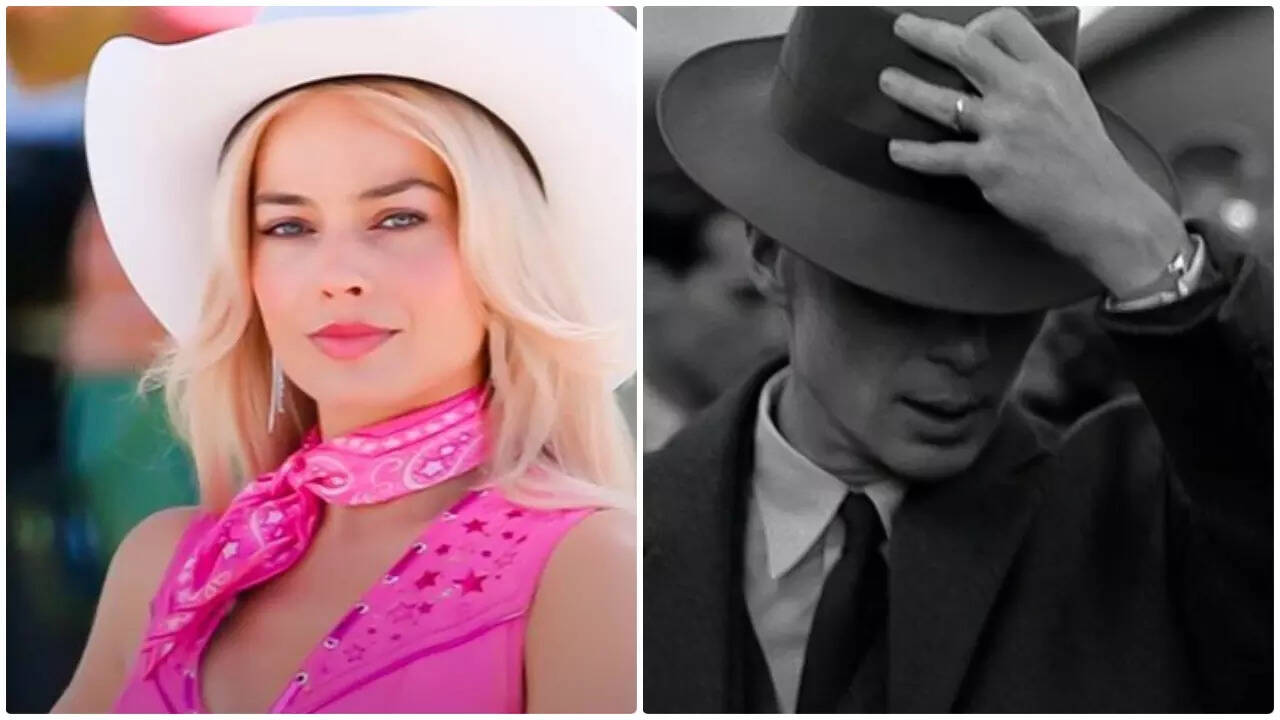 The box office showdown between
Greta Gerwig
's "Barbie" and
Christopher Nolan
's "Oppenheimer" all started with a date: July 21.
It's not uncommon for studios to counterprogram films in different genres on a big weekend, but the stark differences between an intense, serious-minded picture about the man who oversaw the development of the atomic bomb and a lighthearted, candy-coloured anthropomorphizing of a childhood doll quickly became the stuff of viral fodder.
Read Also
20K Americans buy tickets to watch both 'Oppenheimer' and 'Barbie' on July 21
AMC Theatres reports that more than 20,000 of its members have purchased tickets to watch Christopher Nolan's 'Oppenheimer' and Greta Gerwig's 'Barbie' on the same day when the two movies debut on July 21. The world's biggest cinema chain has attracted a significant number of viewers for the two
Christopher Nolan's Oppenheimer to have 3 AM shows in India after unprecedented rush in ticket sales
The July 21 release of Christopher Nolan's newest picture, "Oppenheimer," starring Cillian Murphy, is being met with an extraordinary surge in advance bookings. Since the advance bookings started on July 1, ticket sales have surpassed expectations. So much so that shows have even been slotted for
'Mission: Impossible – Dead Reckoning, Part One' box office collection Day 3: Tom Cruise starrer mints highest collection on Saturday
'Mission: Impossible- Dead Reckoning, Part One' saw a surge in box office collection on Day 4, earning an estimated Rs 16 crore. The seventh instalment in the 'Mission Impossible' is projected to gross $250 million worldwide by Sunday.
Cillian Murphy: Oppenheimer grabs you by the throat and you don't take a breath from start to finish
Cillian Murphy, the star of Christopher Nolan film 'Oppenheimer', speaks about playing J Robert Oppenheimer, the father of the atomic bomb, his experience with the all-star cast including Emily Blunt, Matt Damon, and Robert Downey Jr, watching the film in IMAX, and why it will resonate with
Twitter has been flooded with fan-art that brings together Margot Robbie and Cillian Murphy in epic fusion posters titled 'Barbenheimer'.
There's even some disagreement over whether it's "Barbieheimer" or "Barbenheimer" or "Boppenheimer" or yet another tortured portmanteau – a phenomenon on which the Stylebook has yet to offer guidance, but for the purposes of this article will be "Barbenheimer."
It didn't hurt that both Nolan and Gerwig have very passionate and very online fandoms eager to join in. Both movies often trend on social media when the other releases a new asset – a trailer, a picture, an interview. On one level, it's a marketing department's dream. Awareness could not be higher, the conversation couldn't be louder, and neither film even has official reviews out yet.
"'Barbenheimer' is a marketing gift borne out of social media and I think it's benefiting both films," said Paul Dergarabedian, the senior media analyst for analytics firm Comscore. "You're certainly aware of both movies in a more profound and compelling way than I think might have otherwise happened had they been released on different weekends."
AMC Theaters reported that 20,000 of its AMC Stubs members had purchased tickets for a double feature. If you're counting, that's 294 minutes of movie watching. Even Margot Robbie – Barbie herself – and Tom Cruise, the star of another summer blockbuster, have started plotting the ideal "Barbenheimer" day.
"It's a perfect double bill," said Robbie at her movie's London premiere Wednesday. "I think actually start your day with 'Barbie,' then go straight into 'Oppenheimer' and then a 'Barbie' chaser."
Over the past weeks, leading up to the highly anticipated release, fans have not been picking their film to watch over the weekend, but rather, which one to watch first. Some have resolved to watch both movies on the same day, let alone the weekend.
"it's only barbenheimer if you're seeing barbie first, otherwise it's oppenharbie," a fan debated on Twitter.
"F**k astrology are you a Barbenheimer (watching Barbie before Oppenheimer) or an Oppenharbie (watching Barbie after Oppenheimer), it says a lot about a person," wrote a fan.
Debating on what to watch first, one tweeted, "You have to see Oppenheimer first. This is because Barbie lives in the world that Oppenheimer built."
"I'm gonna do Oppenheimer first cause I think it's longer and definitely gonna be more depressing then to wash the sadness and probable stress I will watch Barbie which most likely and hopefully make me feel joy and calmness," wrote a fan in a tweet.
While another argued, "If you're watching them on the same day I think Oppenheimer cause it's a more serious and long movie so if you pick it as a second watch you could get bored/tired 😶 and if Barbie is second it will def lighten up your mood after Oppenheimer cause it's more fun."
Cruise – whose "Mission: Impossible – Dead Reckoning Part One" opened a little over a week before the "Barbenheimer" showdown – said at his premiere he'd plan to see both on their opening day, likely starting with "Oppenheimer," which seems to be the internet's preferred viewing order as well.
"Barbie" actor Issa Rae thinks there's a reason for that. "I think that there's a very specific order that if you see them in. If you see 'Oppenheimer' last then you might be a bit of a psychopath," she diagnosed at the London premiere.
The showdown has made armchair marketing experts out of everyone, quick to scrutinize every move by Warner Bros. and Universal – as though it's possible to compare two extraordinarily different campaigns.
One has infinite opportunities for very pink, sparkly photo opportunities, whimsical brand partnerships for seemingly everything from underwear to pool floats, large-scale fan events with autograph signings and pop stars like Billie Eilish posting about the soundtrack. In other words, the "Barbie" campaign can go nuclear.
"Oppenheimer" has the bomb, the alluring mystery and the big screen hook, but it's not the kind of movie that lends itself to, say, a frozen yogurt collaboration.
Is the competition real, though, or just a meme? Some in Hollywood wondered if Warner Bros. plopped "Barbie" on the weekend as a slight to Nolan, who had opened many films for the studio in that corridor including "Inception" and "Dunkirk." He left Warner Bros. amid its controversial decision to send a year's worth of movies to streaming and made "Oppenheimer" with Universal instead. But a pointed box office war doesn't exactly make sense for a studio that has talked recently about wanting to lure Nolan back.
There is an unspoken code of conduct: Never badmouth another studio's film, publicly at least. This is partly decorum, especially when it comes to "box office showdowns" which all will say are a creation of the press and sideline spectators. But it's also rooted in some truth: The conventional thinking is that having eyes on one movie is good for other movies – you see their posters and trailers and on some level everyone benefits.
And social media has allowed movie stars to get in on the game, too. Following reports that Cruise was irked the latest "Mission: Impossible" was going to lose its IMAX screens to "Oppenheimer" after only a week, Cruise posted photos of himself and director Christopher McQuarrie standing in front of posters for "Indiana Jones and the Dial of Destiny," "Barbie" and "Oppenheimer," holding tickets for each.
"This summer is full of amazing movies to see in theatres. These are just a few that we can't wait to see on the big screen," Cruise's Instagram caption read.
The official accounts for "Indiana Jones," "Barbie" and "Oppenheimer" responded with supportive notes. Gerwig and Robbie even followed with a similar photo series a few days later, which the official "Oppenheimer" Instagram account reposted in its stories. Charged with playing Oppenheimer, Cillian Murphy told the AP at his movie's London premiere that "of course" he'd be seeing "Barbie." The sporting cross-promotion between four studios – Universal, Warner Bros., Disney and Paramount – is something the film business has not quite seen before.
"Not only is Tom Cruise the biggest box office star in the world, but he's also an incredible ambassador for the movie theatre, for the movie theatre experience and boosting other movies," Dergarabedian said. "And that collegial atmosphere within the framework of what is seen as the very competitive box office derby is kind of a nice thing."
Still, everyone likes a No. 1 debut, and both "Barbie" and "Oppenheimer" reportedly carry $100 million production price tags (not including the millions spent on marketing). As far as box office tracking goes, "Barbie" has it in the bag with forecasts showing that it could open above $90 million in North America. "Oppenheimer" meanwhile is tracking in the $40 million range. Then there's the wild card of "Mission: Impossible 7's" second weekend, which could snag second place.
Still even with a second- or third-place start, "Oppenheimer" could be destined for a long, steady, profitable run into awards season. Adult audiences for R-rated movies are not often the ones who pack theatres the first weekend.
Back in 2008, in the midst of the recession, Warner Bros. and Universal faced off on the same July weekend with another Nolan film that went up against a lighthearted confection: "The Dark Knight" and "Mamma Mia!" – both of which went on to be enormously profitable (though Nolan did win the first weekend).
The bigger worry is that what's been heralded as Hollywood's post-pandemic comeback summer has had more ups and downs than anyone might have hoped. That's putting quite a bit of pressure on "Barbenheimer" to overperform and boost the lagging summer box office, which pales in comparison to the bigger issues facing the industry as actors join the writers on strike.
But with just over a week to go, it's still a source of amusement. Even "Barbie" co-star Will Ferrell threw the gauntlet in his winking way at the London premiere. "I think the world maybe wants to see 'Barbie' a little bit more right now," Ferrell said. "Just saying!"