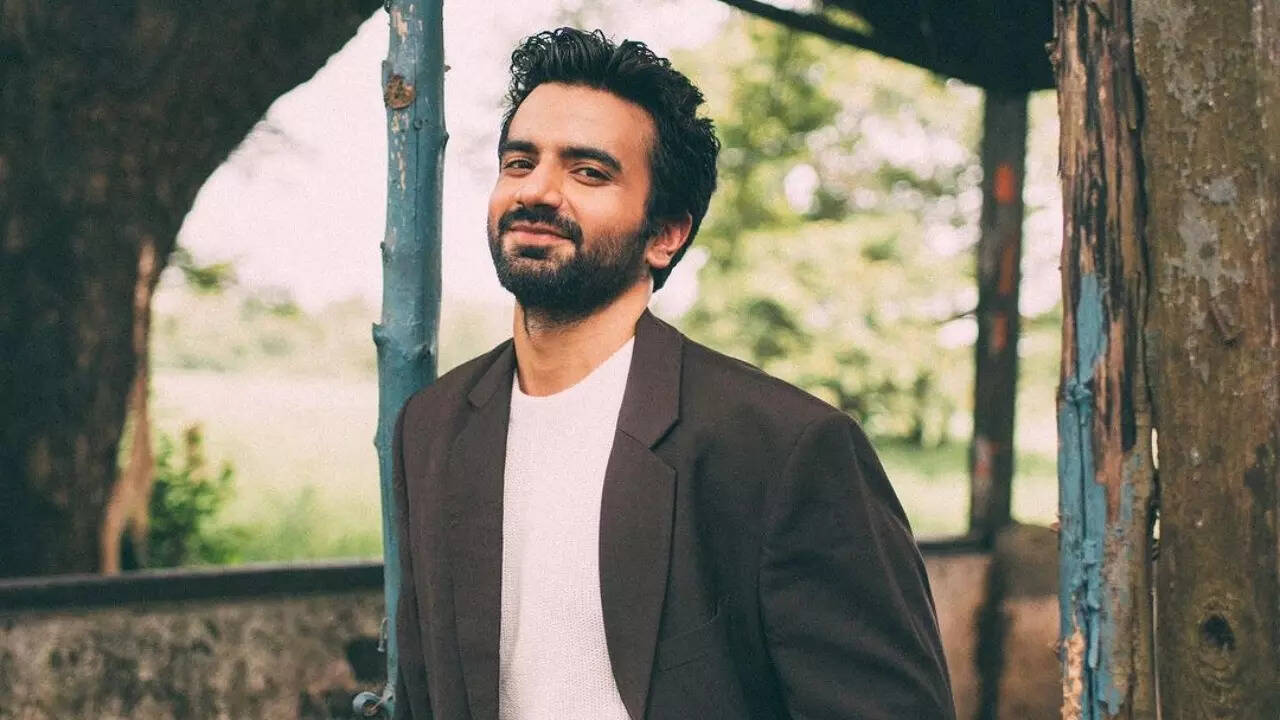 Ayush Mehra made his movie debut with 'Kacchey Limbu' starring Radhika Madan this year. Before that, he was a part of a web-series 'Minus One'. However, he's not a new face as he enjoys immense popularity on the internet. While he has this 'heartthrob' status among women, he's also a fine actor, constantly trying to prove his mettle with every work he does.However, it's the fact that Ayush has been an assistant director on four movies includingVicky Kaushal starrer 'Uri: The Surgical Strike' is what has helped him better his craft. In this all-heart conversation, Ayush talks about his journey, aspirations, learnings as an assistant director, things he's learnt from Vicky Kaushal amidst much more…
Tell us about the love that you got for 'Kacchey Limbu'?
I'm happy and grateful because though it's my debut film, if you get so much love for it, it's heart touching. Everyone told me you're very endearing and charming. I'm very positive about this start. I remember 'Kacchey Limbu' was difficult as long as playing cricket is concerned, because it was physically exhausting. We used to burn 4000-5000 calories a night by just playing cricket. But it was something I loved doing because it seemed like a party wherein I got to play cricket and also go to shoot.
Did it bother you that your debut movie was on OTT and not a theatrical?
I really owe a lot to OTT and web. Initially when I started off acting, I started with theatre where I was a jackfruit and my co-actors were gobi and tamatar and then I did ads. At that point, ads were a medium and then there was television and then movies. The digital medium wasn't there earlier. But I'm so glad that then web-shows happened. Things were a little slower because it's a very difficult scenario to break within a typical Bollywood scenario. That's when web shows came in and I started getting a lot of love. Since I owe so much to the web, it didn't matter whether it was theatrical or web. When I started out, I really wanted to get to play a lead character in a film. To get it on OTT or theatrical didn't matter to me as long as it's a film, and you arrive at a destination as long as it's a good film. I was also getting a lot of offers but they didn't seem right one to start with. But I think, 'Kacchey Limbu' felt right.
And 'Kacchey Limbu' came after 'Minus One' which was so different!
It feels so satisfying. Because at one point of time, when I did 'Minus One', I remember going on set for 21 days and crying for 17 of them. Because my character was so vulnerable and it demanded so much. It took so much prep. It took so much hard work. I remember it felt great. It felt super. It was so satisfying for me as an actor because that released in February and this released in May 19 and people saw me doing different things in the same year. I want to explore all avenues as an actor and get the opportunity for that.
How do you see your journey wherein you're still considered a new face when it comes to movies, but so popular on the internet as a content creator?
I've always pictured a journey of doing ads and just getting into films directly since I was young. So I never thought that the web was going to happen. And as and when the web started happening, I started doing roles. And I never thought that I would be able to do a romantic role, to be very honest. Because, I've have always trained in my life for drama stuff. And, you know, I've trained with Atul Mongya sir, with Jeff Goldberg, with a couple of workshops here and there. I've always trained for drama. Now, a friend of mine was like, why don't you try doing something romantic at a digital sketch level. When I did that, I got a lot of love and they thought I'm very capable of doing this. I was getting most roles of those kinds and it turned out to be the way it did. I'm so glad that my plan of just doing ads and then films, didn't work out, because the web gave me so much experience and the opportunity to make such good friends in the last 7-8 years. More than that, it helped me grow. I became a better actor. I'm really happy that this film happened to me at this time. Because if it would have happened earlier, I may not have been able to do justice to it or would be much in my head about it. I'm glad that whatever happens, happens at the right time. I'm grateful for everything to work out and make me reach here.
How has being an AD helped you?
I had started as an assistant director on a film called 'O Teri' which was produced by Atul Agnihotri sir. I was the clapper on that and they were all really sweet. I wanted to learn the acting bit of it but I learnt so much more and realised that I was being so stupid by just thinking about the micro aspects of being an actor and not about observing things on the set. I remember Atul sir telling me, 'Why have I given you the clap?' He was like, 'I gave you the clap because you're closest to the director. You're closest to the actor. You understand lensing. You understand where the mark is. You understand lighting.' And I was like, 'Oh my god, what have I been thinking for so long?' I learnt how to behave with the crew because I was the crew. It teaches you humility and how much effort the crew makes. That's why it's so important to learn your lines as an actor. If the actor is not well-prepared, just because of his lack of efforts, everyone's efforts go waste. I didn't want to become that kind of an actor. I feel every actor should assist and understand filmmaking and fall in love with that first, then you'll automatically start becoming a better actor.
And how was it being an AD on 'Uri: The Surgical Strike'?
Being present is something which I learned while being an AD. When I was watching Vicky Kaushal's act, I realised he's such a phenomenal actor and also such a humble person generally in life. I would ask him, how would you film this? How did you do that? And he would simply just explain you certain things because he knew I wanted to become an actor. So, he was really kind to me. And I learnt that I want to become humble and if I want to become somebody, I want to become like him who has no airs about him, someone who's very sweet and who's very down-to-earth, very approachable. As an actor you can't focus on just your aspects. The entire scene should shine and that's what you should work towards. AD'ing taught me how to look at a project on the whole, and not just about your work. A project is bigger than any actor.
Is it still a struggle to find the right roles which you aim for?
I'm really grateful and thankful for it every day of my life. It took a lot of effort and it still does take a lot of effort. Like, it's still a constant struggle to land your next best role. But it's been fun. I'm always a person who has a destination in his mind but also enjoys the process. I've also gotten a lot of validation. There are so many people who believe in me in this journey. Like my friends and family, the directors, the producers who have faith in me. It gives me a lot of confidence and hope that, it's not necessary that you have to follow a certain path or somebody has to do something for you. If you want something to happen, the universe makes it happen. So, I just believe in this.
Do you have a wish list of directors you want to work with?
There are so many directors I want to work it. I love Imtiaz Ali's film, he's one of my favourite directors. I would love to work with him. There are so many new directors I want to work with, Jasmeet ma'am who made 'Darlings', Abhay Pannu who made 'Rocket Boys'. And who wouldn't want to work with Karan Johar sir? I'm a big fan of his. I've assisted in his production house. It was a film called 'Raat Baaki' but it got shelved because then Pakistani artists weren't allowed to work here. It had Fawad Khan and Katrina Kaif.