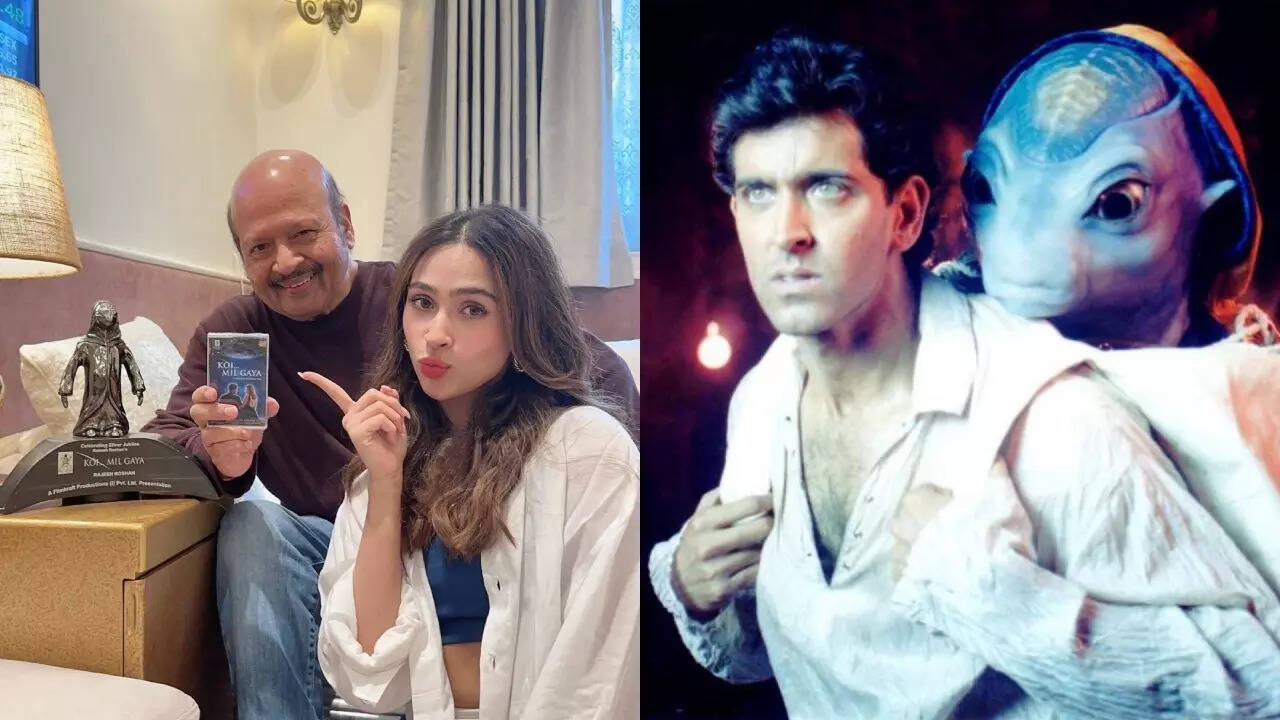 Hrithik Roshan
's 'Koi…Mil Gaya' is set to complete 20 years on August 8. On this occasion, the film is set to re-release in some cinema halls across the country. The film was ahead of its time because one hadn't seen such a sci-fi film with an alien at that point in time. Shockingly though,
Rakesh Roshan
recently said in an interview that not much VFX was used in the film.
The film's music done by Rajesh Roshan, continues to remain memorable over the years.
And Rajesh's daughter,Pashmina Roshan who is soon to make her Bollywood debut has gotten nostalgic and shared her memories of 'Koi…Mil Gaya' with a post. Pashmina was a little girl and can be seen posing with Jaadu in this picture. She wrote, "When we were just little girls, our family went on an adventure, and although @suranika and I were just bystanders in their adventures, it felt as thrilling, as if it was happening to us. For a beautiful time, our days were filled with 'Koi…Mil Gaya'."
She further added that as kids, they cried when Hrithik was hit in the film. "From waking up and hearing my dad work on the songs, to visiting the set and seeing tutu papa create magic. We drank more Bournvita because Rohit liked it. We cried when Duggu bhaiya got hit, and cheered when he stood up. We wanted to dress up like Nisha. We wanted to dance whenever it rained, we ran around the set imagining we were residents of Kasauli, lucky enough to meet with the lovable Jaadoo. Jaadoo became all our friend too."
Feeling really proud of the movie, she expressed, "Now after so many years, we get to relive the adventure on a big screen and I'm filled with more than just nostalgia- I'm filled with pride, wonder and empowerment, because here is what imagination, perseverance, unity and hard work can achieve …we reach the stars ❤️💫"
Pashmina is going to be seen in 'Ishq Vishq' rebound.