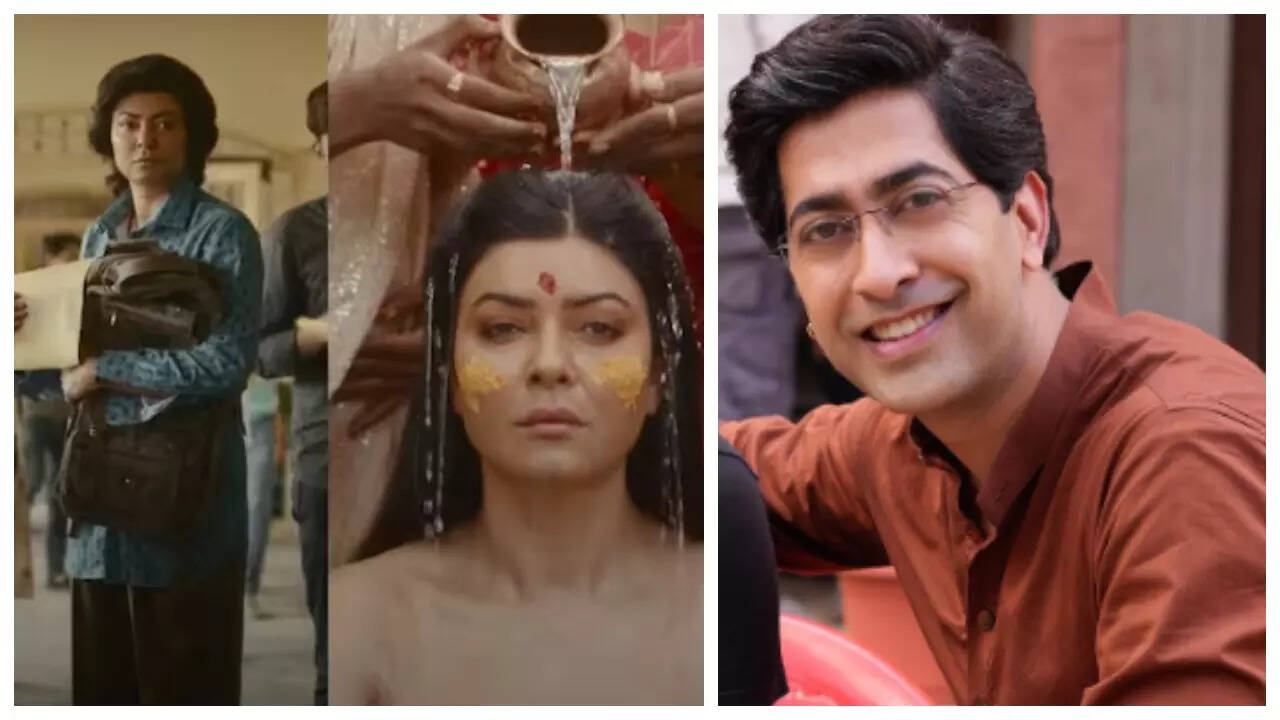 After playing sibling in the popular series 'Aarya',
Sushmita Sen
and Ankur Bhatia have reunited for 'Taali'. Sushmita, whose role is based on the life of a transgender and social activist Gauri Sawant, recommended Ankur to the makers of 'Taali' for the role of a gay activist. As the series hit the web today, Ankur shared some interesting details from the journey of 'Taali'.Excerpts:
How did you get 'Taali' and what made you say yet to it?

Taali makers offered me a challenging part. When I heard about this series from Sushmita Sen, I was amazed with her choice because this was something which was very bold and not many actors would have the courage to do it. I learnt about Gauri Sawant from her and then she mentioned about this character Naveen in Gauri Sawant's life. She actually had the confidence that I would be a perfect fit and that's how she introduced me to the director and then I tested for it. For me this was an opportunity to showcase a different side of me as an actor and right off the bat I was like I have to do this. This has a strong message for the society. I'm representing a group of society and their story needs to be told and as an actor I was really excited and thrilled.
Sushmita faced a lot of trolling when the show was announced, your take on it?

Actually, I don't give any importance to trolls in my life because they're nameless and faceless and so it doesn't matter. You can do anything and people will have something to say about it, that shouldn't matter. Our choices should not depend on trolls and that's my motto and I live by it. So I really didn't pay attention to it.
How was it to reunite with Sushmita Sen?

It was amazing to reunite again with Sushmita Sen on 'Taali'. I have had a great working experience with her on Aarya 1 and season 2. And we share a good bond. I was very excited to be with her and she's very chilled out on set. And she's a very giving co-actor as well.
During the course of the shoot, did you meet Shreegauri Sawant? If yes, how was the experience?

I have not yet had the opportunity to meet Sri Gauri Sawant yet. I was filming for another project before I started 'Taali', so I had straight away land up on the sets.. I had gotten few days to prepare for it but I was not in Bombay. But I am looking forward to meeting Gauri Sawant very soon.
How has your family reacted to this show?

My family is looking forward to it. My family has had a huge involvement in this topic, about LGBTQ community and all. Back in the days when we were growing up, I don't think this was a subject which was openly discussed. And now when I told my dad that I play a gay activist, he reacted in a very open manner and he was happy about me choosing a part which was kind of different than what I have been doing. I actually asked him about his thoughts on this and he told me that as an actor you are totally opposite to this character that you are playing so it will be a good opportunity for you. I was really happy that people in our country are getting involved in this subject and it's not a taboo in most families. I hope and wish it becomes even more widespread where we start treating people from the LGBTQ community as one of ourselves and break the stereotypes in the society.
With back to back hits like Aarya, Bloody Daddy and now Taali… are you being cautious about selecting your next projects?

I've been blessed to be coing great projects lately but I am not being cautious or overly selective. I have maintained the same process that I have been doing for a couple of years now where I try to seek parts and roles which are very different from what I've done before so that it doesn't become stagnant. It has to motivate me and challenge me. I love being in front of the camera and doing something that is challenging is all I want.