The Film Employees Federation of South India (FEFSI) has proposed that only Tamil actors will be allowed to work in Tamil films. The Tamil Film Active Producers Association (TFAPA) is yet to make a decision on the same. But if this proposal is executed, it will definitely affect the Hindi film actors who have been working in the Tamil industry.
Honorary General Secretary of Cine and TV Artistes' Association (CINTAA) Amit Behl shared a report on the same and said, "As far as I know, the Tamil actors association is not part of the federation and they usually take independent decisions like we at CINTAA do separately from the Federation of Western India Cine Employees (FWICE)."
He added, "All over the country, the Artistes association is not part of their state federations but like us, they do have MoUs (Memorandum of Understanding) for coming together on common issues that affect the full worker community or the Monitoring and Evaluation (M&E) ecosystem in general."
Behl further said, "I read the article and it clearly mentions that there's no statement from actors.CINTAA recently signed a MoU withMovie Artists Association (MAA), so we were supposed to sign a MoU with the other state associations in the south of India. Also, we're supposed to fly to Hyderabad soon where MAA is facilitating a joint meeting of CINTAA and other south artists associations. In fact, Manoj Joshi, our president, EC member Mukesh Tiwari and myself are in touch with all of them."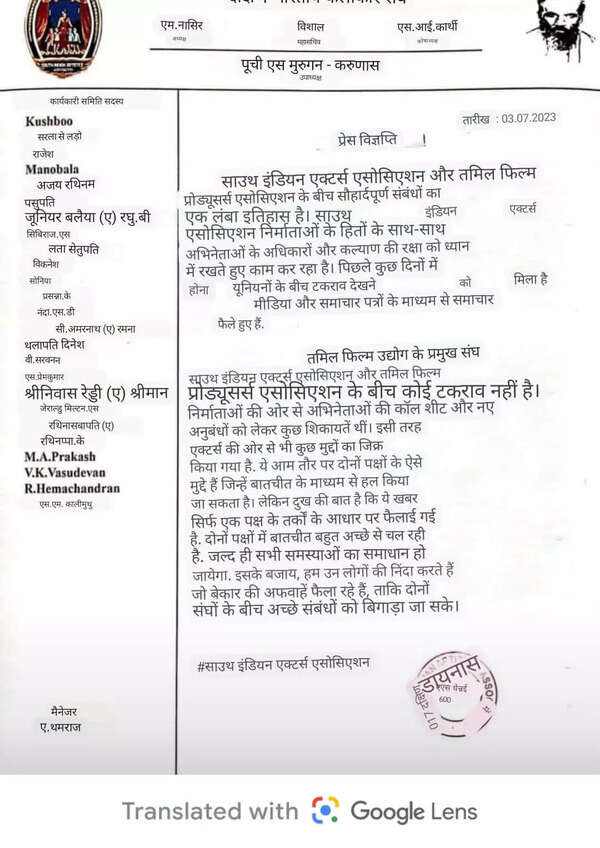 Earlier, it was being said that the members of FEFSI were unable to secure work because Tamil films were made with stars and actors from other industries. Many films were shot in foreign locations which created a lack of employement for FEFSI members.
Considering the situation, FEFSI had laid down strict rules as stated below:
1. For Tamil films, only Tamil artists should be employed.
2. Shooting of films should happen only in Tamil Nadu.
3. Shoot should not take place in an outside state or outside country without utmost necessity.
4. If the shoot doesn't complete on time or goes out of budget, written communication is to be made to producers with appropriate reasons.