Sunny Deol
recently hosted a special screening of his latest release, 'Gadar 2' in
London
. The exclusive screening was held at the High Commission of India, London.
"Only three days ago, on Friday morning, Sunny ji emailed us and expressed his desire to host a screening for colleagues and members of the community during his London visit. I consulted my colleague Sujit, and we decided to give it a shot," addressed His Excellency Vikram Doraiswami to the invite-only audience.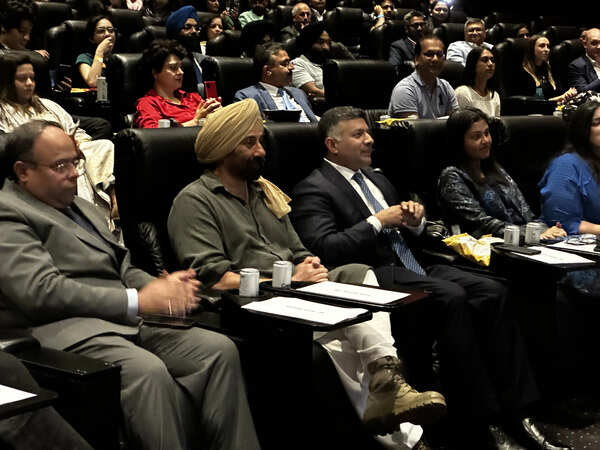 'Gadar 2' was showcased at one of the prominent cinemas in Leicester Square, London, where many major films hold red carpet premieres.Sunny Deol made a lively entrance with a vibrant dhol performance.
Sunny said, "I was apprehensive about doing the film. When Anil Sharma and Shaktiman approached me with Gadar 2, it resonated just like the original."
This comes amidst reports of a bank putting Sunny's Juhu villa on auction to recover a loan of Rs 52 crore given to the actor. The bank was also trying to recover the interest levied on the loan. However, Bank of Baroda later withdrew the e-auction notice for Sunny Deol's Juhu bungalow, citing 'technical reasons.'
While Sunny Deol's team had confirmed the auction notice on Sunday, they said that the amount mentioned was not correct and also mentioned that the actor would be clearing the dues in a day or two.
In 'Gadar 2', Tara Singh ventures across the border once again, this time to rescue his son, portrayed by Utkarsh Sharma, who has been captured in Pakistan. Set in Lahore during the year 1971, 'Gadar 2' perfectly delivers on its prequel's captivating action sequences while depicting Tara Singh's relentless anger towards those instigating hatred between India and Pakistan.
Directed by Anil Sharma, the film also stars Ameesha Patel in the lead role.
Watch Sunny Deol hosts special screening of 'Gadar 2' in London, says he wants to cherish the moment