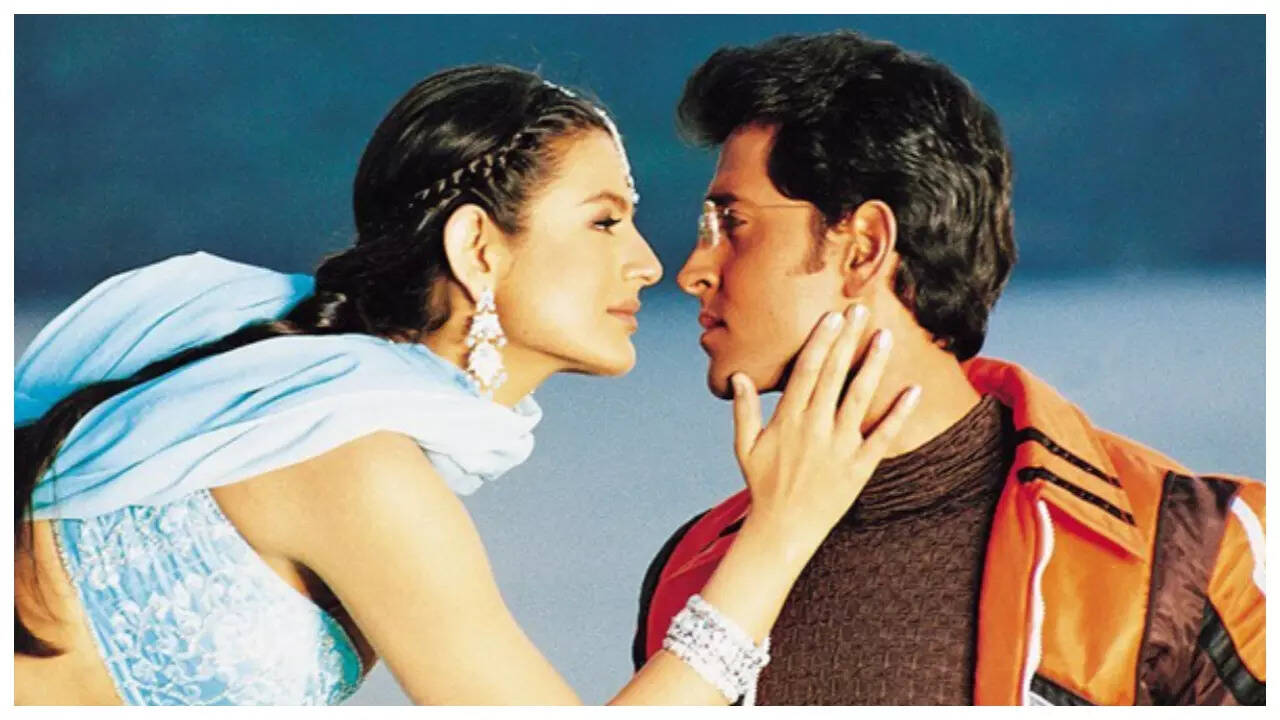 'Gadar 2', starring
Sunny Deol
and Ameesha Patel, has been running a rampage at the box office, shattering records, all within its first week. The film, which is already the second-highest-grosser of the year, is now setting its sights on dethroning
Shah Rukh Khan
's 'Pathaan' and clinching victory with a smashing Rs 500 crore box office collection. ETimes, in an exclusive chat with lead actress Ameesha Patel, asked for her reaction on her film's historic run, and she said, "I love the fact that Gadar mania has swept the nation.
Read Also
Gadar 2 box office collection first week: Sunny Deol starrer mints Rs 283 crore, to cross Rs 300 crore soon!
Directed by Anil Sharma, 'Gadar 2' is a spiritual sequel to 2001 release 'Gadar: Ek Prem Katha'. Apart from Sunny and Ameesha, the sequel also stars Manish Wadhwa, Gaurav Chopra, Simrat Kaur, Luv Sinha, Rakesh Bedi and Dolly Bindra.
Anupam Kher pens a glowing review of Gadar 2: Sunny Deol is not an actor, he is a cult
Directed by Anil Sharma, 'Gadar 2' stars Sunny Deol and Ameesha Patel in the lead roles. This film is a spiritual sequel to 2001 release 'Gadar: Ek Prem Katha'. 'Gadar 2' clashed at the box officce with Akshay Kumar and Pankaj Tripathi starrer 'OMG 2'.
Gadar 2 box office collection day 7 early estimates: Sunny Deol's film closes first week on a smashing note, to earn around Rs 22 crore
According to early estimates, Gadar 2 will be see a major drop in the Mumbai circuit on Thursday. Despite the drop, the Sunny Deol and Ameesha Patel starrer will be minting around Rs 22 crore at the ticket window.
I love reading the lines 'Tsunami at the box office', 'Ball hit out of the park', and 'Sunny Deol andAmeesha Patel set the box offices on fire'. These lines are music to an actor's ears."
"I thank my audiences, thank all the lovely people, cramming in long lines to get tickets, going multiple times and of course the hugest thank you to God," the actress added.
However, it is not just the fans and general public flocking to theatres in large numbers to watch the Anil Sharma directorial. Celebrities too have been heading to their local theatres to watch the sequel to the 2001 blockbuster 'Gadar: Ek Prem Katha' and see Sunny and Ameesha reprising their roles as Tara and Sakeena after 22 years. Her former co-stars including Salman Khan and fellow Bollywood actor Kartik Aaryan also took to their handles to praise the film. When we asked the actress about the celebrity reactions that came her way, she said, "I don't want to embarrass them or take their names, it's not right because these are private things but loads and loads and they're like wow, and hats off and congratulations and all the beautiful words that you can possibly put."
Sunny Deol is just one of the many '90s stars Ameesha was cast opposite during her early days in the film industry. This prompted us to ask her to take her pick on another hunk she would like to reunite with on-screen. "That's something you should ask them," she said coyly and went on to explain, "Because, you know they make the decisions, not me. I would love to work with them all, they're all fabulous and in my journey with all of them I've learnt a lot so…."
As the actress made her debut with the film 'Kaho Na… Pyar Hai' co-starring Hrithik Roshan, we had to ask if she would like to work with him again. Without any hesitation, Ameesha admitted, "I'd love to!"
While their first film together was a romantic-thriller, she would like their next flick to be, "A cute, fun love story with a little bit of comedy, great music and lots of dance because we're both good dancers," she said with a smile.
Keeping in mind the Gadar mania, she added, "Like I have a great chemistry with Sunny, I have a great chemistry with Hrithik too and I'd love to work with him, so why not? I think we both debuted together and people would love that like they've loved Gadar too. I think they would love Hrithik and me back too."
Will we see Raj and Sonia reunite on-screen again? Guess we will have to wait to find out.