Adah Sharma is one actress who has maintained quality over quantity when it comes to her choices in films. She has been garnering immense love and appreciation from the audience and the critics from all sides for her performance in her last film, 'The Kerala Story'. The film recently completed two months in the theatres. ETimes caught up with the actress for an exclusive interview where she spilled some beans on the success of the film, unheard stories from the sets, working with
Vipul Shah
, what fans can expect from her next, 'Commando 4' and more.Excerpts…
Despite all the controversies and opposition, 'The Kerala Story' has had a good run at the box office. How does it feel?
When a movie does well, it feels good. It doesn't matter if it is my film or someone else's film because that means the industry is thriving and more jobs for people, more joy.
Did you anticipate that the film would receive so much love from the audience?
I had an intuition that we have made a good film and whoever will watch it will get emotionally involved, but I didn't anticipate people with posters on the road, people driving on bikes holding hoardings and autorickshaw drivers giving free rides if you show The Kerala Story ticket. The public totally took care of our promotions and PR.
The film deals with a grave and important subject. Can you share any fun or interesting anecdotes from the sets of the film?
I had made a few dog friends in Ladakh. There's a scene where Ishak gets angry with me and gets violent, so my dog friends would howl or come running onto set (we were shooting outdoors) in the middle of the scene. Also, they didn't like seeing me cry, so after the shot was done I had to go crack a joke with them so they weren't upset.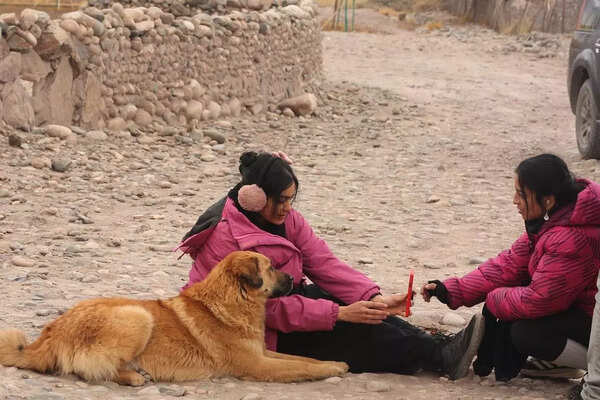 When I was shooting for the scenes where I am pregnant, I was walking with a huge belly in the narrow lanes. It did evoke some chuckles behind the scenes from all of us. I had to squat with the prosthetic stomach to sit. For a movie like this, keeping the mood on set serious but still light, I would give full credit to Sudipto sir and Vipul sir.
Who did you bond with the most on the sets from amongst your co-stars?
For me, it was like living three different lives. The college portions with the girls, my dorm room and the boys.
Then the Afghanistan portions, my husband and the baby and even the jail portions of the United Nations peacekeeping force. I got along well with everyone – the actors, ADs, and the crew. We were fortunate everyone was nice.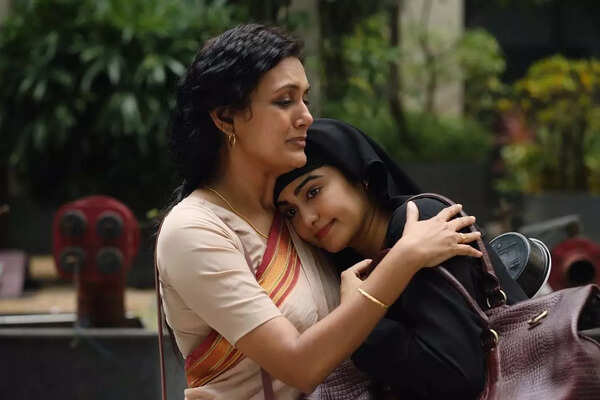 One person who remained through all the three lifetimes was my mother in the movie played by Devadarshni Chetan. She is a lovely actress. For me, 'The Kerala Story' was a mother daughter story from the first time I read it, so even portions where Shalini's mother isn't physically present, she's in her mind in each scene. She wants to speak to her mother, or avoid her mother, or craves to meet her mother just once.
What, according to you, sets Vipul Shah apart from the other producers in Bollywood?
I have not worked with too many people in Bollywood yet so comparing would be unfair, but I can tell you about Vipul sir. He reads people very well. He has the intelligence to project a character on an actor even if he's not seen the actor in that getup. He cast me as a saviour in 'Commando'. Bhavana Reddy is an encounter specialist and then as Shalini Unnikrishnan who is afraid of guns, a victim in 'The Kerala Story'. Also, they have a lot of very tasty food on set and I like that everyone is allowed to eat all the food in the buffet, unlimited helpings. There is no hierarchy when it comes to food.
Is it difficult to switch on and switch off from a character as intense as Shalini Unnikrishnan for you?
Yes, it may be a little difficult to get in and out of a character but it is more difficult to get a role like Shalini Unnikrishnan. I still have people who want to be actors who ask me how to get a role and I have no answer other than that the cosmos has to come together and give it to you.
You are one actor in Bollywood who has never shied away from speaking your mind. Has your outspoken nature ever created problems for you in your career in the industry?
Not really. Not yet. It may have actually, but I am unaware.
Fans have always been very curious about your romantic relationships as you have rarely spoken about them. What is your idea of an ideal man?
Someone who likes animals (not to eat), someone who is kind to people, who speaks in the same tone to people from all strata of society, and someone who can laugh at himself. If he can't then no worries, I will laugh at him. He should be someone who can keep himself entertained, so he won't lose his temper when things don't go his way (traffic jams). Someone who is moderately intelligent would be appreciated. If he can avoid asking too many questions, that would be an added bonus.
Things have changed immensely for actresses in the industry today. However, they still have a long way to go as far as gender parity and sexism is concerned. Do you agree?
Whatever happens in society gets reflected in any industry. Maybe at school levels they can teach toddlers and then things might change.
You will next be seen in 'Commando 4.' What new will your fans get to see from your character in the film?
The character they have all been waiting for – Bhavana Reddy. Lots more action and lots of laughs!
Apart from Vidyut Jammwal, is there any actor, working with whom was an absolute treat for you?
I am an absolute treat to work with and I get along with almost everyone (laughs).