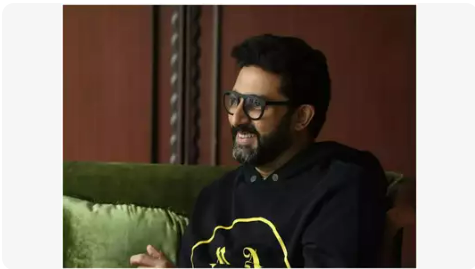 R.Balki's Ghoomer, starring
Abhishek Bachchan
and Saiyami Kher in lead roles is currently garnering rave reviews. Recently, Abhishek
Bachchan
surprised fans at a theatre playing the movie and interacted with them, asking how they liked the same. In the video shared by Junior B, he is seen sneaking into the theatre and asking, "Theek hai picture abhi tak?" (so far, is the film good?)
In other snippets, Abhishekis seen cutting a cake with children, and giving autographs, clicking pictures and interacting with fans.The video also includes first reactions of fans who gave Ghoomer a 10/10. One of the fans said, "What an amazing movie… Abhishek Bachchan hits the ball out of the park." Another said, "Abhishek Bachchan's performance is tremendous. It's an amazing motivational movie, which everyone has to see."Sharing the same, Abhishek wrote, "My heartfelt thanks to all of you who came together and shared your love. Being a part of this was truly touching and meant a lot to me."
Abhishek's father Amitabh Bachchan has also been pushing the film and applauding his son's efforts ever since the movie's teaser was released.
Senior Bachchan took to his blog and gave a shoutout to his son. Beaming with pride, Big B wrote, "It is beyond all doubt that GHOOMER is a very superior film … I say this as a Father yes, but also as a long-standing member of this fantastic fraternity .. at this young age Abhishek and in the duration of the time you have been in the Industry, you have played the most complex characters with immense conviction, diversity and aplomb .. each one difficult, different and each .. successful ."
He added, "My pride has no bounds ..it has been tough to be in reserve on compliments and facts, but .. NO MORE .. it has been spoken and shall be spoken ever."
Earlier this week, Big B shared that he has watched 'Ghoomer' twice and really loved it.