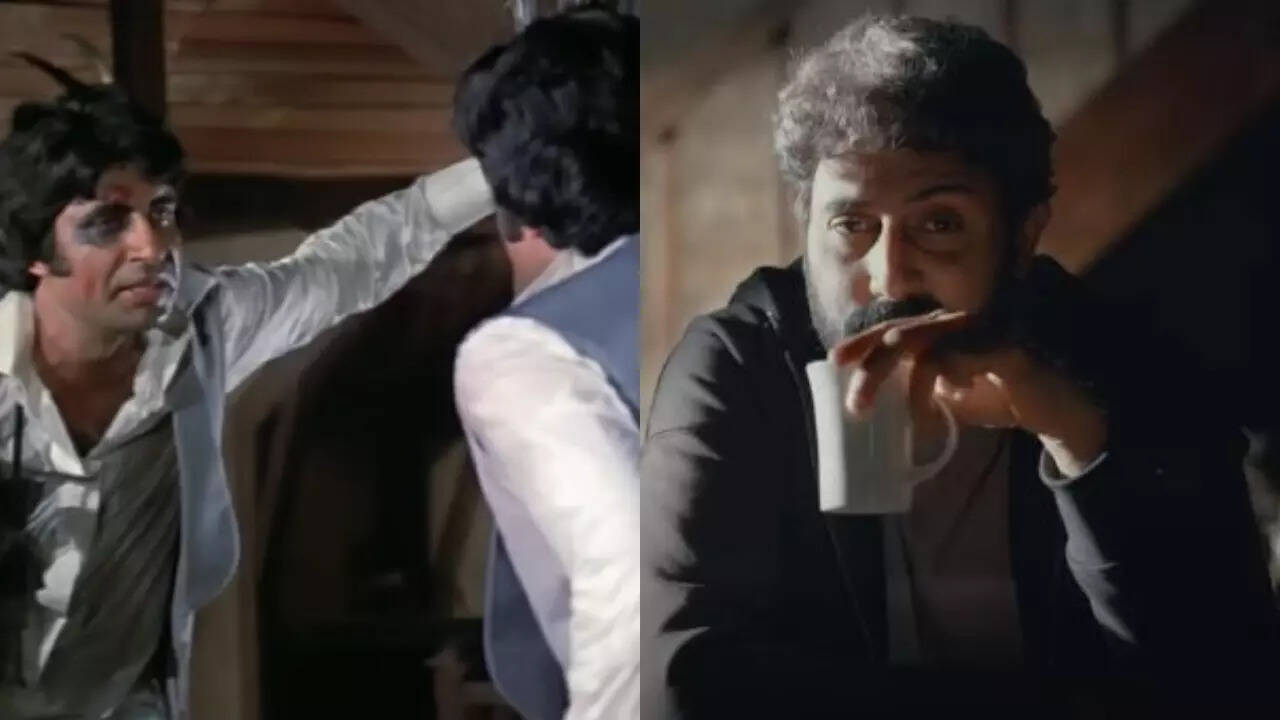 Abhishek Bachchan
will be seen next in 'Ghoomer' directed by R Balki. This is the second time he's collaborated with Balki after 'Paa'. The film sees Abhishek playing a cricket coach to Saiyami Kher's character. In the trailer though, it's quite evident that Abhishek's character is an alcoholic. There's also a very important 'drunk scene' which is seen in the trailer.
A while ago, in an interview with ETimes, Abhishek had confessed that there isn't a single actor who won't think about Amitabh Bachchanand how he would do a particular scene.
So, recently, when Abhishek, Saiyami and Balki spoke about 'Ghoomer', Abhishek was asked if he had Big B on his mind while doing the drunk scene, considering the fact that he's set a benchmark with it. Abhishek hilariously responded and said, "The very scene which you see in the trailer, I shot for it at around 4 am in the morning. It was a very emotionally draining scene. It wasn't a fun scene to shoot. But scenes aren't meant to be fun, they're meant to be inconvenient and take you to places that you aren't meant to go. That's when you really look into the soul of the actor. But for me, and I'm not kidding, the moment R Balki would say, 'cut and one more', my inner monologue would start of that scene saying, '
Kitne baar tereko bola daaru mat pee, mat pee, mat pee
(laughs)."
He further added, "I had to tell myself, 'get him out of my head', we're trying to do something different. But he's just omnipresent. He is the standard and he is the reference point. So, it's difficult to get him out of your conscience and your head. This is what kept happening to me. I was dreading that Balki would say, 'cut one more' because then I would keep thinking of that."
Watch Abhishek saying his father's dialogue here:
Abhishek Bachchan On Being A CARBON COPY Of Jaya Bachchan, Big B's DRUNK Scene | Ghoomer Interview
While Abhishek is all praise for him, Big B is also a proud father as he recently watched 'Ghoomer'. Bachchan had expressed, "So yes saw Ghoomer back to back twice .. Sunday afternoon .. and then at night again .. and the verdict is beyond mention .. simply incredible.. eyes have been in the aqua flow from the very first frame .. and when the progeny is involved, they flow copiously .. and each reaction has some wonder in their thoughts and words and deeds .. each notices something that is so endearing and appealing."
'Ghoomer' is set to release on August 18.