As
Rakesh Roshan
's Koi… Mil Gaya marks its 20th anniversary today,
Hrithik Roshan
and Preity G Zinta share special memories attached to the sci-fi film that was loved by the audience and went on to become a huge success. Read on…
In Hindi cinema, there weren't many attempts to make films based on extra-terrestrial life before Koi…Mil Gaya. Back then, did people draw comparisons with Hollywood films? Did that put pressure on the team?
Hrithik: Koi… Mil Gaya, as a concept, was never done before in Indian cinema. A film based on a developmentally disabled man and a friendly alien encounter set against a sci-fi background, complete with emotions and then, Jaadoo bestowing Rohit (Hrithik's character) with his powers as he departs from earth – this premise was unheard of. When there is so much freshness in a subject, you do not have reference points to consider while making a film, or for the audience to set expectations. It was a worthy risk that we were undertaking, but there was no pressure.
Preity, do you remember your first day on set?
I remember that I was irritated with Hrithik for being late on the first day of his own film. Suddenly, someone tapped my shoulder and when I turned, I couldn't believe my eyes. It was Hrithik dressed as Rohit. He had been on set all along, but I wasn't able to recognise him. At that moment, the entire movie made sense to me. He had done a lot of hard work to not be the sexy guy, but a simple boy.
Hrithik, you've always been known as one of the best-looking actors in Bollywood. Were there any apprehensions about stepping into a character that had developmental disabilities?
Through the conceptualisation process, everyone around us was very encouraging. But when the teaser came out, a lot of people expressed their apprehension about me playing a developmentally disabled character and felt that it might prove to be the end of my career. However, I was very confident as I had put my heart and soul into Rohit. He was an unseen, vulnerable side of me and when you are projecting a part of your true self honestly on-screen, it can never go wrong.
Hrithik and you had a different set of challenges, what was your experience like, as this wasn't the usual romantic fare?
Preity: I was excited because it was a very different film. But once the initial excitement faded, I realised that it was an equally difficult film as well, because we weren't playing the usual hero and heroine. It's an innocent, pure relationship based on friendship. I had to do a lot of things differently, I cut my hair short, sometimes went without make-up and even wore clothes from my own wardrobe, so that Nisha looked like an ordinary girl. It was also challenging because we were filming with Jaadoo.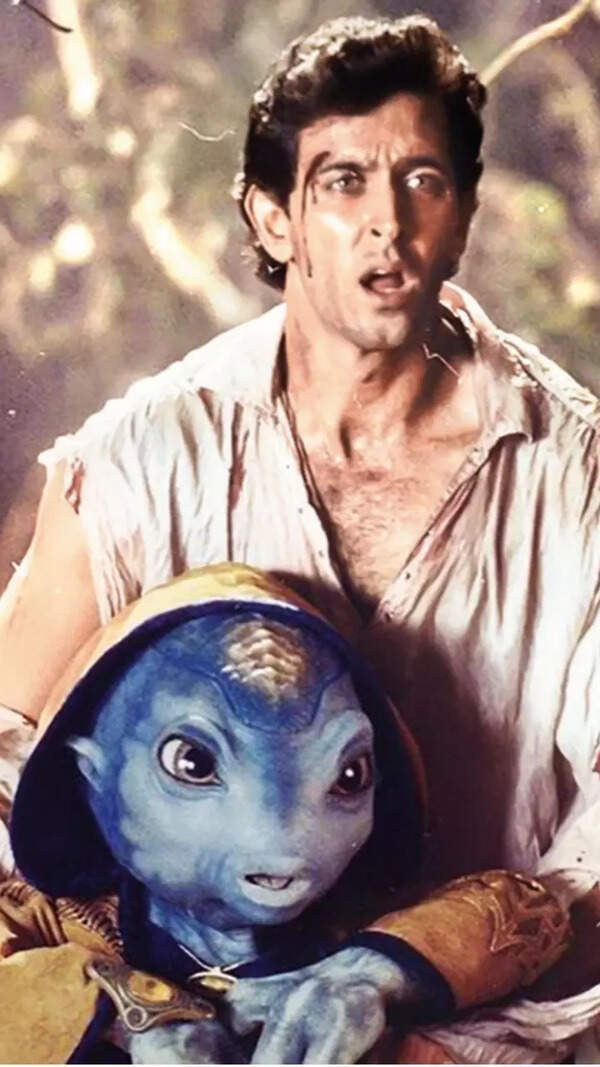 Hrithik Roshan and Jaadoo
'Shooting a single scene with Jaadoo took hours'
Hrithik says, "Jaadoo is my father's brainchild and was designed based on his brief to Australian artists James and Lara. He gave them specifics that Jaadoo should have big expressive eyes and of a height similar to the kids. His vision was clear that he wanted Jaadoo to be amiable and someone that kids would take an instant liking to. It was an animatronic prop that was operated with a remote. Shooting a single scene with Jaadoo would often take hours, because many details had to be precise, like matching his eyes with his hands."
Hrithik on getting into character
"I devised my own process to get into the skin of Rohit's character. I would walk in circles listening to Forever Young by Alphaville, until I got the posture and walk right for Rohit. For his laughter, I delved deep into the snivel when one cries, if you observe there is a little sisak in his laughter. In so many ways Koi… Mil Gaya remains to be a film full of self-discovery for me," he says.
As an actor, I felt completely free: Hrithik
"While transforming into my character, my physique was muscular as I had been shooting for other films. So, I was made to wear baggy clothes that covered my biceps up to my elbow. I opted for a haircut that would make my look rounder. In the second half, once Rohit receives powers from Jaadoo, I just had to go back to looking like my real self. The whole process was rather liberating, I was free to express and emote to the best of my then-novice understanding. As an actor, I felt completely free."
Preity on her favourite song
"My favourite song was Idhar Chala Main Udhar Chala. We shot it over a couple of nights in Mumbai and it was hot, and our song had heavy rains! The title track is amazing, and I still play it when my kids don't go to sleep, it helps calm them down."
I hope to show the film to my kids and I think all kids: Preity
"I was very excited because it was a very different film. But once the initial excitement faded, I realised that it was an equally difficult film for me as well, because we weren't playing the usual hero and heroine. I hope to show the film to my kids and I think all kids should watch it. I'm so proud of the film and happy that it has been re-released, so that everyone can relive the memories with us. This film touched your heart and that's what made it really special."